Posted on
VHS Cheer Goes Back-to-Back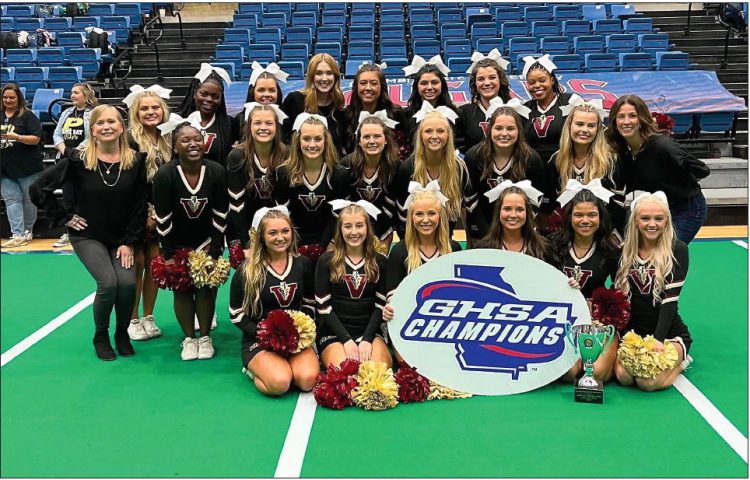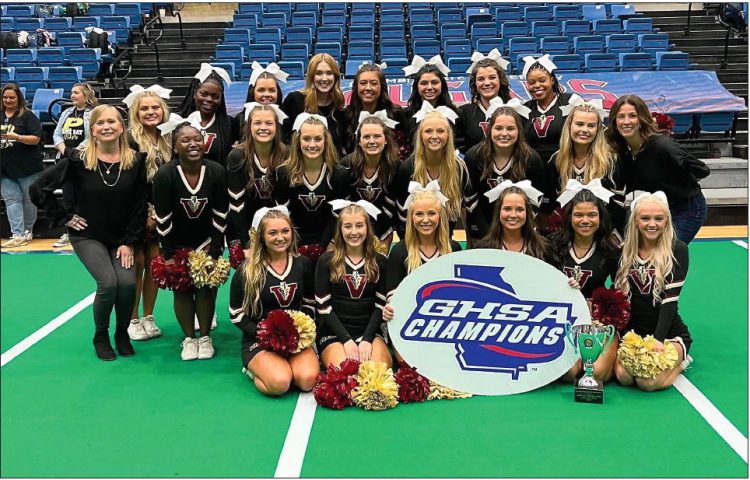 Courtesy of VHS
The Vidalia High School Game Day Cheer Team has competed in two State Championships since the inception of the sport by the GHSA 4 years ago. On Friday night, in Columbus, the Indians took their 2nd straight 1A/2A State Championship, outscoring their nearest competition by 6.2 points. The score of 95.10 in the finals would have been good enough to win 3A/4A Division.
"Going into the competition as state Champions presents a lot of pressure in itself," said Vidalia Head Coach Ann Michele Toole, "We work hard to ensure that our team is prepared to be their best as we continue our pursuit of excellence in this sport. They handled the pressure well and executed beautifully," Toole added.
The Indians qualified with a combined score of 210.150 earlier in the afternoon, which included a high score of 86.800 in Crowd Leading, "In Game Day competition, teams who advance to Finals have the opportunity to reflect upon prelim scoresheets and make adjustments for Finals," according to Toole.
"This always adds a level of pressure due to the timeliness of making a change in a routine you've been working on for months and fighting muscle memory involved with making a change. Ultimate focus and mental toughness are vital to successfully implementing a change. Crowd leading is a significant aspect of Game Day Competition." Toole said.
Vidalia took that "feedback" to heart and, in the finals, "tweaked" their routine in the Fight Song/Band Chant category, "After receiving feedback from judges in our Preliminary round, we added a ripple in our fight song that we actually liked and will keep for our sidelines in the Fall," Toole continued.
Toole, who earlier in the week had encouraged all Vidalia Indian fans to make the trip to Columbus and "get behind the team," said that the Vidalia fans were a large group and helped out in a big way, "Our girls' use of signs and flags really helped our fans follow us and join in. They were a great asset in the stands!"
The Championship for Vidalia was the 5th for a Vidalia Cheer Team, with Competition Cheer holding three titles. Between the two teams, they have won 4 titles out of the last 7 Cheer Championships in which they have competed, a feat of which Toole is rightfully proud, "We encourage our girls to focus on the fundamentals of cheer. They accepted that challenge, and we are incredibly proud of the results."
VHS Game Day Cheerleaders Are State Champions – (L to R, Front): Heidi Barfield, Abby Barr, Emma NeeSmith, Rebecca Evans, Maleiya Ricks, Braylie Davis; (Middle); Coach Julie Spivey, Hillaree Hankerson, Kalli Jo Roberson, Emily Kicklighter, Rayley Brantley, Ava NeeSmith, Remi Spell, AnnaBeth Martin, Coach Ann Michele Toole, (Back): Emily Coleman, Tamira Spikes, Reagan Burton, Coach Paradice, Madison Starr, Zoey Alvarez, Alexis Head, and Amari Atkins.