Posted on
2023 Session: Week 7 Update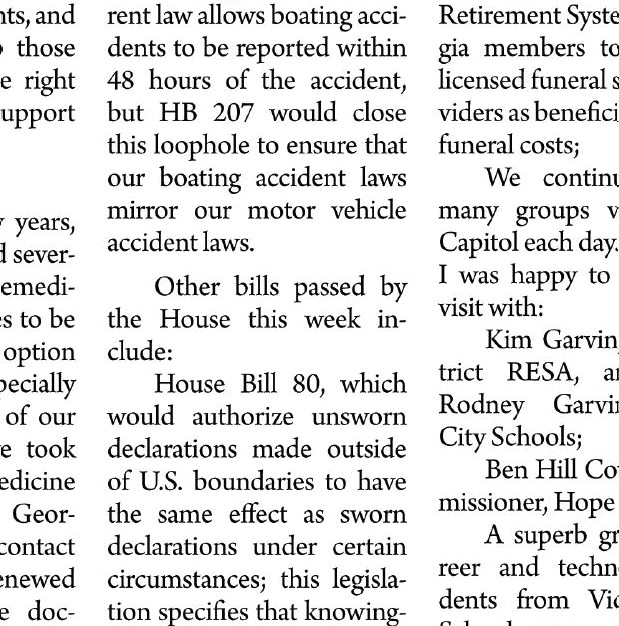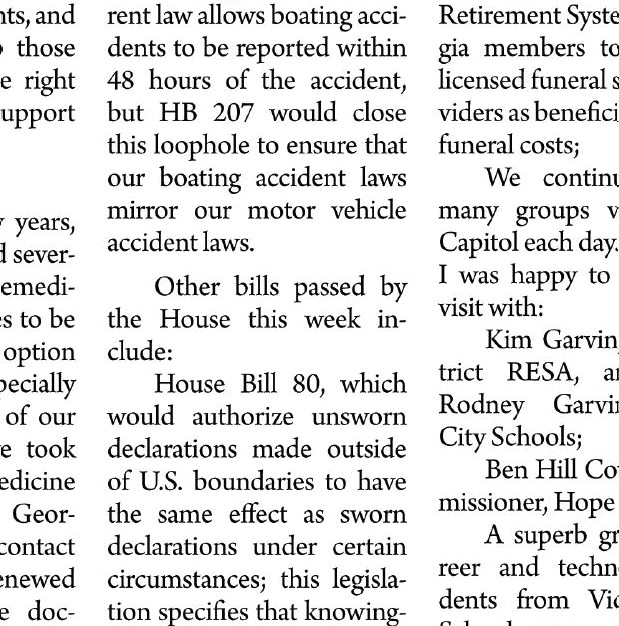 would only enable them to the other portion of this bill By Leesa Hagan R-Vidalia (District 156, Georgia House of Representatives) The Georgia House completed the seventh week of the 2023 legislative session last Thursday. Each day spent on the House floor this week grew longer than the last. By the end of the week, we were able to pass more than 30 bills and send them to the Senate for consideration.
Tax Return We passed legislation this week that would allow the state to return up to $1 billion in undesignated income tax revenue back to Georgia taxpayers for a second year in a row. Like legislation from last year, House Bill 162 would provide a one-time tax refund through the Amended Fiscal Year 2023 budget to every eligible taxpayer for the 2022 tax year. The one-time tax refunds would range from $250 for single filers, $375 forhead-of-household filers, and $500 for married couples filing jointly. The refund would only be given to taxpayers who filed income tax returns for both the 2021 and 2022 tax years. Georgians are struggling to keep up with the rising cost of living, but our state has been fortunate enough to see record tax revenues, resulting in this surplus. Georgia taxpayers will surely benefit from having their money returned to them, and I look forward to finding other ways we can support families and individuals.
Child Support House Bill 167 unanimously passed the House to help parents with child support orders make good on their outstanding payments. In Georgia, parents who fail to pay their child support have their drivers license suspended until they pay the full outstanding amount. Due to these license suspensions, there are currently many Georgia parents who cannot drive to work to earn money to make their child support payments. To resolve this issue, this bill would amend the list of individuals who are eligible to apply for a limited driving permit by adding those not in compliance with a child support order. Under this legislation, these individuals would be able to petition the court to apply for one of these limited driving permits, which drive for certain purposes like going to and from work. Additionally, a judge could revoke this permit if the parent abuses the permit or fails to make child support payments, which would ensure that dead-beat parents who do not intend to take responsibility for their children do not benefit from this bill. Children need the support of their parents, and this bill would help those who want to do the right thing to financially support their kids.
Contact Lenses For the last few years, the House has passed several bills to improve telemedicine, which continues to be a popular health care option for Georgians, especially those in rural areas of our state. This week, we took up another telemedicine measure to ensure Georgians could get their contact lens prescriptions renewed without visiting the doctor as often. House Bill 203 would allow state-licensed optometrists or ophthalmologists to conduct vision exams to renew contact lens prescriptions electronically for patients who meet certain criteria. Eligible patients must be between 2150 years old and not have certain preexisting health conditions, such as diabetes or high blood pressure. HB 203 would also require that patients have in-person eye exams every two years to remain eligible for these electronic prescriptions. This legislation would help make care more convenient and affordable for Georgians who use contact lenses, while ensuring they receive the same level of care from their providers as those in traditional in-person clinical settings.
Boating Safety Finally, the House passed House Bill 207 to close a loophole in Georgias boating accident laws.
Under this bill, if a boating accident occurs, the operator of each boat involved would be required to immediately stop, remain at the scene, and provide their pertinent information to the operator of the vessel which was struck. The involved vessel operators would also be responsible for rendering assistance to any injured person and notifying emergency medical services and law enforcement if necessary. HB 207 would also outline criminal charges if an operator flees the scene of a boating accident that results in death, disappearance or a serious injury that requires medical treatment.
This crime would be considered a felony and could result in a one-to-five-year prison sentence. To keep Georgians safe on the water, would require boats to carry the necessary U.S. Coast Guard approved nighttime and daytime visual distress signals when operating in state coastal waters. Our lakes and waterways have become much more congested in recent years, and this congestion has resulted in a growing number of serious boating accidents. Current law allows boating accidents to be reported within 48 hours of the accident, but HB 207 would close this loophole to ensure that our boating accident laws mirror our motor vehicle accident laws.
Other bills passed by the House this week include: House Bill 80, which would authorize unsworn declarations made outside of U.S. boundaries to have the same effect as sworn declarations under certain circumstances; this legislation specifies that knowingly making a false statement in an unsworn declaration would be considered perjury; House Bill 121, which would add definitions for "wakeboarding" and "wakesurfing" to Georgia law, require life vests, and place restrictions on these recreational sports at night and in smaller bodies of water to ensure safety and protect personal property; House Bill 186, which would update Georgia Code to utilize the "petition for review" appellate procedure instead of the "certiorari" process when appealing from a lower judicatory to a superior or state court; this legislation would apply to any government body exercising judicial or quasijudicial authority; House Bill 242, which would reinstate the additional penalty for a traffic violation under Joshuas Law, the teen learners permit law, at three percent of the original fine; House Bill 279, which would provide an insurance premium discount or reduction for a home or commercial property that is built to fortified standards to better resist catastrophic wind events, such as hurricanes or tornadoes; House Bill 317, which would allow the Employees' Retirement System of Georgia members to designate licensed funeral service providers as beneficiaries to pay funeral costs; We continue to see many groups visiting the Capitol each day Last week, I was happy to be able to visit with: Kim Garvin, First District RESA, and Coach Rodney Garvin, Vidalia City Schools; Ben Hill County Commissioner, Hope Harmon; A superb group of career and technology students from Vidalia High School representing SkillsUSA and HOSA. They were led by Jackson Sharpe and Shelly Cleghorn; Wheeler County Superior and Juvenile Courts Clerk, Carol Bragg. Monday, February 27, begins another eventful week of session, but the clock is ticking for House bills to pass and remain eligible to become law this year. To make the most of our time next week, we will convene for four legislative days and designate an entire day to working in our House committees. While I will be extremely busy in the days ahead, my number one job is to be your voice at the Capitol. I am always happy to speak with you about any legislation that is up for consideration. You can reach my Capitol office at Leesa. Hagan(S)house.ga.gov or 404-656-0325. Thank you for allowing me to serve as your state representative.