Posted on
Wheeler County Students Exhibit in Three Rivers Market Hog Show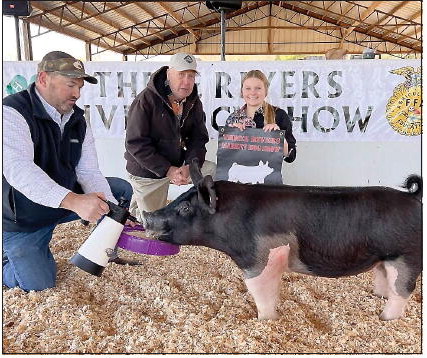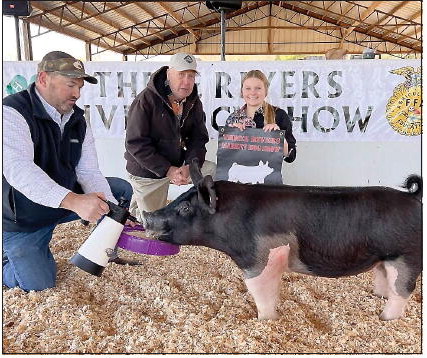 On Saturday, February 4, Montgomery County hosted the Three Rivers Market Hog Show. Twenty-seven students from Treutlen, Wheeler, Telfair, Montgomery, and Laurens Counties exhibited their projects in hopes to win Grand Champion Market Hog.
The show started at 10:00 a.m. with Pee Wee showmanship. Aaron Hammock from Telfair County was the Pee Wee champion showman. In the Novice showmanship class, Landon Burns from Montgomery County took home first place. Alice Braddy from Montgomery was the champion showman in the Junior class. In the Intermediate showmanship class, Zoey Vann from Wheeler County won. Makayla Hughes of Laurens County took home the Senior Showmanship Champion title.
Following showmanship were the weight classes, beginning with four classes of barrows. Patricia Horne won class 1 with her 180 lb. barrow. Layla Vann and her 200 lb. barrow won class 2. Makayla Hughes took home 1st place in class 3, and Colby Kinchen won class 4.
There were two classes of purebred durocs that followed the barrow show. Anna Beth Ethredge won class 1 and Zoey Vann won class 2. Zoey also won the lightweight gilt class with her 198 lb. pig. In class 2 of gilts, Luke Burns was the winner. His brother Landon Burns took 1st place in class 3 with his 219 lb. pig. Winning class 4 and going on to win Grand Champion Market Hog was Anna Beth Ethredge from Wheeler County with her 245 lb. gilt. The secondplace gilt of that same class took Reserve Champion driven by Clay Ryals from Jeff Davis County. Layla Vann exhibited the 3rd Overall market hog, while her sister, Zoey Vann, had the 4th Overall market hog. Colby Kinchen from Laurens County rounded out the top 5 with his barrow from class 4.
Jack Wall was the judge, and there was a large crowd of spectators and supporters at the show. Thanks to everyone for investing in the students and supporting your local agriculture programs, FFA chapters, and 4-H members.
Zoey Vann, 4th Overall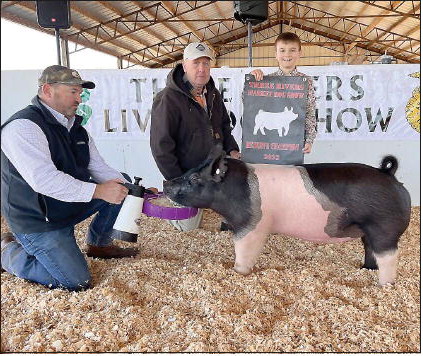 Clay Ryals, Reserve Champion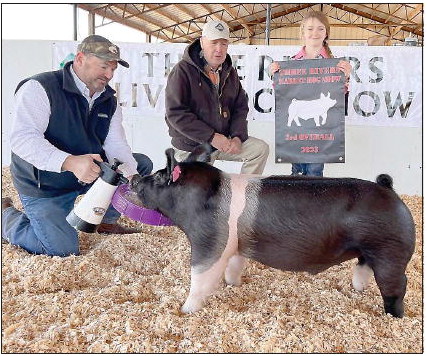 Layla Vann, 3rd Overall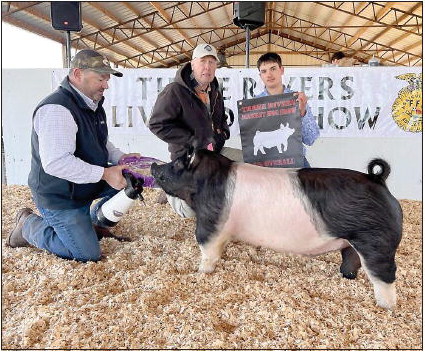 Colby Kinchen, 5th Overall