Posted on
Lasseter Continues to Grow in Toombs County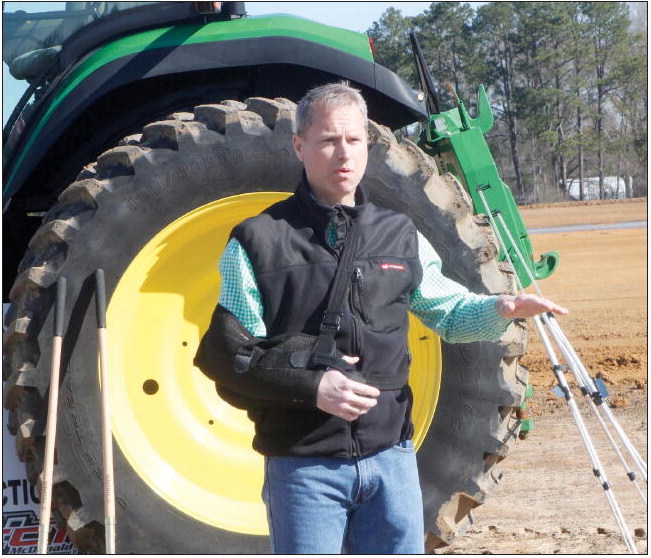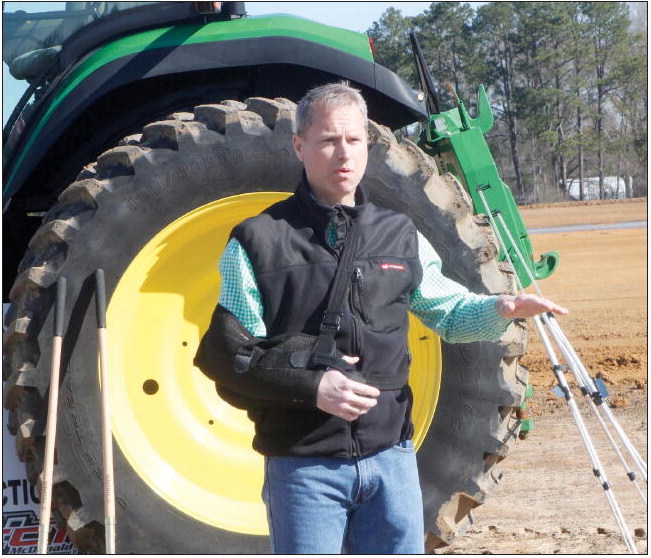 Lasseter Tractor Company hosted a groundbreaking ceremony for the business's new dealership on U.S. Highway 1 in Lyons on Tuesday, February 14, as owner Judd Lasseter and Lyons Store Manager Chris Hopkins celebrated the brand's decision to remain in Toombs County.
"Several years ago, Judd Lasseter, the owner of Lasseter Tractor Company, told me he wanted to build a new dealership and told me to think about where we would like to put it at," Hopkins told attendees. "He asked me if we wanted to go to another town next door, or what we needed to do. I told him I wanted to build it right here where we are in this community for all the people that patronize our business and for all those who support it."
He went on to tell how Lasseter then agreed to stay in the area and asked him to find a site to build a state-of-the-art dealership. Hopkins achieved this mission, as the business is now being constructed at an area adjacent to the intersection of U.S. Highway 1 and Glynn James Road in Lyons.
"We couldn't ask for a better backdrop – onion fields – for all they've done to pave the way for our community," Hopkins remarked. "Because of the help of people like McLendon Enterprises, McDonald Construction, Tyson Steel, and those people, we are going to build the nicest, greatest, latest state-of-the-art dealership in your back door and my back door."
Lasseter, a Moultrie native whose family has been in the tractor business since 1956, commented on the aspects of Toombs County that inspired him to continue to grow the business within the local area. "In 2005, I had an opportunity to sit down with Mr. Ralph Dixon from Claxton; we basically sat down and within an hour had an agreement to purchase a dealership in Toombs County," he explained. "It was very refreshing. Now, we've blinked our eyes and have been here for 18 years. The Vidalia and Toombs County community, as well as the adjacent communities, have been very kind to us and have really embraced us, and it is not because of our family, but because of the local employees that have built that trust and reputation."
He continued, "We are super excited about this project, and we are very happy to have this state-of-the-art dealership, which will be one of the newest dealerships within the state for a while. We are looking at being able to change the current employee environment with a better facility, which we hope will help our recruiting ability, because we want to continue to grow our footprint in this community."
"Thank you for welcoming our organization through our employees in this community," Lasseter remarked.
Toombs County Commission Chairman David Sikes also spoke on the local expansion of the business. "I'm not sure if everyone knows, but I am in the contractor business, and there is not much that I love more than playing with green tractors," he said. "My dad had a philosophy whenever it came to business: always, deal in your backyard if there is a dealership there that you can deal with. Me personally, from a businessman standpoint, I am extremely proud to have a dealership locally that I can deal with."
He continued, "The Lasseter family I don't know personally, but I know Chris Hopkins; he is a personal friend of mine, we've dealt with each other for over a decade, and it has been absolutely wonderful. I know that he is a representation of the Lasseter family.
"Toombs County is extremely proud to have a continuation of the Lasseter family and business to stay here. A lot of times, when you get an opportunity to move, you move because other counties want your business, as well; but it speaks volumes for Toombs County that you chose to stay. We are extremely proud that Lasseter chose to stay," Sikes concluded. "We are forever grateful that you have reinvested in our county."
The new dealership will feature a large display area in the front, a parts storage area, and several other upgraded amenities. The construction is expected to be completed by February 2024, and the current Lyons location of Lasseter Tractor Company will remain open throughout construction.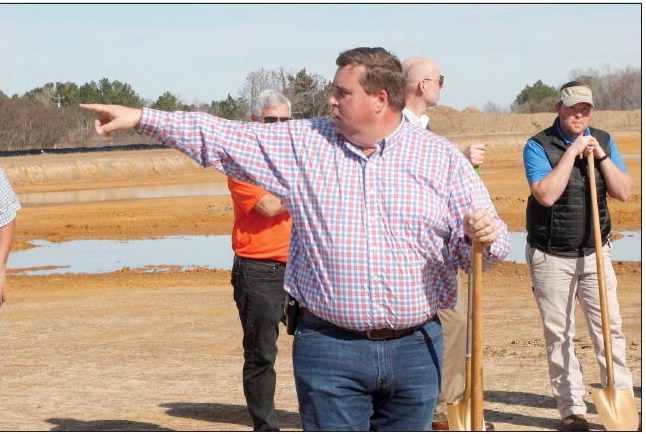 DEALERSHIP PLANS – Chris Hopkins encouraged Lasseter to build the new dealership in Toombs County, as he wanted to see the business continue to grow "in his own backyard." Here, Hopkins points out the future entrance of the facility to the crowd.Photo by Makaylee Randolph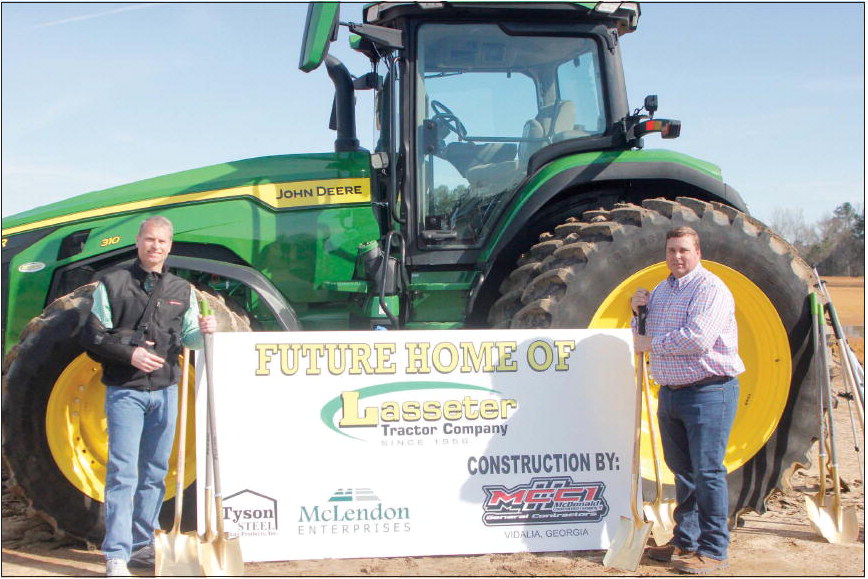 LASSETER-TOOMBS CONNECTION – Lasseter Tractor Company Owner Judd Lasseter (left) said that it was the dedication and work of the local employees, such as Lyons Store Manager Chris Hopkins (right), who made the current store so successful.Photo by Makaylee Randolph