Posted on
Collins Named VFW District Teacher of The Year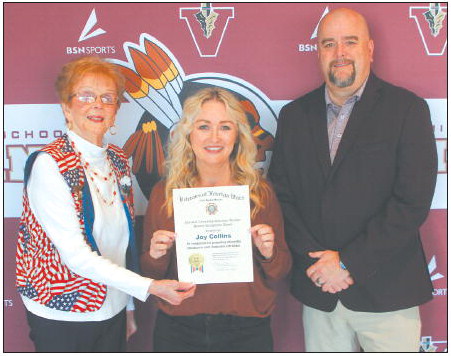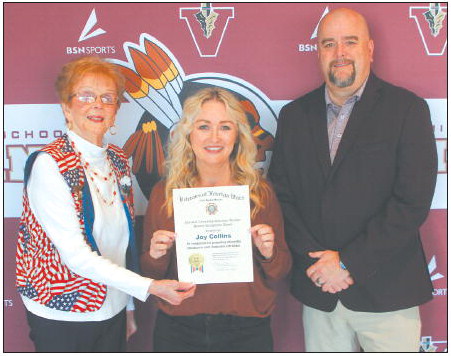 Vidalia High School U.S. History and American Government Teacher Joy Collins earned the title of Veterans of Foreign Wars (VFW) District Teacher of the Year and was runner-up for the state title continued from page
in the recent competition. District VFW Auxiliary President Shirley Curl presented Collins with a certificate and check in honor of the award at the school on Monday, February 13.
"It is an honor to win this award," Collins emphasized. "Mrs. [Shirley] Curl and I have worked together for over twenty years on the Voice of Democracy [essay competition], and I have a Political Science Club and have worked with the school's Student Government Association outside of school as well, to give them an idea of their civic responsibility and their rights. It is nice to be recognized after 20 years of working with kids to help them know their civic duties."
Collins has taught at Vidalia High School for 28 years, and plans to retire in January 2024. Until then, she plans to continue to work to inform students of the roles and practices of government, along with their opportunities to get involved in the process. She said she is inspired to continue this work by her own patriotic values. "I think it is such a responsibility that we do have students continue to understand their rights and responsibilities to make them good citizens – I think that is the point in public schools: to turn out good citizens. In order to do that, they have to understand the Constitution and their rights, but also their responsibility to the state and nation as a whole," she emphasized.
To win the award, Collins had to be nominated by another person, and had to complete an application and essay detailing her work with youth on their knowledge of government. Once being chosen as the District Award winner, her application moved on to the state level competition, where she placed second.
"When I asked her to do [the competition], she was very unsure," Curl reminisced. "Once she received all the information, she called me and asked me what she would do. I told her to write paragraphs of what she had done over the years to influence our students' knowledge of the Constitution; state, local, and federal government; and how they may become involved in politics. She is a wonderful teacher who has greatly influenced our students – that's the main thing: to influence our students on the different levels of government and how they may become involved."
Vidalia High School Principal Bruce Mulkey also responded to the award. "We are very lucky to have Joy [Collins] here, and obviously she brings a lot of experience to the table. It is nice to know that not only the people in our building, but also the people in our area and across the state realize what a value she is," he explained. "We're very fortunate to have her here at Vidalia High School, we're very fortunate to have had her as long as we have."