Posted on
Area Service Board Can Help Communities Meet Needs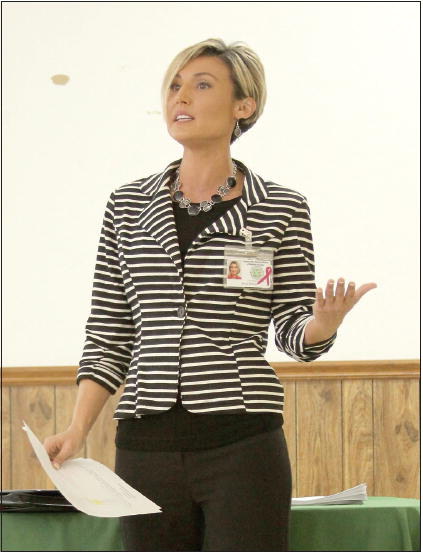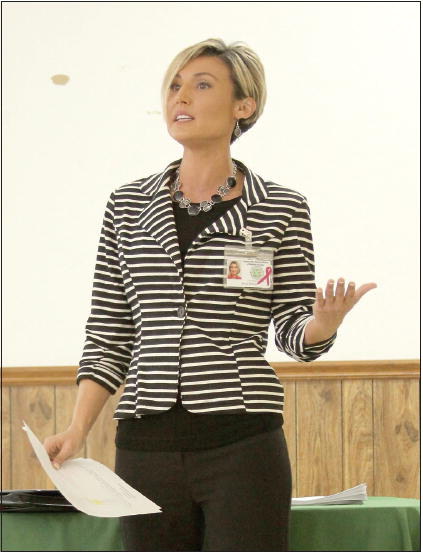 Wheeler County's quarterly community and vocational advisory meeting was held in Alamo on February 8. The quarterly session was co-sponsored by the Wheeler County Correctional Facility and the Wheeler County Chamber of Commerce. Services for the community was a topic for discussion as Chamber President Thomas Spell introduced guest speaker Erica Stokes, Community Relations Coordinator/Director of Business Development for the Community Service Board (CSB) of Middle Georgia, headquartered in Dublin.
CSB of Middle Georgia is recognized as a state leader in comprehensive behavioral healthcare providing integrated costeffective services, but "the Community Service Board offers so much besides mental health services," Stokes explained. "We are not government, but we are a government tool," she said, noting the not-for-profit organization is grant-funded and overseen by the Georgia Association of Community Service Boards and run by the Georgia Department of Behavioral Health. The Middle Georgia CSB is one of 22 such service boards in Georgia, and covers 16 counties in Middle Georgia.
"We implement solutions for community needs by bringing together state and private resources," Stokes said, describing her role as a community liaison and advocate for the citizens and stakeholders within her service area. She is also a resource coordinator.
There are four different collaborative committees within the Middle Georgia CSB service area that meet once monthly. These are located in Soperton (which includes Wheeler, Telfair and Treutlen counties), Dublin, Eastman, and Swainsboro. There is also a collaborative at the Swainsboro Hospital/Behavioral Health Community.
The CSB'S primary focus is on improving the lives of those with behavioral health challenges by collaborating with community partners to implement solutions for community challenges. This mission involves working with community resources like schools, law enforcement, ministry and faithbased organizations, and other resources to meet the needs of the homeless and families of people who have been incarcerated, by providing tutoring services for at-risk students, and in many other applications. Organizations with which CSB works include The Salvation Army, Goodwill, Babies Can't Wait, the Georgia Department of Community Health, the Georgia Community Action Agency, and numerous others.
CSB of Middle Georgia currently serves residents of Bleckley, Dodge, Johnson, Laurens, Montgomery, Pulaski, Telfair, Treutlen, Wheeler, and Wilcox counties. Through its Ogeechee Behavioral Health Division, the agency serves residents of Burke, Emanuel, Glascock, Jefferson, Jenkins, and Screven counties.
CSB is dedicated to providing those it serves with quality innovative behavioral healthcare in a recovery-based environment. Services include: • Adult Mental Health Services – Access/Outpatient/ Single Point of Entry.
• Child and Adoles cent Program – Serves consumers up to the age 18. Children, youth, and their families are offered counseling for numerous problems such as hyperactivity, adjustment problems, substance abuse issues, and depression. C& A programs have Outpatient and Community Support Programs and work with people with mental health and/or addictive disease issues.
• Mental Health Pro grams – Serves adults 18 and older by offering Outpatient Counseling, Day Services, Community Support Individual, Medication Maintenance, and Supportive Living. These programs are for consumers with a wide range of problems including, but not limited to depression, anxiety, schizophrenia, bipolar disorder, and adjustment problem.
• Adult Substance Abuse Services – Outpatient/ TANF Ready-for-Work Program.
For more information, contact Stokes at 478-2721190 or at [email protected] com.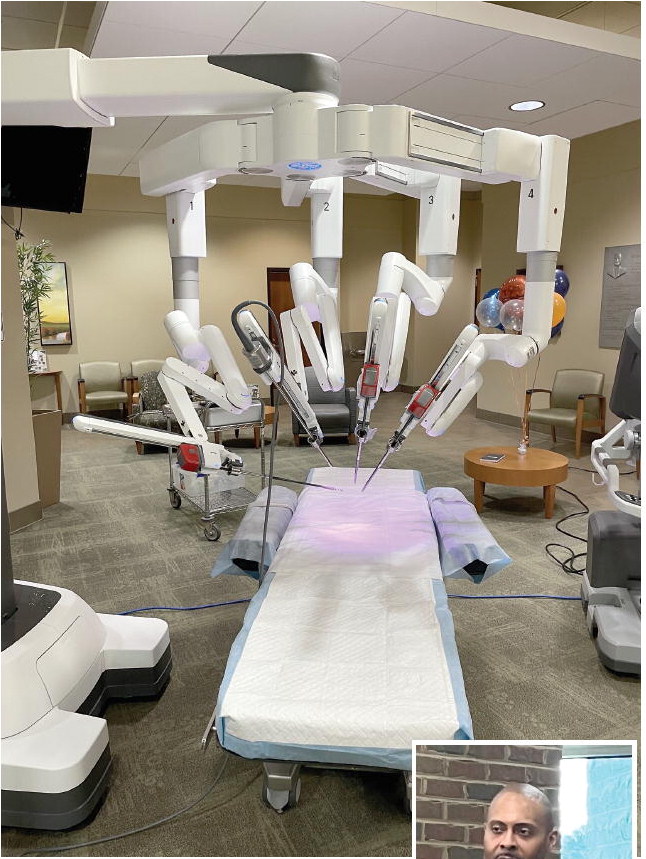 CELEBRATING ONE YEAR — Memorial Health Meadows Hospital hosted a one-year anniversary celebration for its robotic surgery program on Thursday, February 9. The hospital's robotic surgery team performed its first surgery in January 2022 and to date has performed 310 surgeries. The anniversary celebration provided an opportunity for the physicians, surgical team, and hospital leaders to visit with previous patients and the community. More than 100 guests were in attendance. Shown above is the robotic surgery system patient cart. In the inset, Dr. Kendrix Evans, Robotic Surgery Chair, speaks at the event.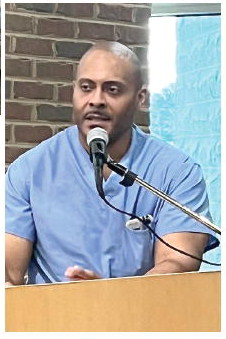 FAIRCLOTH WINS LEADERSHIP AWARD — Montgomery County Schools Assistant Superintendent Dr. Beverly Faircloth, who serves as the system's Director of Curriculum and Professional Learning and as Director of Gifted Education, has been awarded the Leadership Award from the Georgia Association for Gifted Children. This award is reserved for educators who make a significant difference in gifted education services within a district, as well as individuals whose contributions exceed the expectations of this position.