Posted on
continued from page away with ….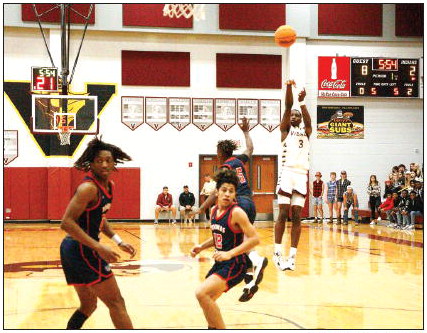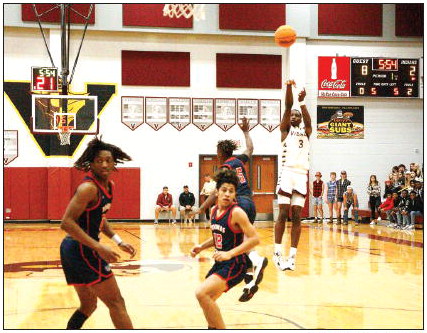 continued from page
away with a steal and basket to close it back to a 10-point game at 36-26.
VHS closed it to 36-30 with a three from Mincey with just under five minutes to go in the third. Coleman made it 38-34 and then a three by Washington got VHS to a 1-point game at 38-37 with TCHS clinging to their lead.
Coleman gave VHS their first lead of the game at 39-38 with two minutes left in the third quarter. And by the end of the third the Indians were leading 42-40 over the Bulldogs.
Early in the fourth DJ Griffin gave the Bulldogs back the lead with a threepointer, 43-42. With just over four minutes left in the game it was tied 45-45. Cameron Faison made it 51-45, Toombs in front, but Mincey closed it back to 51-48 with one minute left with a three-pointer.
Toombs kept Vidalia from scoring over the final minute of the game, with Eason sealing the win with a pair of free-throws with just 9 seconds to play. That gave the Bulldogs the big 53-48 victory over the Indians. Eason led Toombs with 22 points.
Earlier in the week the Lady Bulldogs lost to Appling County 51-35 and to Tattnall County 64-29. The TCHS boys beat Appling 82-33 an then knocked off Tattnall County 52-39. The VHS girls beat Windsor Forest on Tuesday 59-31 while the boys fell in a tough one to Windsor, 68-63.
This is the final week of the regular season. The Bulldogs were at Windsor Forest on Tuesday while the Indians traveled to Tattnall County after presstime. Toombs will wrap up their sesson at home on Friday against Pierce County at 6:00 p.m. VHS will be at home on Friday against Appling County at 6:00 p.m.