Posted on
TCMS Wrestling Wins Area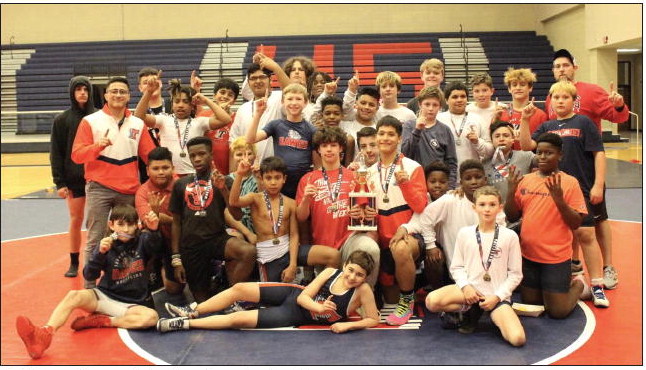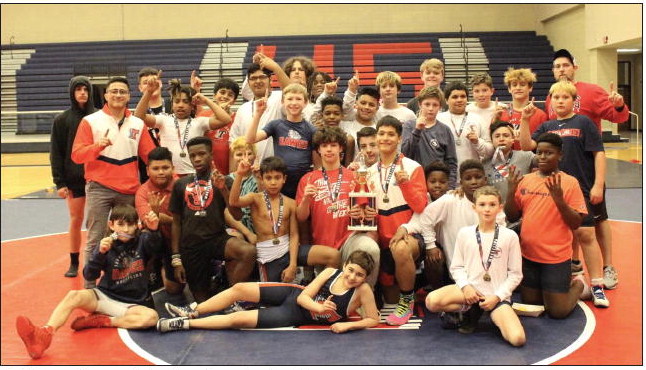 Courtesy of TCHS
The Toombs County Middle School wrestling team took the mats on Tuesday as they hosted the Middle School All-Area Tournament. This tournament marked their final competition for the 2022-2023 season and they ended on top.
In a year of growth for the middle school program, the Middle School MatDawgs finished 1st place in the All-Area Tournament. First year Head Middle School Wrestling Coach Wesley Bratton was satisfied with their progress, "These boys made a ton of progress throughout the year. I couldn't be any more proud of the work they put in, as a whole, throughout the year." The Middle School MatDawgs posted a total of 237.5 points in the tournament, which was enough to beat crosstown rival Vidalia's 209 points. "It is great to see the hard-work these young wrestlers put in, pay off in the end. Looking back at where we were at the beginning of the year makes this Championship even more impressive."
The MatDawgs end the season with a 10-5 dual record and cap off the season with an All-Area Tournament Championship. The future is bright for the MatDawgs as Coach Allen looks ahead to what will be heading up to his program in the future. "It is an exciting time to be a part of the Toombs County Wrestling program! With us heading to the State Dual Championships this weekend and seeing the young talent that wrestled tonight (January 17), we will making many more runs to State. Coach Bratton has done a great job with these young MatDawgs to set a strong foundation for them as they transition to the high school. I'm very excited for our program's future!"
For Toombs, Lukas Young took 1st place at 70-77lbs, Markis Brown followed suit with a 1st at 113lbs, Slade McDonald took 1st at 132lbs, Leeson Allen finished 1st at 138 lbs, Lino Nino took 1st at 150lbs, Alex Otero was 1st at 165lbs, Dax Nobles was 1st at 175lbs, and at 285lbs was Jj Pacheco in 1st place.
Jayden Green was 2nd at 120 lb, and Skylor Basemore finished 2nd at 91lbs, Anthony Reyes finished 2nd at 175lbs, and Christian Perez was 2nd at 190lbs.
Julius Garnes was 3rd at 70-77lbs, Russell Hart took 3rd at 84lbs, Gabe Sharp was 3rd at 98lbs, Layne Summers took 3rd at 106lbs., Jacob Blackwell cam in 3rd at 113lbs, Daniel Tant was 3rd at 126lbss, Gabriel Rosales was 3rd at 138lbs, Evan Walden was 3rd at 144lbs, Carlos Diaz was 3rd at 150lbs, Bryar Bishop took 3rd at 157lbs, and Jose Guerrero was 3rd at 165 lbs.