Posted on
2021

- NATIONAL CHAMPS

2022 Locals Celebrate / RTCA Grads Film the Action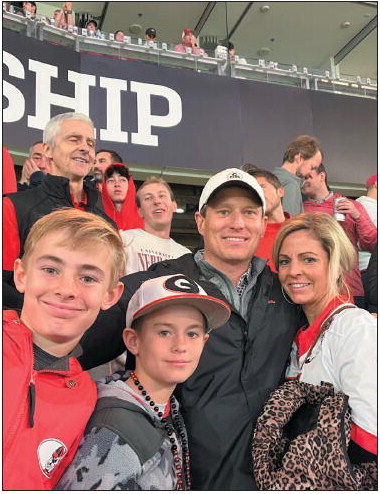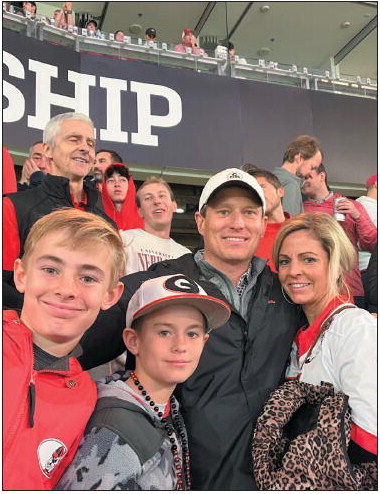 2021 NATIONAL CHAMPS
University of Georgia (UGA) fans were thrilled to witness the Dawgs' 65-7 victory over Texas Christian University (TCU), and some local enthusiasts had the opportunity of getting a oncein- a-lifetime experience of celebrating the victory in SoFi Stadium in Los Angeles, California.
Several local families and individuals from the area made the trek to L.A. for the national championship, hoping to witness a victory for the Dawgs; yet, no one could imagine the dominant performance which UGA would have during the game, leading the matchup to be known as the most dominated college continued from page
football national championship game in history.
Attorney Justin Franklin and his family traveled to Laguna Beach the weekend before the game and spent time with his former college roommate before attending the game. Franklin said it was special to be able to go to the championship game, but was especially wonderful to share the experience with his wife, Anna, and sons, who are ages 9 and 12. "SoFi stadium was really nice, just a unique experience for us. This is our second national championship with our boys, and after never experiencing one and then to get two in a row is pretty fantastic. The boys really enjoyed the game, and we all just had a great time at the game," he remarked.
"It means a lot to my wife and me to get to share this with our boys. We both went to Georgia (UGA), our parents went to Georgia, we have been season ticket holders since we got out of college, and we try to get to every game. It is truly a family experience for us," Franklin concluded.
Tony and Susan Head also traveled out west to soak in the experience of a national championship. "It was a great win," Tony Head said. "SoFi Stadium was very unique. We can't wait to see where next season leads us. Go Dawgs!"
Greg McKenzie, Jr., was able to witness both the 2018 national championship loss and 2022 national championship victory from the stadiums, with his wife, Julia, by his side, but said that this victory felt different than the prior championship. "It was the trip of a lifetime witnessing our Dawgs dominate," he emphasized. "It sure felt a lot better than my first national championship game in 2018! As an alumni of UGA, my wife and I will cherish this victory for years to come."
Macky Bryant said, "I went to Georgia starting in 1965, can't tell you how many games I have been to over the years. We have had season tickets for a long time. As for this game, we had a great trip. This is the second time we have been to California, went to the Rose Bowl when Georgia and Oklahoma played and got to see a great game then. This was a blowout, but Georgia showed out, we really enjoyed that ball game. The weather was terrible, but we had a good time and the stadium was just beautiful.
RTCA Grads Work With Team
Two graduates from the Robert Toombs Christian Academy had a unique experience this season with the Dawgs, as they worked as official videographers for the team.
UGA freshmen Jackson Newton and junior Landon Botelho have spent the season filming practices and assuring all technological equipment was set up in the locker rooms for games. "My role at practice is mainly filming whatever's going on on the field from the end zone angle," Botelho explained. "This may be a team period where we run through some of our plays for the week or some fundamental drills to help with foot work, ball security, etc. During games, I'm in the locker room setting up areas with projectors and document cameras for the coaches to go over any lastminute details, and I'm also the guy that plays music to celebrate after a game."
Though similar to Botelho's role, Newton works to capture the action from the sidelines, rather than the end zone. "We film anything that goes on at practice, such as team periods of 11 on 11, tackling circuits, pursuit, and a variety of other drills and individual work. While working a game, I would pretty much do the same thing as at practice: filming from the sidelines and getting an all 22 shot (where all 22 players are in the frame for the entire play), which gives the coaches the best view of the play when they re-watch the game," he detailed.
Both students traveled with the team to Los Angeles, where they continued their work preparing for the game. "The days leading up to the national championship definitely felt different than any of the games in the regular season," Newton reminisced. "Our coaches do an amazing job making sure that the players prepare for every game as if it was the championship, and you could tell the players were prepared all week and ready to go. You could feel it in the air how badly they wanted it, and they played even better than they practiced."
Botelho had the unique experience of being selected as one of the four videographers to be on the field during the game. "We allow four students to work championship games and I was fortunate enough to be one of those four," he explained. "Being on the field after a win like that is amazing. Running up to players and coaches, and celebrating with them on the field is something I definitely will never forget."
Newton may not have been on the field for the victory, but felt just as much pride in the win as his friend. "Being in Los Angeles with the team is something I will never forget," he emphasized. "Being in the stadium, surrounded by all of the players' families, it was amazing. All of the fans were incredibly loud right up to and beyond the last whistle, and I'll always remember that."
With the season having come and gone, and another championship gained, Botelho and Newton are reflective on their work with UGA. "It's been a long time since we started the season," Botelho remarked. "Being there for all the camps and practices, and seeing our improvement throughout the year was awesome, and it was great to finally be able to see all of their hard work pay off. I am beyond grateful to be able to say that I had a small role in helping the Dawgs win back-toback championships."
Newton shared, "The season has flown by for me. I feel like just yesterday I was starting out at fall camp and freaking out anytime I saw a player or a coach walk by me. I've enjoyed this year more than I ever thought I would, and I can't wait to start practice for next year. I'm extremely grateful to get to work for such an amazing team, and for the amazing people I work with and for."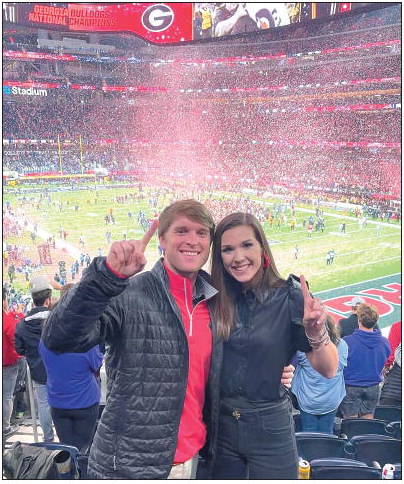 REDEEMING 2018 – Greg McKenzie Jr., pictured here with his wife Julia, said that this year's national championship victory felt much better than his first experience with the national championship game in 2018, where the Dawgs fell short to the University of Alabama's Crimson Tide.



READY FOR THE FUTURE – Tony Head traveled to LA to experience the national championship victory with his wife, Susan. The pair shared that they are very excited for the Dawgs' next season after witnessing the dominating victory against TCU.



UNIQUE OPPORTUNITY – UGA Freshman Jackson Newton is already enthusiastic for the next college football season, as he said that working as a videographer for the UGA football team has provided him with opportunities that he never could have imagined he would have.



ON-FIELD CELEBRATION UGA Junior Landon Botelho was one of four student videographers who was able to work the national championship game from the field. Botelho said that the on-field celebration after the game is one that he won't soon forget.