Posted on
continued from page Hagan ….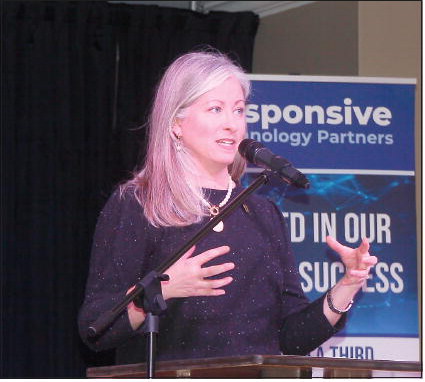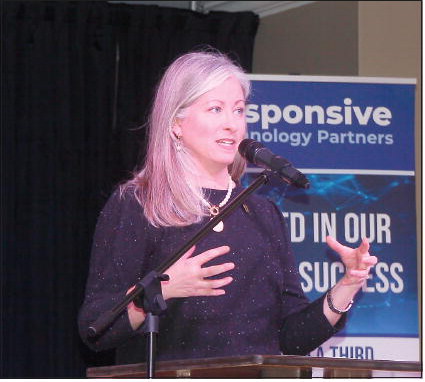 continued from page
Hagan spoke on the unique qualities of the community, which she said are not found many other places. "Even when we are not in session in Atlanta, we still see our fellow legislators around the state at different events and meetings. When we are together, we talk about what's going on back home in our districts. A common theme that I hear from a lot of my fellow legislators is that there is not the teamwork that is needed within the community to make things happen. But our community as a whole is inhabited by the most hardworking, generous, selfless people in the state. I think you can see that as this area is growing and thriving," she emphasized.
Hagan continued, "We have so many people in our community who are willing to come to the table and talk with each other to find the solutions to the problems that we are having that are going to push us forward and up rather than holding us back. You're not worried about protecting your turf, you're not worried about getting individual credit for the work you do, and it shows. To us, that may seem like a normal way to operate; but I can tell you there are many communities around that don't have what we have here, and unfortunately, they are not growing and thriving."
She thanked the attendees and members of the community for their work in creating this rare atmosphere throughout the area.
Changes
Speaker of the House Because of former Speaker of the House David Ralston's death in November, Hagan expects that there will be a potential change in atmosphere with the election of the new Speaker. "He did his job until the very end," Hagan reflected. "The loss of his presence will be felt by everyone in that Capitol."
She explained that after Ralston's death, Speaker Pro Tempore Jan Jones (R47) temporarily filled the vacancy as the first female Speaker, but did not plan to continue that role, as Jones hoped to secure the Speaker Pro Tem role again.
Currently, the Speaker of the House nominee is Jon Burns (R-159), whom Hagan believes will be an excellent leader for the House. "He is going to be a strong leader, just like David Ralston was. I am confident that we will have no issue making the transition and getting the work done for the people of the state."
She emphasized, "I know that there will be changes. He is his own man and will get things done his own way. I also feel confident in saying that he appreciates stability, so these changes will be made over time when they are appropriate. There is no doubt in my mind that the state House of Representatives will continue to get work done efficiently for the people of Georgia." Committee Assignments Hagan also shared that a new legislative session brings new committee assignments. She expects to continue to serve on the Agriculture and Consumer Affairs, Natural Resources and Environment, and Small Business Development committees, while also adding two more potential assignments.
Main Priorities
According to Hagan, her main priorities during the upcoming legislative session are rural economic development and policies that benefit Georgia families. "[These priorities] do cover a lot of things, but I feel like if you can't fit it into those two buckets, it is probably not something we need to worry about right now," she explained. "We have had some tough times in Georgia, and I think we may continue to have some tough times in Georgia, but we are at a good place because we have leadership that understands the importance of being probusiness."
She praised Governor Brian Kemp (R), Lieutenant Governor Elect Burt Jones (R), Speaker Jan Jones, and Speaker Nominee Jon Burns for their support of pro-business policies, as she said the group has reassured that these policies will be the priority of the state legislature during the upcoming session. According to Hagan, these pro-business policies have helped the state maintain the title of #1 State to Do Business in America for nine straight years, and will continue to help retain that award throughout the future.
"I know our leadership has the goal of continuing to be the #1 State to Do Business, so expect a lot of pro-business legislation coming through," she commented.
Potential Legislation
Some issues Hagan expects to be voted on include the handling of run-off elections, support of schools in early literacy rates, mental health issues, and rural Georgia healthcare access.
"I know our governor knows this, and I know all of our state legislators know this: sometimes, something that is good for Atlanta is not good for us here. But we know that if it is good for rural Georgia, it is good for every Georgian," she emphasized, as she shared that rural Georgia will now be receiving more attention and focus from legislators.
Blake Tillery
Having served in the State Senate since 2017, Tillery enters the upcoming legislative session as a seasoned legislator and leader, as he also served as the Chair of the Appropriations Committee. He praised the local community for its involvement and generosity, citing those characteristics as reasons why the state had invested so much funding in this area within the recent year.
Tillery began by telling the audience that his interest in politics was sparked when his college roommate, Buck Moon, and his parents first introduced him to the topic. "If it weren't for people like the Moons and others, who wrapped their arms around me when I was young and taught me what it meant to be in public service, I would not be here," he said.
As he reminisced on memories of discussing government with his friend's family, he emphasized the importance of being involved with the youth within the community to help them mature into potential leaders. "You created me," he told the group. "There are other Blake Tillerys, there are other Leesa Hagans, there are other John (his son) Tillerys. I need you to wrap your arms around the youth you see and influence them. If we tackle that issue, we will do something that no other community has been able to do."
He also spoke on the community's willingness to work toward solutions within the area. "I represent two communities that have more people than Toombs County and Montgomery County combined and they do not have the turnout that this community has. They do not have the community engagement or community involvement, and when you look through their rooms, they do not have the same age, gender, and color diversity in other communities; but this community is different," he emphasized.
"When the state partners, they look for folks who are helping themselves to partner and come beside and help," he explained. "In the past 12 months alone, Toombs and Montgomery Counties received over $40,000,000 of funds to advance causes that you were working on already — water and sewer, rural innovation, broadband, and more."
Tillery added, "I'll tell you the secret: everyone talks about working together, but no one does it better than you. You are community players. You open your own pocketbook. You guys are the reason why this area is successful."
Changes
Tillery spoke on the changes he foresees within the state legislature with the addition of a new Speaker of the House and Lieutenant Governor. "I think Jon Burns is going to be a wonderful speaker," he remarked. "If you say he is from Effingham County, you would be correct; but he will correct you and tell you that he is from the tiny, tiny town of Newington. That's the kind of mind we are going to have as the Speaker of the House."
He continued, "Burt Jones will be the Lieutenant Governor, he was a captain on the 2002 Southeastern Conference (SEC) Championship Football Team for the University of Georgia as a walk-on, so that shows you his work ethic. Burt is going to be a good leader, as well; I've watched how he interacts with senators. He's got it. He's going to be good."
Main Priorities
Being the Chair of Appropriations, Tillery affirmed that his biggest role within the upcoming session will be the budget. He shared that he expects this year's budget to increase by around $2 billion from last year's budget because of inflation, but said that exact numbers will be available once Governor Kemp shares that information during the early weeks of the session.
He agreed with Hagan on many of the topics that he believes will be focused on during the session, including learning loss. "We have statistics available where you can go online and see what the 3rd grade reading levels are, and it will scare you sometimes. That is not a condemnation of our classrooms, it is a condemnation over what has gone on within the past two years, and how we have some recovery to do."
According to Tillery, the state Senate planned to set aside $25 million in last year's budget for learning loss, focused on the third grade reading level. "We focused on that level because there is a direct correlation with the percentage of people on grade-level in the third grade and the amount of prisons you need in 20 years," he told the audience. "If you're going to tackle something, why would you not tackle something that directly correlates with something you know you do not want to have to deal with later?"
Though this funding did not make it through the budget process, Tillery said the senators developed an incentives plan for this extra funding, as schools with excellent reading levels were given more than those with low reading levels to help create a desire for schools to improve. "It didn't make it through the budget process, but in the conversations with our governor, he was very impressed with what we did. I don't know if he will make it a funding model, but I do think you will see some funding for learning loss, possibly even at the same level that we did before.
Workforce housing is a concern within the legislature, according to Tillery. "When we used to do models, we used to ask 'what is the average cost of a $100,000 home?' We don't do that anymore. We probably would have to look at the average cost of a $250,000 home. It's astounding where we have gone in two and a half years." He said that Governor Kemp has discussed his desire to allot funding in the area of workforce housing, though he is unsure what exactly may come of it.
Along with workforce housing, Tillery said that the workforce in general is an issue within the state. "We are really good at building buildings. We can stack brick really, really well. What we are not as good at is what goes on in that building after the bricks are done, and that's actually what matters," he remarked.
Tillery explained that there are many issues within the state, such as mental health, which could be addressed with programs and other operations. But this is not feasible because of the lack of individuals currently within the workforce. "The issue is not dollars anymore. Because of a lot of things that have happened at the federal level and an increase of tax revenues throughout the past two years, dollars really aren't our problem. If we could solve a problem with simply dollars, we've solved it. Our problems are people. Our problems are families. Our problems are values, and those don't get fixed in government. We're going to continue to do our role there, but we are not the answer to that," he summarized.
Potential Legislation
According to Tillery, the results of the COVID- 19 pandemic have left the state with not only inflation, but also with a desensitization toward large amounts of money. "It is not 'sticker shock;' in fact, it is whatever the reverse of 'sticker shock' would be. Before, if I said $100,000,000, or wages of $100,000, we would think those amounts would be crazy large amounts. When we used to say $1,000,000,000, people could not imagine it, but now it is a common number. That is scary for our future, because those dollars are not just printed. There comes a day that you have to pay the piper."
He believes inflation will continue, but that the cost of goods, such as lumber and raw material items, will decrease. Tillery doubts that deflation will occur in wages, as he said the inflation that has occurred is "probably here to stay" in that area. Thus, legislation discussing this inflation is expected to occur. "When these issues come up in legislation, please do not hesitate to call or text and let us know your thoughts," he encouraged.
Sports betting, elections, and mental health are also expected to be "hot topics" within the legislature, according to Tillery.
Recognition
At the end of the Legislative Luncheon, Hagan and Tillery recognized Southeastern Technical College (STC) Auditorium Manager Julie Busby for her work and dedication to the community. Busby has worked at STC since 1997 after moving to Toombs County for the job. She also works with Franklinia Playhouse and others for community performances throughout the area, and has been a board member for the Altama Gallery and Salvation Army. She also worked with the Toombs County High School and Vidalia High School on their One Act Play and other programs at each school.
"There are many people in this community that make the community work, and one of the really cool jobs that we get to have in the state legislature is to honor those people," Tillery remarked. "They're not always the folks that are out front, they're also not necessarily always the folks in the background, but they are folks who have made our community work."
Busby commented on the honor. "One thing I have been working for is to bring everyone together in the community, and Blake has really been so helpful in that," she said. "I just want to bring everyone to Toombs County and Montgomery County so they can see all the resources we have and everything that so many people have been working on for years."
GVC Reflections
Greater Vidalia Chamber 2023 Chairman Mike Hagan spoke on the Chamber's value of the event. "Government policy and legislation are more impactful than ever on businesses, and the Chamber recognizes that," he remarked.
The Chairman also explained that the event would not be possible without the work of the GVC Public Policy Council, which includes: Sara Brown, Brian Bishop, John Koon, Pat Dixon, Monroe Goss, Eric Smith, Tony Wardlaw, Heather Davis, Tim Truxel, and Trent Williams.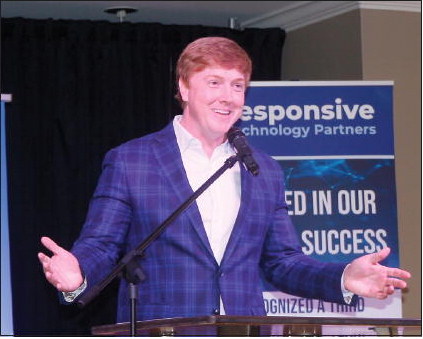 BALANCING THE BUDGET — State Senator Blake Tillery said his largest contribution during the upcoming legislative session will be in the further development of the budget, which he expects to focus on several "hot topics" within the state, such as learning loss and workforce.Photo by Makaylee Randolph