Posted on
Van Collides With Toombs County Sheriff's Office Patrol Unit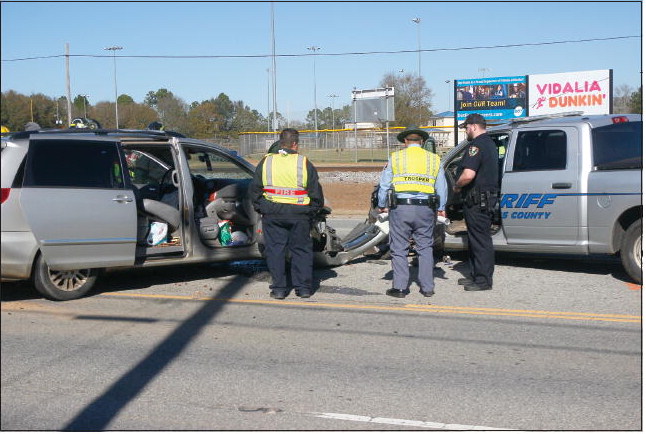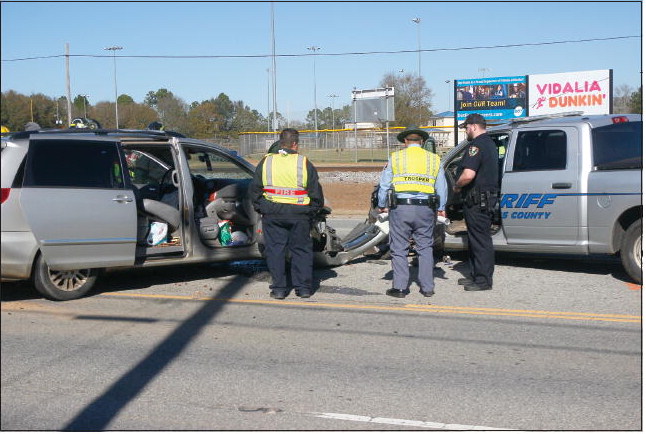 Traffic was slowed on the east-bound lanes of Highway 280 in Vidalia on Wednesday, December 28, as officials worked to clear an accident involving a minivan and a Toombs County Sheriff's Office (TCSO) vehicle.
At approximately 12:19 p.m. on December 28, dispatchers received a call that a deputy in a TCSO patrol truck had been involved in a wreck with a minivan at the intersection of Highway 280 and Arlington Drive. Upon being dispatched, the Vidalia Police Department, Vidalia Fire Department, first responders, TCSO, and Toombs-Montgomery EMS traveled to the scene.
Based on preliminary evidence, it appears that Deputy Wallace Thompson was stopped in the turning lane, facing westbound, waiting for traffic to clear so he could turn left into a parking lot. The minivan, driven by Laurie Griffin, of Emanuel County, was traveling east-bound in the right lane of the roadway. For an undetermined reason, Griffin left the right lane of the roadway, crossing the inside lane, and traveling to the turning lane, where she struck the deputy's vehicle.
Both drivers appeared to have suffered minor injuries and were transported to Memorial Health Meadows Hospital for further evaluation. The accident is being reviewed by Georgia State Patrol Post 18, Reidsville, for further investigation.