Posted on
continued from page VHS, and ….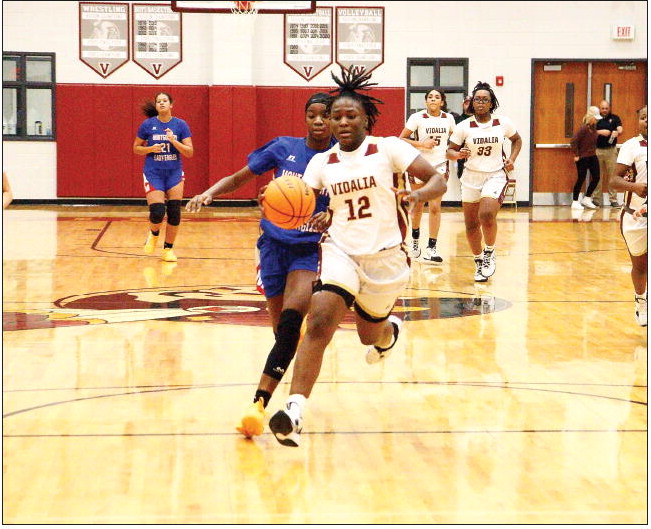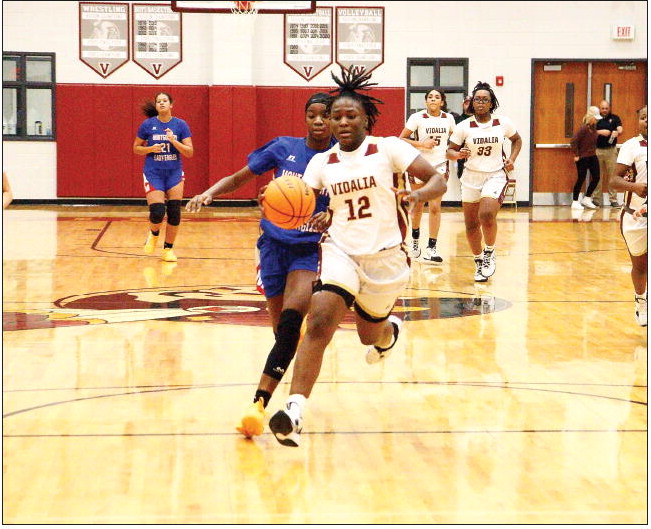 continued from page
VHS, and were up 15-7 later in the first quarter. But by the third quarter the Indians had come back and taken a 41-40 lead. It was 45-43 in the fourth and VHS held on to get the win, 55-52 over the Trojans.
The Indians were led by Sophmore guard Jayon Coleman, who tallied 19 points. The Indians sealed the win when Peyton Corbett hit two free throws with 14 seconds remaining. Girls vs. Montgomery
The VHS girls faced off with Montgomery County on Wednesday in their second game of the tournament. The game was tied at 10-10 at the end of the first quarter, but the Lady Eagles of Montgomery took a 2522 at halftime.
MCHS held a 44-41 lead heading to the fourth quarter and held off the Lady Indians 55-49.
VHS was led by Corianna Warner with 17 points, Kaliya Walker added 13 points, and Hannah Nichols scored 11 points in the loss.
Boys vs. ECI
On Wednesday the VHS boys faced off with Emanuel County Institute. In this game it was all VHS as they rolled to an easy win over the Bulldogs. Vidalia got on the board first and started to pull away. The score was 9-2 with just over four minutes left in the first quarter, and VHS led 13-4 with 2:40 to play in the first.
Vidalia continued to pull away from ECI on the way to a 78-30 win.
Freshman Rashad Brown led the way Wednesday night for the Indians. Brown scored 21 points including 6 three balls. Fellow freshman Jerryon Roundtree chipped in 14, while freshman DJ Wallace added 10.
Girls vs. Statesboro
It was a tough way to end the Christmas Classic for the Lady Indians as they took a loss to Statesboro. VHS fell to the Blue Devils 71-45.
Boys vs. Calvary Day
This was a big game against the #6 ranked team in AAA. The Vidalia Indians rallied around a tenacious defensive effort to defeat Calvary Day of Savannah. Vidalia finished the PT Motor Group Christmas Classic on a high note Thursday night with a 41-36 victory over the private school.
The Indians were led offensively by Cori Mincey and Jacaree Washington each scoring 14 points. The defense was led by a host of Indian; Lyric McKinnie, Jayon Coleman, Peyton Corbett, Alton Boles, and Mincey all made a tremendous impact on the defensive end.
This week VHS hosted Brantley County on Tuesday after presstime, and will be back in action on Friday at Windsor Forest with the girls tipping off at 6:00 p.m. and the boys to follow.