Posted on
Harbin Recognized at Heart of Georgia Champions Awards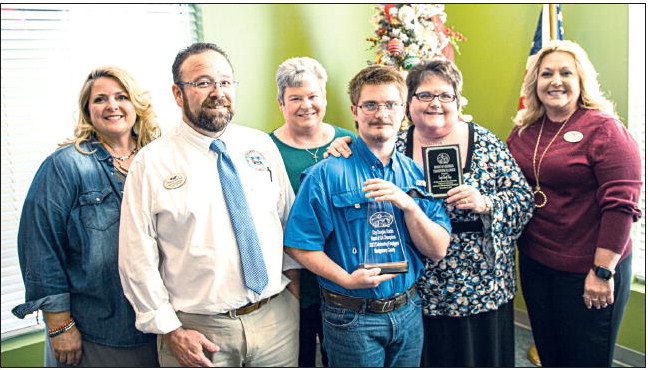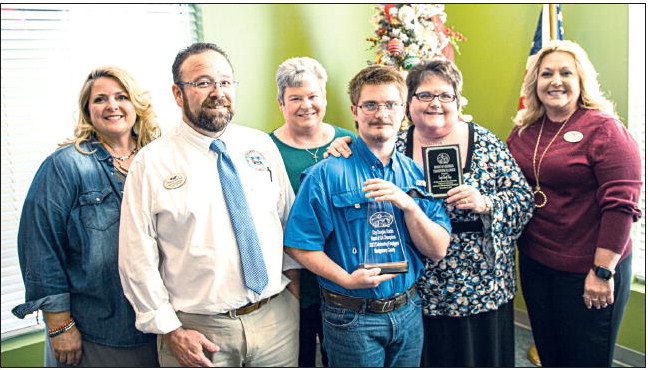 Montgomery County High School (MCHS) Junior Clay Harbin was recognized at the Heart of Georgia Champions Award Ceremony, held in Hawkinsville on December 2, for his work in the Eagle Thrift Shop.
The Heart of Georgia Champions Award Ceremony is held each year by the Heart of Georgia Transitional Alliance to celebrate students from each participating district, and to raise awareness in our communities about these exceptional students, their accomplishments, and their employers. The Heart of Georgia Transitional Alliance, (HGTA) was officially founded in 2012 and exists to assist local school districts in helping students with disabilities transition from high school to adulthood in order to be productive citizens.
During the ceremony this year, Montgomery County High School student Clay Harbin received an award for his dedication and hard work at the Eagle Thrift Shop which is housed in the old Montgomery County High School. He was accompanied by his classmates, his instructors, and the Special Education Department team as well as his mom, Mrs. Mary Harbin.
Harbin has worked at the Eagle Thrift Shop for two years. During this time, he has learned about the operation of the store and has developed exceptional interpersonal skills, outstanding customer service techniques, the ability to run a cash register as well as sorting, organizing, and merchandising the inventory that comes into the store. Harbin was recently promoted to the position of Store Manager and sets a great example for his coworkers.
Eagle Thrift Shop began as a donation-based clothes closet and has transitioned into a fully operational thrift store that is primarily run by students under the supervision of the Special Education Department. The thrift shop has proven to be an effective method for teaching students valuable life skills, improving employability and preparing students for transition to adulthood. Current store hours are limited to Friday only from 12 p.m. to 4 p.m. Please follow Eagle Thrift Shop on Facebook to learn about special hours and sales.