Posted on
continued from page Jada Williams ….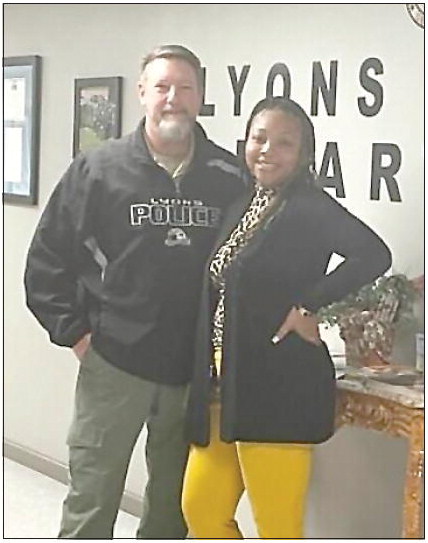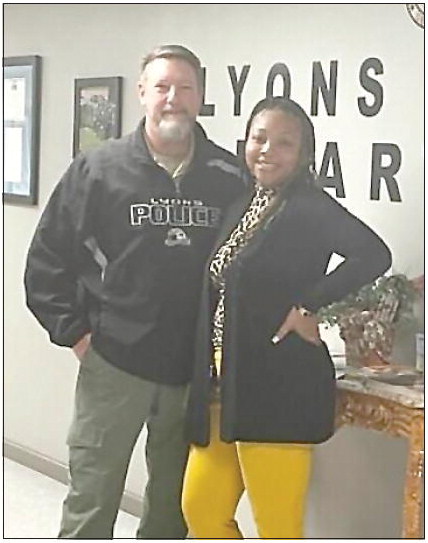 continued from page
Jada Williams and Lyons Police Department (LPD) Social Worker Shameeka Kent were hired onto the police forces after the cities partnered with Leigh-Ann White & Company and applied for and received a grant to fund two social workers for Toombs County. These women were interviewed by leaders from the Lyons Police Department, Vidalia Police Department, Toombs County Sheriff's Department, and other agencies connected to the mental health and addiction recovery community and began their employment with a meeting between health officials at Memorial Health Meadows Hospital.
In addition to responding to mental health-related crises, Kent and Williams will work together to seek out resources for those in need of help, as the area faces difficulties from the nationwide mental health crisis within the population.
Shameeka Kent
Kent earned a bachelor's degree in sociology from Ashford University and a master's degree in Marriage & Family Therapy from Northcentral University. Before coming to the Lyons Police Department, she had a lengthy career with several local County divisions of family and children services, including Toombs, Liberty, and Long. She also served as a Program Manager with the Georgia Department of Corrections. Ms. Kent expressed, 'I can have a positive impact, influence, and improve the quality of life in Toombs County due to my God-given purpose of serving others and helping those in need.'
LPD Chief Wesley Walker clarified the role which Kent will play in law enforcement. 'Having Social Workers involved with our local Law Enforcement agencies will put us ahead of the game. If successful, this program will improve the quality of life in our community. A person trained in this field can bring a sense of calm to an otherwise volatile situation. I believe their assistance to our law enforcement officers will be impactful. This is not a Co-Responder position. It is more like an investigator for mental health," he said.
'This position is needed in our community as we struggle with issues outside the law enforcement scope. These issues often fall on the police officers' shoulders to sort out. These officers may not be equipped to follow up with those in our community who need encouragement and direction. The influence of a social worker may reduce the occurrences of domestic violence and substance abuse issues by offering a different vantage point on situations. This program will also assist our first responders and other medical teams within our community by improving the overall outlook of law enforcement,' stated Lyons City Manager Jason Hall.
Jada Williams
Williams is native to the area, as she graduated from Montgomery County High School in 2005, before going on to obtain an Early Childhood Education diploma from South Georgia Technical College, bachelor's degree in psychology from Norfolk State University, and a master's degree in Human Services Counseling from Liberty University.
She has recently relocated to Vidalia from Jacksonville, FL, where she worked as a certified vendor with the state of Florida's Vocational Rehabilitation program and a certified Employment Specialist and Peer Mentor Project Coordinator. She has over a decade of counseling experience working with youth and adult populations with mental and physical disabilities.
Prior to accepting the position with the VPD, Williams worked as the Executive Director of Prestige Workforce, a nonprofit organization that she founded in 2017. The organization is a leading employment agency, which ensures that individuals with disabilities have limitless opportunities to pursue meaningful careers. She also served as a Trustee member of the Jacksonville Chamber of Commerce.
She is known for the personal and mentoring relationships that she builds with each client. "I believe in building lasting therapeutic relationships with my clients and providing a nurturing and safe environment," she explained. "I support my clients by instilling in them the self-confidence they need to face many of life's obstacles and give individuals effective coping strategies during times of behavioral distress."
"It feels really nice to be back [in Vidalia]. I grew up in Ailey, so I know the area well, I just have been gone awhile, so I am relearning the roads and such," she commented. "I plan to serve the community of Vidalia by providing short-term counseling and de-escalation service to individuals for stabilization purposes during a mental health crisis, along with sound follow-up and case management."
VPD Chief James Jermon also spoke on Williams joining the police staff. "It's another tool on the Officer's duty belt," he remarked. "As we know, mental health is a big issue in this country; as a police officer, we just don't have enough training to deal with individuals who are in a mental crisis. Sometimes, de-escalation doesn't work because the person in crisis, most of the time, believes they are being arrested. Thus, the police social worker is special because they will be less intimidating and have more referrals through other programs and facilities. They also are able to follow up with the individual, which is very beneficial to all involved. So, [the addition of Williams to VPD] is a win-win for the victim, law enforcement, and our community as a whole. It's going to take patience, and Ms. Williams and Ms. Kent will need the support of our entire loving and giving community."
JOINING THE FORCE — Through a grant previously received, the Lyons Police Department (LPD) and Vidalia Police Department (VPD) have been able to hire two police social workers for mental health crises and situations within the community. Left Photo, L to R: LPD Chief Wesley Walker, LPD Social Worker Shameeka Kent; Right Photo, L to R: VPD Chief James Jermon, VPD Social Worker Jada Williams.