Posted on
Toombs 4-H Students Visit Toombs County Commission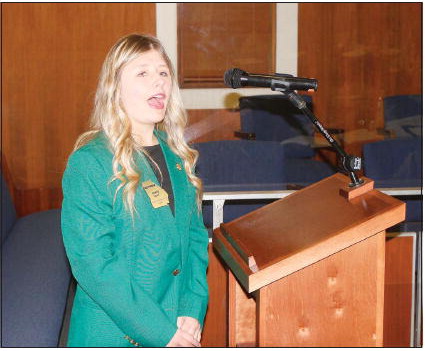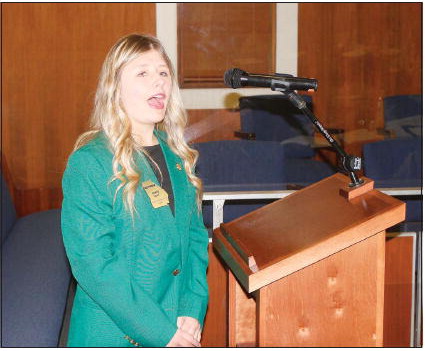 Two Toombs County 4-H students visited the Toombs County Commission at its regular meeting on November 15 to thank Commissioners for their support of the 4-H program.
Toombs County Middle School student Tiera Shaw not only participates in the Toombs County 4-H Program, but also serves on the Southeast District Junior Board of Directors. She told the Commissioners about her experience with 4-H, and her journey to this position.
"4-H has really made me into an awesome person, and I'd like to thank Mrs. Cheryl [Poppell] for giving me the opportunity to become more of a leader, giving me the confidence to run for Board, and for helping me overcome my fear of public speaking," she said. "I love 4-H, and I really appreciate you all for allowing us to have the opportunity to participate in this program."
Toombs County High School student Grace Holt is the first state 4-H representative from the County since the 1990s, and credits the confidence and encouragement she received through the program for giving her the ability to run for this position. She told Commissioners about her experience throughout several years of participation in 4-H. "4-H has been a part of my life since 5th grade, and it always will be," she told the Commission.
Action Items Purchases
The Commission agreed to purchase 11 vehicles for the Toombs County Sheriff's Office, as a part of their normal fleet replacement cycle. These vehicles consist of the fleet replacements for last year and this year, and will take months for the TCSO to receive. The purchase, which totals $433,878, will be funded through Special Local Option Sales Tax. (SPLOST) A new Stryker LIFEPAK Monitor, which is used on the Toombs-Montgomery EMS Ambulances, was approved for purchase at a cost of $8,402.69. These monitors normally cost around $32,000, so the purchase price approved by the county is greatly discounted. The purchase will be made with SPLOST funds.
The NG911 program, used by 911 Dispatch, will be upgraded to the RPSS/ INdigital program, known as the "next generation" of the current program used by the County, which is 10 years old. This new program improves location accuracy and provides the ability to send out texts for 911 operations. This new program will be funded through SPLOST.
Agreements The Commissioners unanimously agreed to sign a quit-claim deed for the section of Raymond Rollison Road, which was previously closed by the Commission.
The agreement with the Judicial Alternatives of Georgia ( JAG) was renewed for probation services.
County Administrator John Jones was appointed as the 3rd member from Toombs County of the Heart of Georgia Altamaha Regional Commission.
Alcohol licenses were renewed for Pop's General Store and Cedar Crossing Grocery Store. Development Authority
Toombs County Development Authority Executive Director Michele Johnson told Commissioners that the East Jordan Plastics industry, which announced its move into an available Toombs County industrial space in April, is still looking for a plant manager and is planning to hire someone local if possible.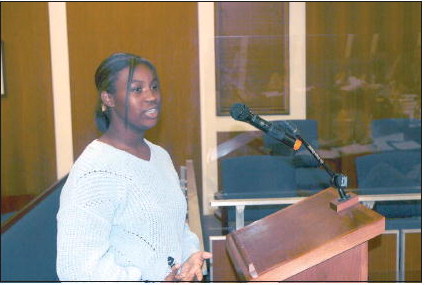 OVERCOMING FEAR — Toombs County Middle School student Tiera Shaw told Commissioners that the 4-H program has helped her overcome her fear of public speaking, allowing her to gain confidence and leadership skills she will use throughout her life.