Posted on
Local Wreaths Across America Events Set for December 17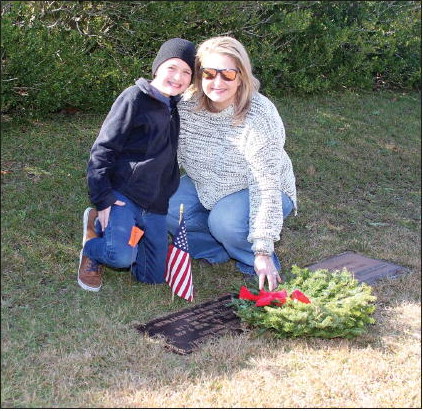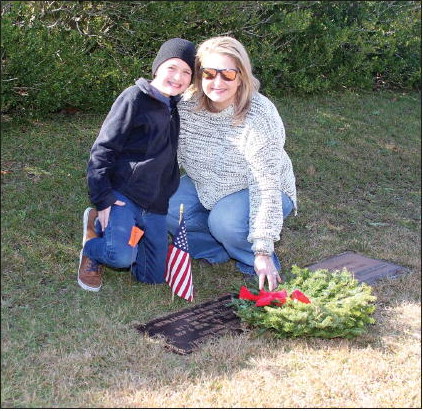 For the past several years, two local women have worked diligently to ensure veterans are honored and remembered during the Christmas season with annual Wreaths Across America events.
The local ceremonies, to be held December 17, coordinate with a National Wreaths Across America observance during which wreaths are laid in all 50 states, U.S. territories, at sea and abroad — at over 3400 locations. The wreaths honor veterans from the American Revolution to today's conflicts. At Lakeview Cemetery
Ty Ann Copeland's involvement with Wreaths Across America followed the death of her son, Calem Roy Copeland, a Vidalia resident and an Army veteran who served a tour of duty in Afghanistan. He made it home from war but died in 2016 in an accident.
Copeland said she attended a Wreaths for Warriors event in Hinesville, a project similar to Wreaths Across America, and was inspired to start such a project in her own hometown. She chose Toombs County's Lakeview Cemetery where her son is buried along with over 400 other veterans.
As she spearheads the local project to place wreaths on veterans' graves at Lakeview, she is assisted by friends and families, including the kin of the veterans buried at the cemetery.
Funds are raised for purchasing wreaths at local benefits and with contributions from area businesses and families. Support for the event is provided by a number of civic and military organizations.
"It is a six-month-long project," Copeland said of her work to secure sponsors and to raise funds to pay for the wreaths. The process of identifying the veterans buried at Lakeview began with an online survey of the some 2,000 burials at the cemetery. She identified over 400 servicemen and women, using Find a Grave and military sources. Their service dates from World War I to the present. She looked up each one of the veterans and their military records including their service commendations, and has created a list of those being honored.
Copeland invites the public to attend the ceremony at Lakeview, which begins at noon.
At Lyons City Cemetery
The first time Shirley Curl laid a wreath on the grave of a veteran was at Arlington National Cemetery. At the time, she was a Navy wife living in Annandale, Virginia. A friend asked her to come along and did not say where they were going. "She just told me to wear comfortable shoes," Curl recalled.
Curl doesn't know how many wreaths she and her friend placed on veterans' graves that day as volunteers for Wreaths Across America, but she remembers the solemnity of the occasion and pausing to take a long look at the landscape surrounding her. "No matter which way you looked, the graves were in a straight line. It was peaceful and beautiful," she remembered.
Over 30 years later, Curl continues to place wreaths on the graves of veterans. "It is the very least I can do to honor my husband." Dorman Kenneth Curl served in the U.S. Navy Medical Corps for 22 years and took care of servicemen in World War II, the Korean War and the Vietnam War. Part of his duty was aboard the hospital ship, The Mercy. He spent an additional 18 years at the Walter Reed Army Institute of Research in Bethesda, Maryland, and retired as a senior chief.
Curl, now an active member of the Veterans of Foreign Wars Auxiliary in Vidalia, spearheads the annual wreath-laying at Lyons City Cemetery.
The wreaths were made available through the Wreaths Across America organization and funded through local fundraising and by families of those being honored.
Curl said this year 216 wreaths were ordered for Lyons City Cemetery. Volunteers walked every inch of the acreage to locate the graves of veterans whose service extends from the Civil War to the present. Each veteran laid to rest at that cemetery will receive a wreath and relatives and friends of these servicemen and women have been invited to join the Auxiliary as they pay tribute.
After the wreaths are laid at Lyons City Cemetery, beginning at 9 a.m., the VFW Auxiliary will place floral tributes for veterans of each branch of the military and POW-MIAs at the VFW memorial on U.S. Highway 280. The public is invited to attend.