Posted on
continued from page slope and ….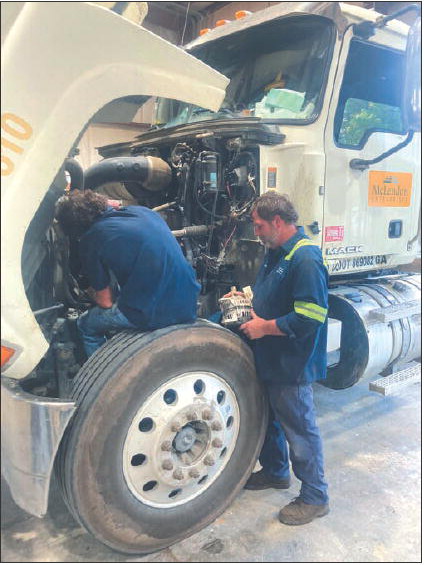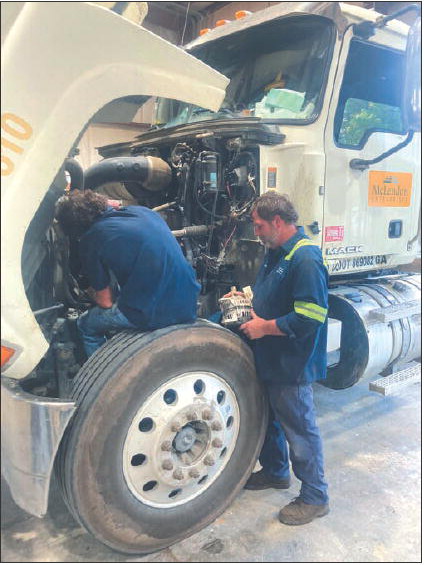 continued from page
slope and ramp building, and more. The students had previously practiced operating these machines through the utilization of simulators.
"I love it," Senior Clayton Porras commented on his work with the simulator during the class. "It is one of the reasons that I like to come to school. It's fun to do, I'm learning a lot, and you can get a lot of opportunities out of it."
These simulators allow students to work on tasks, such as trenching, navigating the machinery, and practicing safe operations. Each simulation exercise grades the student on their performance, notifying them of things they need to work to improve.
The class has allowed the students to make connections with local industries and potential employers, such as McLendon Enterprises, Yancey Caterpillar, and CW Matthews Contracting, who all worked to coordinate and judge the capstone project.
Once all the students completed the tasks, a small "graduation" ceremony was held, as each individual received a certificate of completion for the program.
Heavy Equipment Instructor Tom Brodnax said of the class. "We call ourselves the 'Dirt Dawgs.' We are the first program like this in Georgia; it's a great program, and it is spreading like crazy throughout the state."
He continued, "Being able to complete the testing gives the students an opportunity to show off the skills they have and what they have learned. We are getting them ready for the workforce." According Brodnax, this testing would not have been possible without the help of McLendon Enterprises, Yancey Caterpillar, and CW Matthews Contracting.
Noah Boyett, Christian Ford, Brayden Helms, Blake Huey, Trevor Miller, Clayton Porras, Jonathan Tinoco, and Ethan Williamson all successfully completed the "Hydraulic Excavator" portion of the project, while Riley Bradford, MarQuez Clay, Jeremy Edwards, Walker Hart, Clayton Porras, and Jayce Taylor were successful in their completion of the bulldozer portion.
Opportunities Through Partnership One student was offered an apprenticeship with McLendon Enterprises, which allowed him to work in the company's shop under the supervision of employees. During this apprenticeship, Ryan Galbreath, who was also the first student to sign up to join the Heavy Equipment Operations Pathway, has learned 5 key tasks that will make him an asset to future employers. "He has aced everything we have worked on," McLendon Enterprises Equipment Manager Tim Adams remarked. "He's been a great asset to us. He's 16 years old and someone I depend on daily."
Adams said that this sort of partnership and continuation of learning is exactly what the Heavy Machinery pathway is designed to accomplish. "The kids learn the basics [of the industry] in the class, and we put [that knowledge] into real life. These kids want to work, and this is giving them that opportunity," he said.
Apprenticeships, similar to this one, are available to every student who completes the criteria of the course, as a large number of local businesses continue to partner with the school and the Heavy Equipment Operations Pathway.
"This is a great way for students to learn what they have a passion for," Adams continued. "They can apprentice at different places and learn different things."
"We hope this program spreads throughout the state and gives students the advantage and confidence to be productive employees," he concluded.
Background
During the 2021-2022 school year, Toombs County High School implemented a unique pathway option for students through the creation of the new Heavy Equipment Operations program. This Career, Technical, and Agricultural Education (CTAE) program is the first of its kind in Georgia and makes Georgia only the third state in the country to have this option for students.
The goal of this program is to equip high school students with the skills to operate heavy machinery and equipment. These skills will allow graduates to enter the workforce prepared to be a valuable accessory to industries and to earn good salaries.
"In essence, where normal students entering the workforce after high school will make around $30,000, students who complete this pathway will be able to make upward of $40,000 to $50,000 per year," Toombs County Schools Superintendent Barry Waller explained. He stressed the need for these kinds of skilled laborers in local industries. "Both Chicken of the Sea and McLendon Enterprises have repeatedly shared that they need equipment operators."
This program is also an innovative option for students who do not plan to pursue college. Former Toombs County CTAE Director Carmen Roberts noted, "Most pathways are geared toward students going to college, which can be frustrating for individuals who do not wish to follow that plan. Having this pathway gives more choice in students' educations to prepare them for the future; it is a very necessary addition."
This semester marks the first completers of the new pathway, which consists of three courses.
APPRENTICESHIP OPPORTUNITIES – Heavy Equipment Operations Pathway Student Ryan Galbreath (left) has been able to work with McLendon Enterprises after school daily to continue to build on the skills he learned during the course. Here, Galbreath works to change an alternator while McLendon Enterprises Employee Shannon Powell (right) directs him.