Posted on
Moncus Signs Letter Of Intent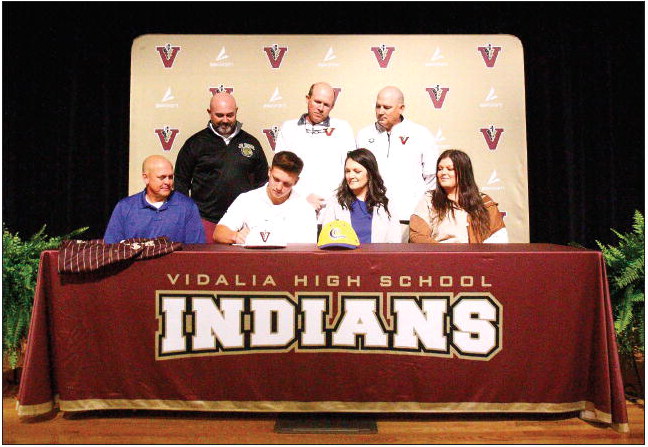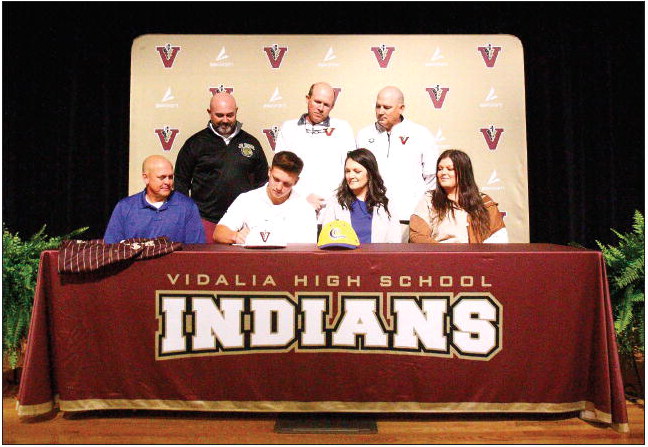 It was a big day last Wednesday for several Vidalia High School Indian Athletes as they signed their letters of intent to play at the next level. Walker Moncus was the first to sign on the day as he put pen to paper to play baseball for the Blue Wave of Florida State College at Jacksonville.
Moncus, who was a 2021 and 2022 All-Region selection, still has his senior season ahead of him. He will go into the 2023 season with a career .369 Batting Average, with 65 RBIs, 16 Triples, and 2 home runs, with his last being a game-winner against Lovett in the 2022 Semifinals.
"I had a couple of options, but really wanted to go JUCO. I felt it was the best opportunity for me to get to play right away and to work toward a bigger school. This is one of the top JUCO schools and I wanted to take this chance. I have to thank my parents and the rest of my family, and of course all of the coaches that have helped along the way. The State Championship last year helped out. I mean, I'm already signed, so I'm playing with no pressure this year, and get to go out there and have fun."
Clint Moncus, father, stated, "We are extremely proud of him. He has worked for this since he was six years old. He had couple of schools talking to him, but this coach watched him hit, and after he got the offer we just felt it was the right fit. We look forward to what he will do."
VHS Head Coach Brent Korn added, "We are proud of Walker. He has always been a great hitter, but he has worked so hard to improve on the defense side of the ball. I like the junior college route that he is going, going to be able to step right in and play and really make the most of the opportunities he is getting."
– cus (sister); (Back): Coach Rhett Carter, Head Coach Brent Korn, and Coach Ben Beck.
Photo by Mike Branch