Posted on
The Liberated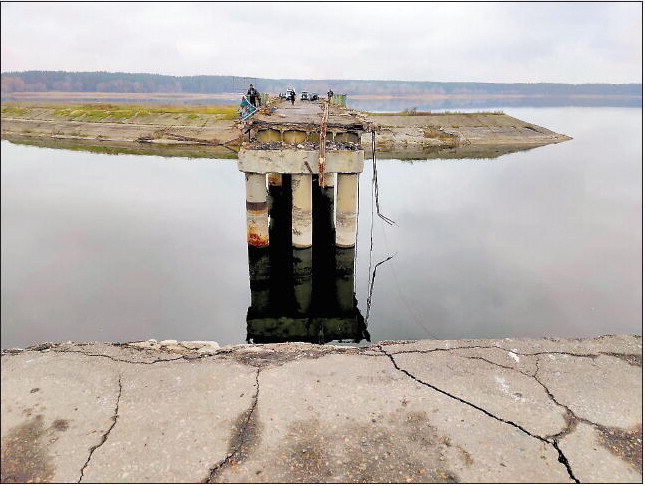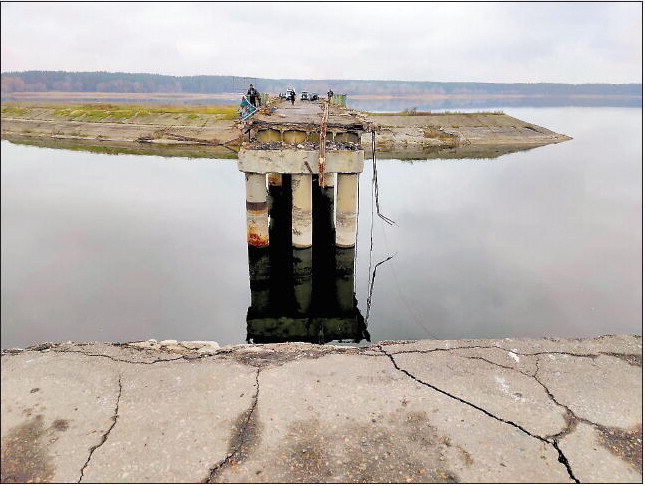 (Editor's note: This narrative was written by Sasha, a Ukrainian pastor who is working with various mission programs to help the people of his war-torn homeland. In this article, he reports his firsthand observations as he travels to render aid to his fellow countrymen.)
An older man rides a bicycle. When he sees me, he stops, and a conversation begins. Questions — where are you from? Why did you come to us? And having exchanged the first information, he begins to speak and tell his story. He tells about life under occupation — how the village came under shelling, how the enemy entered the houses of the inhabitants and how they looted. His voice trembles with anger and hatred for the invaders.
Today we are on the territory liberated from the enemy, we communicate with people who survived the occupation. There are many such settlements and villages in the Kharkiv region. Some of them are under the great attention of volunteers and charitable organizations, some are left out of the flow of aid. Getting here is quite difficult. You need to have a special permit from the military administration. The line of fire is only 20 km from this place. Explosions are periodically heard and there are arrivals of shells from time to time. The military administration requires that we have bulletproof vests ready.
When we leave Kharkov heading towards this village, a military man says to us: "Be very careful. Watch the sky (referring to the danger of drones) and do not drive off the main road (there might be mines and unexploded ordnance). Truly a biblical reminder. Always look up and never forsake the way of truth.
The pictures seen in this village are not much different from many other cities and villages that have survived the period of occupation since February 24 of this year. Before the war, 5,000 people lived in this village. It was a small, quiet and very cozy place. There were nicely repaired buildings — a school, hospital and roads. Stunningly beautiful nature — forests and a river.
Not long ago, the local Baptist church built a beautiful church building (here). There were many children and young people in the church. Then someone in the Kremlin decided that this and thousands of other cities and towns needed to be "liberated." This village had bad luck, because it is located very close to the border with Russia and Russian troops entered here at the very beginning of the war. Then there were long days of occupation, which ended with the fact that the enemy was forced to leave this place.
And then the most terrible thing began — as if responding with revenge for their forced withdrawal from the city, the enemy began fierce artillery shelling of the city, destroying everything and bringing death. The rest of the people hid in basements without water, electricity, or communication. In moments of calm, they brought water from the river and cooked food on fires.
(Compare the village) to before the war and what it looks like now: (the bombed out) Baptist Church, destroyed houses and electrical networks, a destroyed school and school buses. The village is located on two banks of the river, but the bridge connecting both banks is destroyed. It takes 6 hours to take a detour to the nearest surviving bridge. We watch as an ambulance on the opposite shore delivers a patient, lowers a person into a boat and transports him to our shore, where another ambulance is already waiting for him.
Now in the village of a 5,000 pre-war population, about 500 people remain, mostly older people. It is still too dangerous here, so shops and banks are closed. (There are) interruptions in electricity and communications. Once a day, people can take a public bus to Kharkiv to buy food and medicine, but this is also dangerous and many people do not have enough money.
We can say that now these people are completely dependent on humanitarian food aid. People are anxiously awaiting the coming winter. We stop and a group of people gather around us. They look at us with some expectation that we will tell them something that will give them hope. We tell them — help and serve each other. If your house survived, take in people who have lost their house. When it's cold — get together, so you will be warmer.
In their eyes, we read the questions: why did this happen to us and what to do next? It was quite unexpected to see two little girlfriends who survived the occupation and explosions and who are now playing with abandoned dogs. Everyone suffers from the war, but in my opinion children and abandoned pets suffer the most.
I stand on the bridge and see a picture that touches me to the core. The war brought destruction. Holes in every sense. Holes are physical. Holes in the souls of people. Ukraine returns and liberates the occupied territories. But true liberation is brought by that Cross visible in the distance. Only in the Cross of Christ is true liberation.
On our way back, the military at the entrance to Kharkov asked us where we were. Hearing our answer, he says: 'Thank you and your churches for being here for people and for all that you do.' And I am happy to pass the gratitude of this Ukrainian soldier to all of you. Thank you!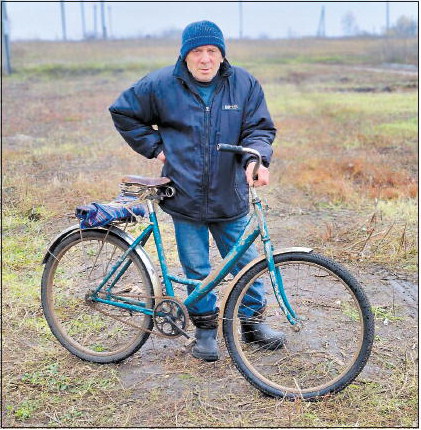 ANGER — Sasha encountered a man in the Ukrainian countryside whose voice trembled as he spoke of the Russian invaders.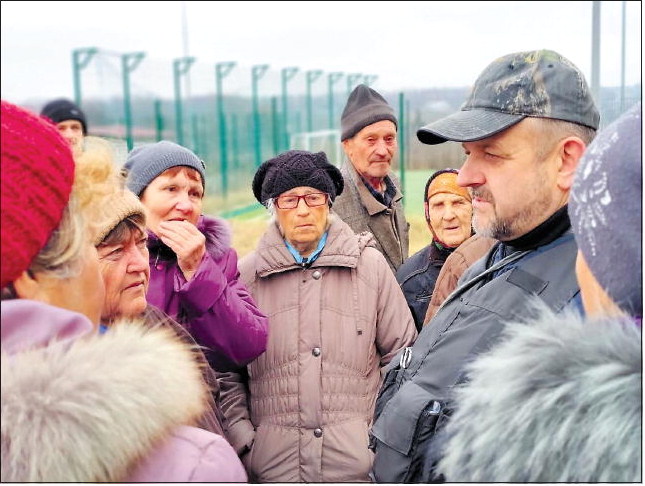 WHY? — Pastor Sergey speaks with a small group of villagers whose uncertainty and fear show on their faces and in their eyes. Why is this happening to us and what do we do now, they asked the pastor.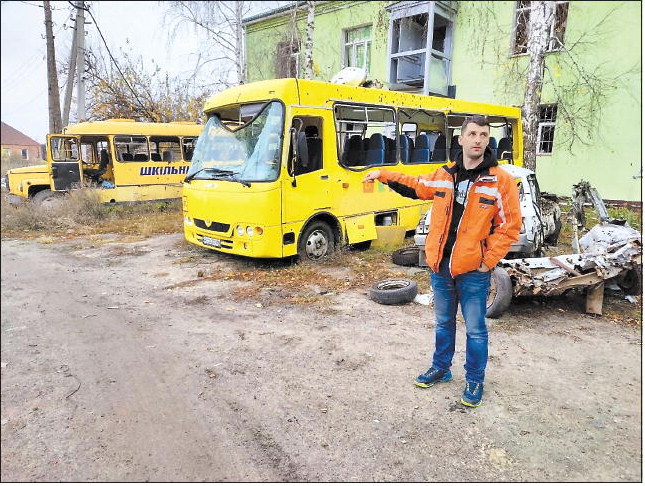 NOTHING IS SPARED — Yurie points out two school buses destroyed by Russian shelling.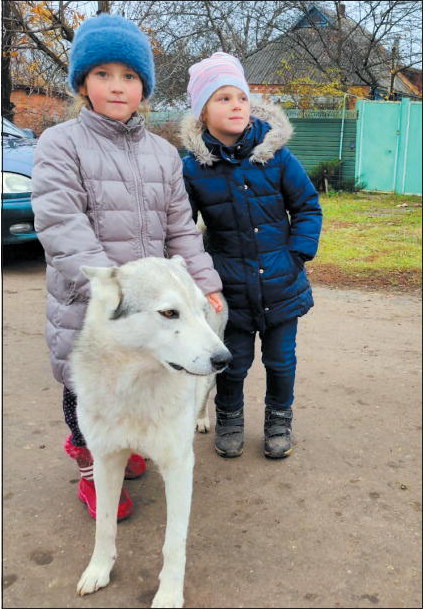 INNOCENT VICTIMS — Two young girls play with an abandoned dog in one of the villages devastated by bombing. The children and the animals are innocent victims of the carnage. Playgrounds, schools, hospitals, churches and residences have all suffered shelling by Russian troops.