Posted on
Despite Rain, Veterans Honored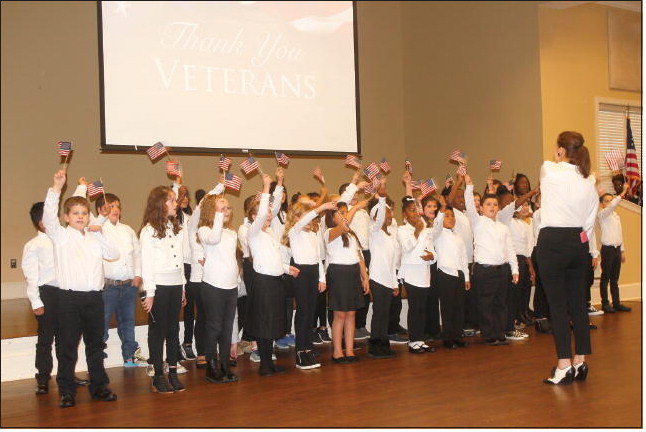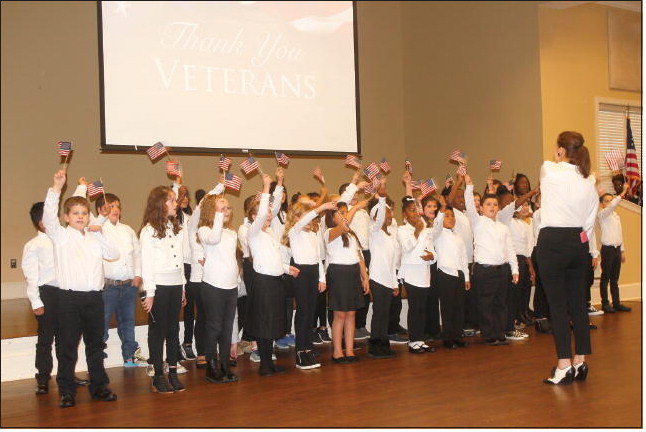 The rain that accompanied Tropical Storm Nicole prevented a local parade planned for Veteran's Day, but the Downtown Vidalia Association, which sponsored the tribute, still made sure that those who served our country were honored with an indoor program and luncheon on Friday.
Local veterans fellowshipped and ate after local students and community members honored the service members with tributes through song, speech, and a color guard presentation.
At the opening of the event, the colors were posted by the Southeastern Early College and Career Academy (SECCA) JROTC Thunderbolt Regimen, and Suzanne Dixon led the audience in "The National Anthem." Patriotic tunes were performed by the Toombs County Children's Choir before the Vidalia Heritage Academy (VHA) 2nd through 5th grade students recognized each branch of the military with an Armed Forces Medley.
VHA Sophomore Reese Neal shared her essay on why Arlington National Cemetery is important to our nation, a piece which earned her and three of her fellow classmates the opportunity to lay a wreath at the Tomb of the Unknown Soldier at Arlington National Cemetery during a recent school trip to Washington D.C.
"For many Americans, Arlington National Cemetery is a way to honor those who died fighting for our freedoms with flags and flowers. For relatives, it is a way to say goodbye to loved ones, while knowing their legacies are saved in stone. History rests there, too, under the oak trees, former presidents William Howard Taft and John F. Kennedy lie alongside their families," she read.
"Arlington National Cemetery is important to our country because in the midst of political and national battles, honor for those who still fought for our freedoms still stands strong," Neal emphasized.
Local Department of Veterans Service Senior Office Manager Debbie O'Neal read a letter from DVS Commissioner Patricia Ross, which reminded attendees of the history of Veteran's Day and promised that Ross would continue to work for the benefit of all veterans.
According to Ross, Veteran's Day was first established in 1919 as a day to suspend all business and hold parades and public meetings; after World War II, the day was declared an official holiday to recognize veterans from all wars. "Whether they are wearing the uniform today, or wore the uniform decades ago, American veterans have never hesitated to answer a call to duty and defend the principles of freedom, justice, and liberty for all," she emphasized in the letter. "The true strength of America's military has always been the spirit of valor of the American veteran."
Lunch was served to the veterans with the help of Boy Scout Troop 933. A plethora of door prizes were also distributed to attendees, as the group enjoyed the meal and conversation with their peers.
Reflection
DVA Executive Director Tonya Parker shared her thoughts on the event. "The veterans love being with their comrades, and we love seeing them together. It was so great to have so many young people honoring veterans for their service," she remarked.
She went on to share her gratitude for those who contributed to the event. "Thanks to all who made it possible for us to feed and treat the veterans. It is because of you all that this event is a success."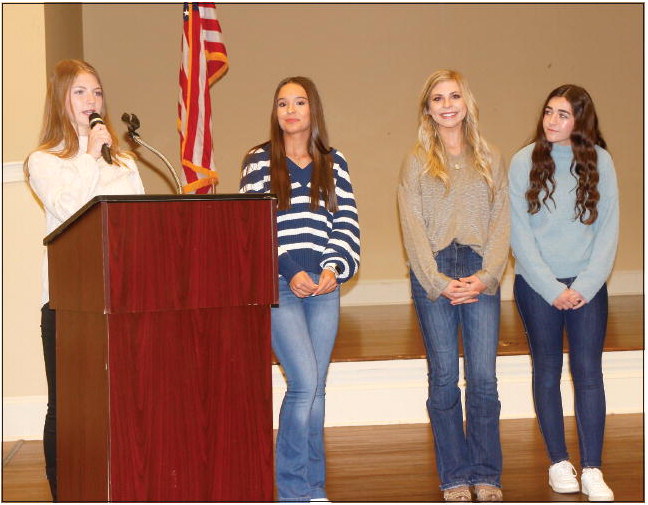 IMPORTANCE OF ARLINGTON — Vidalia Heritage Academy sophomore Reese Neal spoke to the audience about her experience of laying a wreath alongside three classmates at the Tomb of the Unknown Soldier at Arlington National Cemetery this year. She also read her essay on why the Cemetery is important to our nation. L to R: Reese Neal, Anna-Hudson Hamilton, Mallie Braddy, and Jaley Owen.Photo by Makaylee Randolph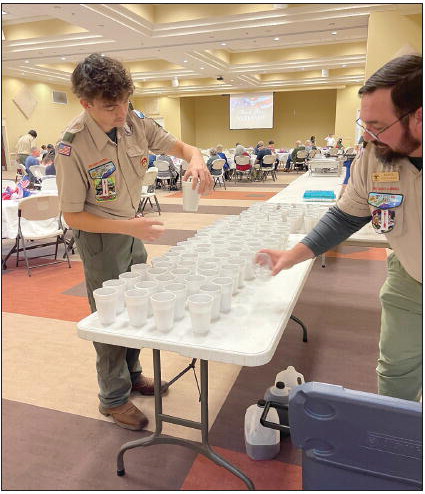 SERVING THOSE WHO SERVED — Members of Boy Scout Troop 933 worked to serve attendees of the Veteran's Day luncheon through food preparation and distribution. Here, Scout Adam Copeland (left) and Scoutmaster Brett Copeland (right) work to prepare drinks for the event. Not pictured: Scouts Jackson Tomlin, Zachary Douglas, and Modesto Quintana.