Posted on
Bulldogs Fall To Putnam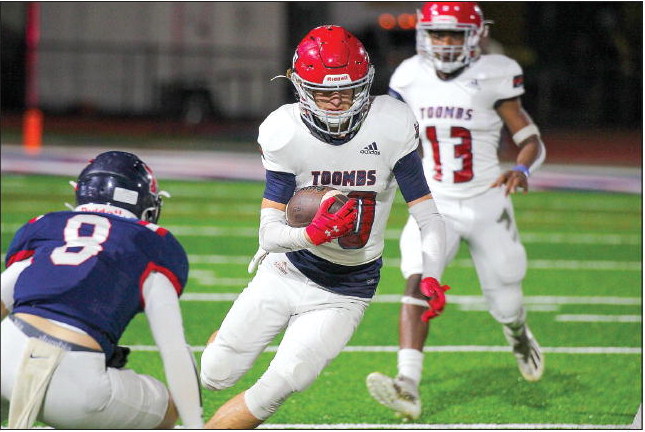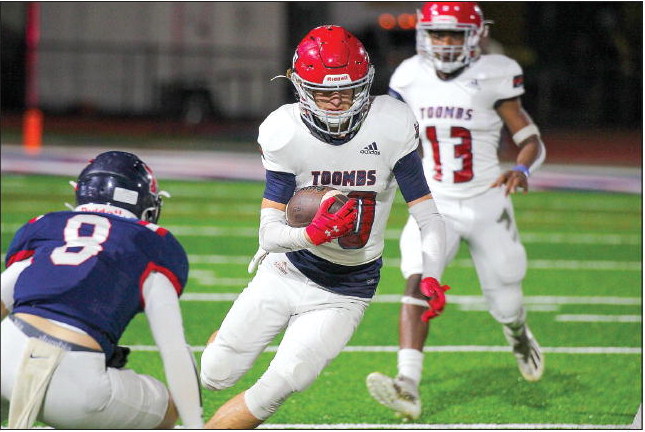 Courtesy of TCHS
On Friday night, the Toombs County Bulldogs hit the road in Round 1 of the Class AA State Playoffs making a 2-hour drive to Eatonton, GA, to face the number 2 seed Putnam County War Eagles of Region 4AA in the two school's first-ever meeting.
Putnam took the opening possession on their own 45-yard line. The Red Bullet defense stopped the Eagles on three plays and forced a punt. Toombs County took their first possession on their own 10-yard line. The Dog's offense stalled after their first three plays and was forced to punt it back to the Eagles.
The Eagles found the end zone on that next drive with a 33-yard run to give the Eagles a 7-0 lead with 7:40 left in the opening quarter. Disaster struck on the next Bulldog drive as a Bulldog pass was intercepted on their own 27-yard line, giving the Eagles excellent field position. Putnam County cashed in on the turnover, scoring on a run of 24 yards. A missed PAT left the game at 13-0 Putnam County.
Toombs started moving the ball on their next possession with a 10-play 43-yard drive, but the Dogs eventually turned the ball over on downs at the Eagle 30-yard line. Putnam used their run game to move the ball 69 yards on 5 plays adding another rushing touchdown, which pushed the War Eagles to a 20-0 score over the Dogs.
After the teams exchanged possessions, Toombs forced another Putnam Punt. On the return, a fumble occurred, giving the War Eagles the ball back on the Bulldog 25. The Red Bullets held again and forced a 25yard FG that extended the Eagle lead to 23-0. On the last drive of the first half, the Bulldogs drove the distance of the field, but a fumble near the goal line with seconds left in the half kept the Bulldogs off the board. The score at the half was 23-0 Putnam County.
To start the second half, Sophomore Mike Polke took the kickoff and raced 52 yards before being forced out of bounds. Six plays later, Sophomore LaGonza Heyward scored from 12 yards out. The Dogs missed the 2-point attempt to make the score 23-6. Putnam County answered right back scoring on a 36-yard pass giving the Eagles a 30-6 lead.
Both Defenses took the game over from there and the final score was 30-6 Putnam County. Putnam will take to the road next week and face the #1 Ranked Fitzgerald Purple Hurricane.
Toombs was led in rushing by Tamarian McArthur with 77 yards. Hayward added 44. Gavin Hall threw for 64 yards in the game.
Toombs County's season ends at 6-5. The Bulldogs are losing another group of talented Seniors.