Posted on
Nobles Gets Key to the City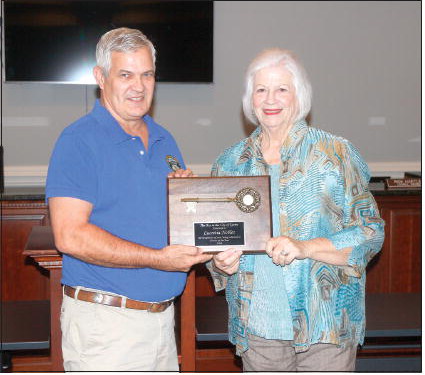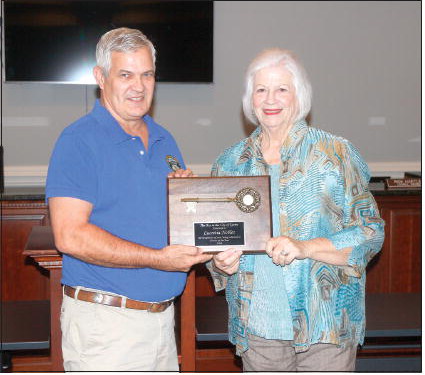 Lyons Citizen of the Year 2022 Award Recipient Lucretia Nobles was presented the Key to the City by Mayor Willis NeSmith at the regular monthly meeting of the Lyons City Council on November 1.
Longtime area resident Lucretia Nobles was honored as the 2022 Lyons Citizen of the Year at a ceremony on Thursday, September 22, at the Callaway Center at Partin Park. Mrs. Nobles and her husband, 2012 Lyons Citizen of the Year Darriel Nobles, are the second married couple to receive this honor. Nobles has been involved in all aspects of Toombs County life since 1968, including school committees, Halloween festivals, Christmas parades, athletic and band boosters, and more. She is a member of the Beta Sigma Phi sorority, and was their 1987 Lady of the Year. She also helped to organize the local leadership class, now known as Leadership Toombs. "We are proud to have you in our community. Thank you for all that you do," Mayor Nesmith told Nobles.
Action Items & Resolutions
Ordinances were approved regarding self-storage businesses, requiring them to obtain licensing from the City and to pay licensing fees. These ordinances also outline development requirements for these self-storage businesses. More information can be found online through the City website, or by contacting City Hall.
Council members also approved the Local Option Sales Tax (LOST) Certificate of Distribution. This is an annual agreement between the cities of Vidalia, Lyons, and Santa Claus with the Toombs County Commission for the administration of LOST appropriations to each entity. The Toombs County Commission agreed this year not to change the percentages of distribution from last year, to which the cities tentatively agreed. The percentage breakdown is as follows: Vidalia – 45%, Lyons – 16%, Santa Claus – 1%, Toombs County – 38%.
The FY22 operating budget was approved to be amended to reflect changes within the expected revenues and expenditures after a recommendation from the City Administration and Finance Committees. The FY23 budget was also approved, as both Mayor NeSmith and City Manager Jason Hall explained the budget was "conservative" because of the rising inflation, and was designed as a "mirror" of the FY22 budget adjustment.
A special use permit was approved for Tena Bentley to operate a daycare on L25-007, which was previously zoned for residential use.
Annual longevity payments were approved to be granted to qualifying city employees as an act of appreciation for their loyalty and service. These payments were already budgeted previously, and therefore, cause no change to the FY22 budget.
Reports
Main Street Association
Lyons Main Street Association Director Daphne Walker announced that $225 had been given to the Toombs County High School Art Program after their participation in a Chalk Art contest during the Real Squeal. Walker said the Association was also able to donate $500 to the Toombs County High School Wrestling Team, who volunteered their time for set up and break down the Real Squeal festival.
According to Walker, an estimated 180 prekindergarten and nursery children trick-or-treated in the downtown area on the morning of Friday, October 28, while around 825 children participated in the Scare on the Square event on October 29, a number which Walker said has tripled since last year.
She also shared that the Southeast Soapbox Derby representatives would soon begin selling tickets soon for their Gun-A-Day raffle in January, where a single gun will be raffled each day for the entire month of January. Tickets are $25 each; the Lyons Main Street office may be contacted for more information. Walker also shared several upcoming events: • Southeast Soapbox Derby Rally Races – November 19-20 • Mr. and Mrs. Lyons Christmas Parade Grand Marshal Breakfast –November 22, 9 a.m., Lyons Train Depot • Winter WonderLy ons – December 2, Downtown Lyons, 4-6 p.m.
• Lyons Lighted Christmas Parade, December 2, Downtown Lyons 6 p.m.
City Manager
Jason Hall announced that the next work session of the Lyons City Council will occur on Tuesday, November 29, at 6 p.m., while the next meeting of the Council will be Tuesday, December 6, at 6 p.m.