Posted on
VHS Runs Well At Region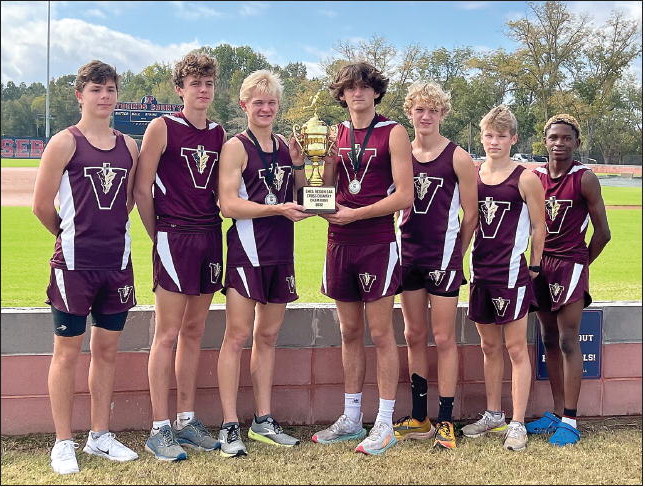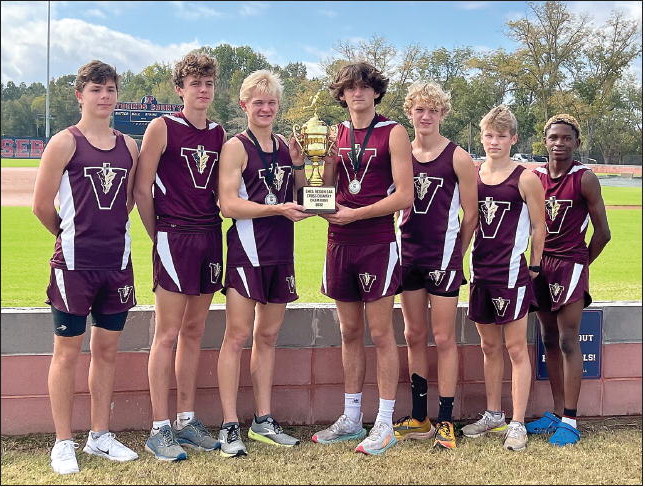 Courtesy of VHS
Led by Seth Mac-Gregor and Andrew Hodges, the Vidalia High School Indians Cross Country team captured the Region 3AA Championship Wednesday at Toombs County High School. The Lady Indians placed third in the event and now both teams will advance to run in the State Meet on November 5 in Carrollton.
Boys
Both MacGregor and Hodges finished in the top 3 individually, and Abrien Anthony turned in an alltime personal best which earned him a top 10 finish.
"As a whole, the entire team ran outstanding races in preparation for the state championship," said Vidalia Head Coach Mandy Godbee. "I'm very proud of their effort and look forward to November 5."
The boys won with 36 points, with Savannah Arts at 54, Appling County at 89, and Tattnall at 98. Mc-Gregor took 2nd place with a time of 17:45, Hodges was 3rd in 17:58, Chamlee Evans was 8th in 18:31, Anthony was 10th at 18:46, and Cash Driggers was 13th in 19:11.
Girls
The Lady Indians had a very steep challenge as they faced the number one team in the State in Savannah Arts Academy. But the Lady Indians were up for the challenge even though they only had 5 runners with 3 of the 5 running for the first time this year. Georgia Meredith once again ran well and was the only automatic qualifier that was not on the Savannah Arts team. Aleah Ajohda ran a personal best time placing 9th overall.
"I am very proud of their fight and determination," said Godbee. "They certainly earned their trip to State with this performance. I believe the ladies are well prepared and excited to compete at the state meet." Savannah Arts took the top four spots and sevan of the top eight finishers were from Savannah Arts. They led the way with 17 points, Toombs was 2nd with 97, Vidalia was 3rd with 98, and Pierce was 4th with 100 points.
Meredith was the top VHS finisher with 5th in 21:00, Ajohda finished 9th in 23:20, J'Miya Hunt was 22nd in 26:55, Amiracle Jinks was 24th in 27:18, and Anna Dopson was 42nd in 33:50.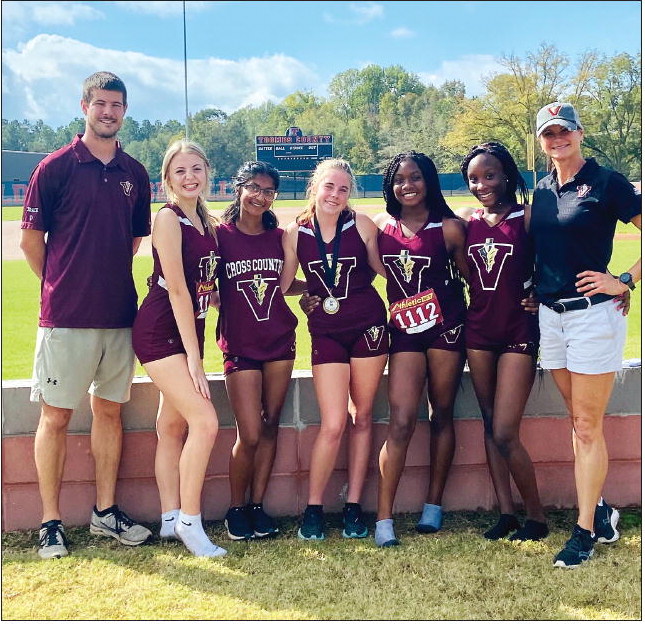 (L to R): Coach Lee Humphrey, Anna Dopson, Aleah Ajohda, Georgia Meredith, J´Miya Hunt, A iracle Jinks, Coach Mandy Godbee