Posted on
Richt Offers Inspiration At BPC President's Gala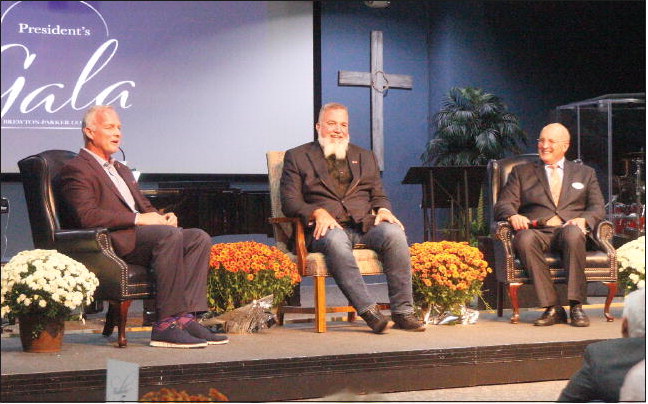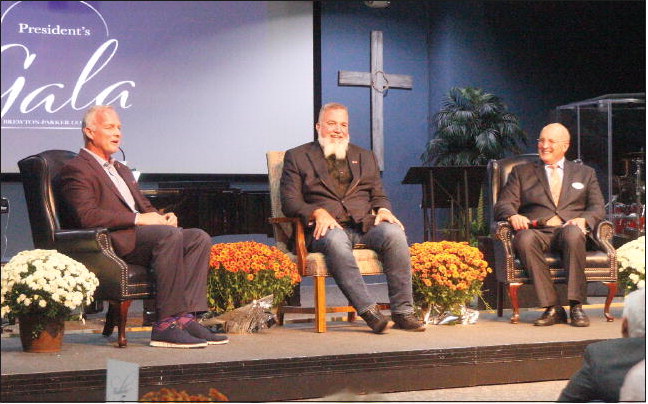 STUDENTS OF THE MONTH, AUGUST — Toombs Central Elementary School has named their Student of the Month award recipients for August. These students have stood out to teachers and staff for their dedication and hard work. (L to R): Front Row: Everest Anderson (Kindergarten), Oaklee Calhoun (1st grade), Gunner Rountree (2nd grade) Caroline Braddy (Pre-K), Back Row:Yareli Giron (5th grade), Hannah Aguado (3rd grade), Charlotte Garrett (4th grade).
STUDENTS OF THE MONTH, SEPTEMBER — Toombs Central Elementary School has named their Student of the Month award recipients for September. These students have stood out to teachers and staff for their dedication and hard work. (L to R): Front Row: Franco Tinoco (Pre-K), Summer Mclendon (Kindergarten), Ashelynn Love (5th grade), Back Row: Remy Rubio (1st grade), Kevin Salazar (4th grade), Walker Nabb (3rd grade). Not pictured: Emilee Ascencio (2nd grade).
Former University of Georgia Head Coach Mark Richt and his brother-inlaw Kevin "Chappy" Hines inspired attendees at the Brewton-Parker College (BPC) President's Gala on October 20 with stories of the past and perspectives on the future. Richt began his portion of the event with accounts of his youthful years including college football recruiting as a quarterback, his persistent attempts to become an athlete within the National Football League (NFL), and the transition from player to coach. He also shared with the audience that he became a Christian after tragedy struck while he was coaching as an assistant quarterbacks coach at Florida State University. He recalled an incident in which a player, offensive tackle Pablo Lopez, was shot and killed at a party. "The team and coaches were all in the locker room the next day after Pablo was killed. [Coach Bobby Bowden] started speaking about God and eternity, and invited the guys to come into his office if they had questions or needed to talk about things. I knew he meant the players, but soon after, I went into his office, prayed, and became a believer in Christ," he reminisced.
Hines added to this story, sharing how Richt's experience with this sort of tragedy had led him to be able to speak the same message of faith and hope to various schools facing similar situations. He referenced the Jefferson County football team, most recently, that had one of its players murdered earlier this month. "They called and asked if Mark would be willing to talk to the coaches and team because he had been through the exact same thing," Hines emphasized.
Richt continued to share about his faith and how the situations he faced had affected his faith. He discussed his health struggles, such as the heart attack he suffered in 2019 and his 2021 Parkinson's Disease diagnosis, and shared his perspective on hope and mortality. When reflecting on his experience during the heart attack, Richt informed the crowd of his thoughts and feelings as he felt he was dying. "All of a sudden, everything went black," he said as he described the scene of the ambulance and operating room. "I was thinking 'this is it,' but guess what I felt? I felt peace. I remember saying 'Here I come, Jesus.'" According to Richt, he is aware that his Parkinson's Disease will truly complicate his life, eventually leaving him feeling trapped in his body. Yet, Richt told the crowd of BPC supporters and staff that he was not wishing or praying for healing or for that illness to leave him. "If my hope is based on temporal things, if it is based on what is going to happen to me on this earth…I cannot face this life. But knowing that when I go to Heaven, I will be filled with God's glory and have a new heavenly body…that's what I put my hope in."
Richt ended his section of the event with comments on the Brewton-Parker College mission statement, which reads, "As a comprehensive Georgia Baptist institution, Brewton-Parker College provides liberal arts and professional programs in a learning community of shared Christian values. Through the application of biblical truth in scholarship and a co-curricular focus on character, servant leadership, and cultural engagement, the college strives to provide a transformational experience that equips the whole student for lifelong learning and service in Christ."
Richt said, "I know you all are trying to equip people to become basically evangelists of the gospel through whatever area they choose to study. You are trying to teach people that when you love Jesus, there's a difference in how you act. There are eternal things you can invest in on this earth, and this college is truly one."
The night also featured a testimony on the College's effect on the lives of alumni, a performance by the college's ensemble, and a few words from President Dr. Steve Echols, who thanked all attendees for support the institution.