Posted on
Meadows Unveils Comprehensive Breast Cancer Treatment Program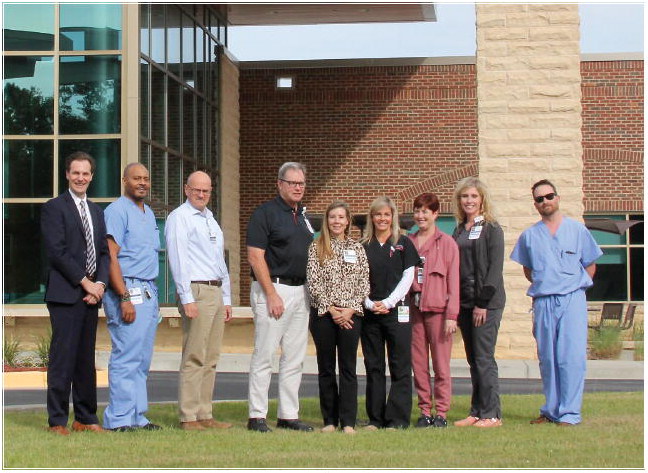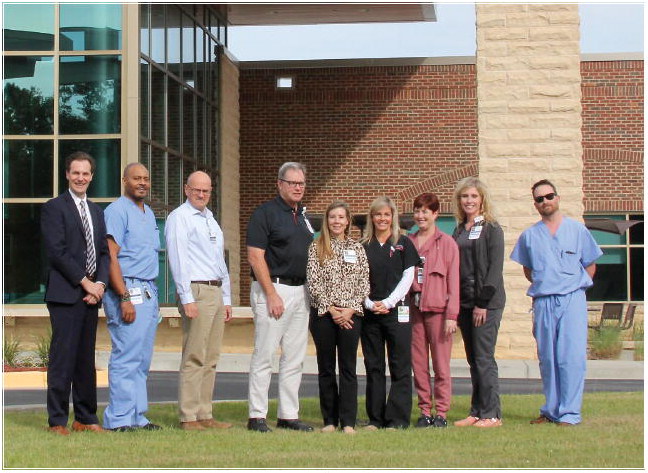 October is National Breast Cancer Awareness Month, and it is the opportune time for Memorial Health Meadows Hospital in Vidalia to unveil its comprehensive breast cancer treatment program.
"We are very excited to provide our community and patients access to a comprehensive array of breast cancer services and specialists who can screen, diagnose, treat and provide survivorship support. It's a one-stop program for our patients; thus, keeping care closer to home," said Meadows CEO Matt Hasbrouck.
"As we think about the multiple health care encounters throughout a cancer patient's treatment plan, there is a significant burden placed on patients and families. Our objective is to minimize this burden by bringing the care to the patient; thus, reducing travel times outside our community and fragmentation of care between various providers. We are coming together as a multidisciplinary team to provide high-quality and compassionate breast cancer care all under one roof."
Breast cancer is the number 2 cancer diagnosed in the six-county region served by Meadows — and it is on the rise.
At the forefront of Meadows' Breast Cancer Program is Samantha Walker, Director of Cancer Services, and Tracey Kennedy, Director of Imaging Services. Working alongside them is an army of skilled practitioners, from radiologists, oncologists and surgeons, to a fellowship-trained plastic surgeon who specializes in breast reconstruction. Also on the team are breast imaging technologists, nurses specifically trained in the field of breast cancer treatment, and support counselors, among others.
Walker explained, "Previously, women may have been screened locally, gone out of town for surgery, and come back here for post-operative care. Early on, we had identified that there were some disconnects for patients between diagnosis, surgery, and follow-up care. We needed to look at how we could take care of these patients locally throughout their treatment. What could we do to close the gap?"
With the services provided through the Breast Cancer Treatment Program at the Tommy and Shirley Strickland Cancer Center, the patient's wellbeing — both psychological and physical — is foremost throughout the treatment process from screening and diagnosis, to intervention and collaboration with the surgical team, and throughout follow-up. "The mission is keeping patients here, giving them excellent care at every touch point, and helping their caregivers to maintain as normal a life as possible. We are looking at the global picture for the patient and the community," Walker said.
For Kennedy, working with breast cancer patients is a mission driven by personal experience. "Breast cancer has had a big impact on my life. I am a third generation cancer survivor. My grandmother had cancer when she was 68, my mother had breast cancer at age 60, and I had breast cancer when I was 38. In September I celebrated my ninth year cancer free."
Kennedy said that at the time her cancer was discovered, Meadows did not offer a comprehensive treatment program. "I did not have an option. I had to go elsewhere for surgery and I had to wait seven days for my biopsy results."
She added, "When we started talking about building this program, it hit me. This would be so awesome to know you start with screening and stay in one place with people who take great care of you." She said that Meadows focuses on the details, such as providing robes for patients who come in for screening. "We try to make our patients feel as comfortable as possible."
With three-dimensional mammogram equipment that makes cancer detection much easier, and a radiologist who is also a breast cancer specialist, Meadows offers services not usually available in a facility of its size. Kennedy emphasized, "A lot of places read mammograms, but don't have a breast specialist. And, we have streamlined the diagnosis process so the patient recieves the report much faster."
Dr. Anna Franklin, the radiologist and breast cancer specialist to whom Kennedy referred, sang the praises of the 3D mammography equipment. "I think about it like a CT scan that images the breast at each level. The equipment provides reconstructed images using artificial intelligence which helps us not to overcall or under call (in a diagnosis). This is especially helpful with patients who have dense breasts. Also, we can find subtle cancer earlier."
Additionally, the 3D equipment has rounded edges, so it is more comfortable for patients and even allows the patient to control compression. General surgeon Dr. Kurt Hofmann said breast cancer surgery has come a long way since his grandmother was diagnosed in the 1950s. "I am pretty certain that when she was diagnosed her tumor was the size of a grapefruit because no one talked about breast cancer then. When First Lady Betty Ford announced she had breast cancer, that really revolutionized screening and treatment. When the size of the tumor goes down the cure rate goes up," Hofmann said. "There was a 90% mortality rate with breast cancer in the 1950s and 1960s. Now, there is a 90% cure rate."
In the last 20 years, breast cancer treatment has been continuously refined. Meadows General Surgeon Dr. Kendrix Evans noted, "We're screening earlier and more efficiently, thus there is a higher incidence of cancer; but the mortality rate has actually dropped as the management is much better."
Furthermore, the emphasis is on breast conservation rather than mastectomies, where the entire breast is removed, said Dr. Henry Ferland, a general surgeon at Meadows. "When breast cancer was being treated in the past that was the only option. Now, we can treat breast cancer fully without a complete mastectomy depending on pathology, imaging, and on the person. With breast conservation, scars are minimized and there are shorter recovery times."
The path to beating breast cancer starts with a mammogram. If abnormalities are found, a diagnostic mammogram or breast ultrasound might be ordered; then, Dr. Franklin, and an ordering physician, decide if a biopsy is needed, and possibly surgery.
Often, women put off taking that first step and having a mammogram done, said Obstetrician/ Gynecologist Susanna Meredith. "It's not their top priority. They are busy taking care of everyone else and put themselves on the back burner." In Vidalia and the region it serves, taking that first step is easy. "It doesn't require a doctor's order or an appointment for a mammogram. Just walk into Meadows Hospital and tell them you want a mammogram and who you want the test sent to," Meredith said.