Posted on
MEET DR. FOSTER:
"SERVICE TO OTHERS IS A BLESSING" Christopher F. Foster, D.C. lives to serve. This year, he celebrates 10 years of helping people at Tri-County Clinic of Chiropractic.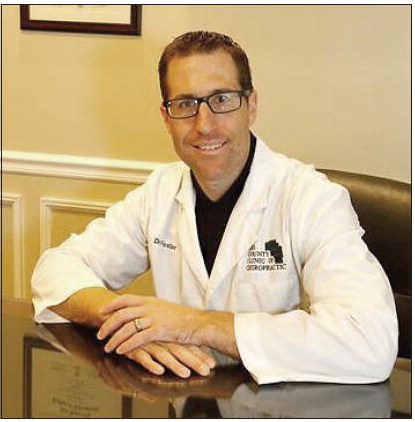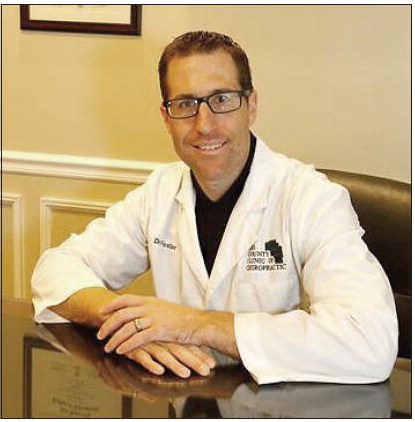 Dr. Chris Foster still remembers the moment he discovered his passion for helping others find better health and quality of life through chiropractic care. When he was eight or nine years old, he visited a chiropractor to help him heal from a neck issue. After an examination, the chiropractor went to work using his hands to successfully treat the problem and bring much-needed relief.
Then when he was 17, he and his family traveled to Marquette, a town in the Upper Peninsula of Michigan. After learning that one of his cousins was a chiropractor, Foster decided to tag along, watch and learn as much as he could about the profession. He watched his cousin use his hands to examine and treat problems of the nerves, bones and muscles — all the while, soaking it in like a sponge. He realized that there was more to chiropractic care than spinal manipulation to relieve pain and discomfort.
"[My cousin] was a fun, outgoing guy, and I watched all of his patients coming in and telling him how much better they felt," Foster remembers. "Through proper chiropractic adjustments, his patients not only felt relief from aches and pains, but they gained better overall health. Their digestive systems started working better; their sinus problems and allergies weren't as bad; and some saw lower blood pressure readings. I witnessed the power the body has to heal itself [as long as there is no interference to the nervous system], and it was just an amazing experience for me. After just a few days of shadowing him, I was hooked, and I was bound and determined to become a chiropractor."
That visit changed the trajectory of Foster's life and led him on a journey from the Midwest to the Deep South. Foster grew up in a small Michigan town with two parents and two older sisters who loved him. He describes his childhood as "typical." He was a child interested in everything around him and participated in a wide array of sports — golf, snowmobiling, bowling, fishing and boating. But unlike most of us, Foster excelled at almost everything he did. For example, a lot of people spend time at the bowling alley, but few can say they've rolled a perfect 300 game. Foster has bowled five perfect games. And a lot of people enjoy a morning here and there playing 18 holes of golf, but few can boast they've shot a hole-in-one. Foster can. When Foster decided to pursue a career in chiropractic care, he poured his heart and soul into learning everything he could about the field. He enrolled at Saginaw Valley State University where he graduated with a double bachelor's degree in anatomy and physiology. He worked for three years as a massage therapist, frequently working with injured players from the Detroit Lions football team. "I really enjoyed that time," he says. "Those big wide receivers would come in limping and hurt, and after I worked on them, they left running. And they would tell me how much they appreciated what I'd done. I really enjoyed the sense of accomplishment and knowing that I had helped them." He enrolled in Iowa's prestigious Palmer College of Chiropractic, the first chiropractic college in the world. After making straight A's for three consecutive semesters, Foster was asked to be a teaching assistant in the college's anatomy lab. "We used human cadavers to teach the incoming students about anatomy," he shares. "I enjoyed teaching, and others thought I was a strong teacher." While living in Iowa and attending school, Foster met the love of his life, Brittany. The two decided to marry after Foster graduated. He began looking for a job. In March of 2012, he saw a job posting for Tri-County Clinic of Chiropractic in Vidalia. Soon after, he visited Georgia's onion country and shadowed Dr. Heidi Reuschling. "I saw immediately that she practiced similarly to my cousin," Foster says. "In school, they teach you the technical aspects of being a chiropractor, but there's so much more to it. Heidi's focus has always been on optimal health and getting people healthy, and that really appeals to me. I knew I wanted to work with her, so when I was offered the position, I took it." In June 2012, after finishing his clinical hours requirement at a small clinic in Salvador, Brazil, he graduated Magna Cum Laude as a Doctor of Chiropractic.
"I graduated on a Friday," he says. "Brittany and I got married on Sunday, and we moved on Monday. I like to tell people that we mounted our snow shovel on top of the car and drove south until someone pointed at it and asked, 'What's that?' We honeymooned in Vidalia, and the rest is history."
He says that he and his wife believe God led them to the Vidalia area, and that the experience has been a blessing.
"We love the smalltown feel and the friendliness of the people," he says. "I love what I do, and I love living four minutes from where I work. We love the mild winters and the long growing season. We've learned to garden, and we both really love growing our own food in our backyard — okra, spinach, lettuce and peas. It's just been the perfect place to raise our children."
Th eFostershavefive beautiful children that range in age from eight years to one. Brittany homeschools the kids, gardens, and teaches the children to cook food from scratch — something the couple feels passionately about. "My wife is an amazing woman, and I feel so blessed," he says. "She's my level ground." The Fosters are people of faith and attend Grace Community Presbyterian Church in Lyons. "Our faith is important to us, and we live our lives to glorify God, reflect God's love, and share the saving Gospel of Jesus Christ," he says. "Praise the Lord! We want to live like Jesus did. We live to serve."
And for ten years, Dr. Foster has served the greater Vidalia community as a friend, a neighbor and a chiropractor.
"A man came in a while back," he says. "He had severe lower back pain and pain running down his leg. He was the sole provider for a large family, but he was suffering from debilitating pain and couldn't work as hard as he needed to work. After a series of treatments, he could work again. He was so grateful and thanked me over and over again. It's those moments that make it all worth it for me. Being able to help others is such a blessing."
And because Foster is an avid runner and was a golfer in his younger days, he understands specific problems and injuries related to sports.
"I guess you could say that I speak an athlete's language," he says. "I know the movements and the muscles involved. I've worked with several golfers who later told me that they broke 80 for the first time in a while after I treated them. I love hearing that."
The clients aren't the only ones singing Dr. Foster's praises.
"Dr. Chris Foster has been a valued co-worker over the last 10 years," Dr. Heidi Reuschling says. "We are able to give patients excellent care by going over and analyzing their cases together. He puts all his attention on his patients while at the office and gives 100 percent to every adjustment, every time. Tri-County Chiropractic wouldn't be the same without him!"
Dr. Chris Foster says he's fallen in love with the Vidalia community, but that's just one side to the story. The Vidalia community has fallen in love with Foster and his family over the last decade. His service has been a blessing to all.