Posted on
Retail Business Healthy In Montgomery County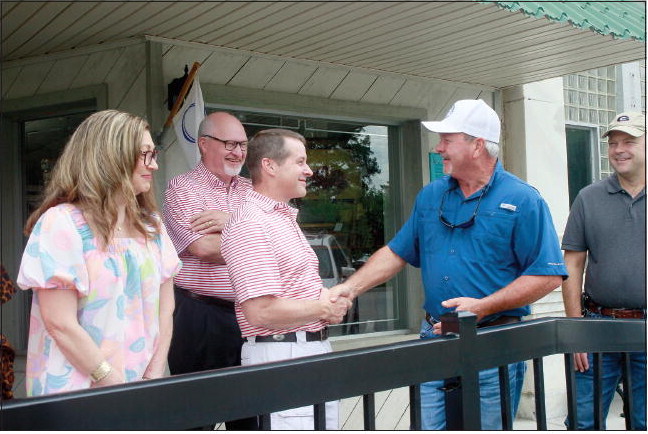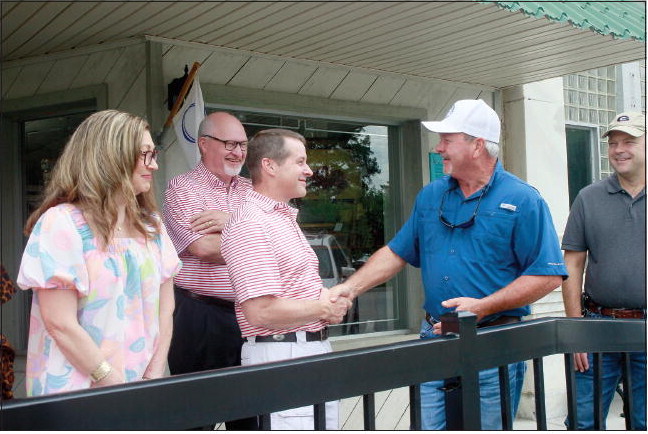 Montgomery County is seeing a rise in commercial development as both Mount Vernon and Ailey gain new businesses and restaurants and celebrate the reopening of a local hotspot.
Southern Peach Marketplace Ribbon Cutting The downtown area of Mount Vernon welcomed new business owners Delora and Dana Simmons who have purchased the True-Blue Market and reopened the retail shop under the name Southern Peach Marketplace. The store, which had a soft opening on June 3, features many of the same vendors who previously had booths in the True-Blue Market, but now includes a larger selection of boutique clothing for women and children, as well as shirts for men. Delora said she and Dana acted quickly to gain ownership of the shop once hearing the previous owners were open to selling. "I heard that the owners were looking at selling the business, so my husband and I came to talk to them. We bought it that same day," she explained. Dana reflected on the decision to open the business. "This is something we have wanted to do for several years. We prayed about it, and God opened up this door, and we have been welcomed with open arms into the community. We felt like we were natives here, everyone would come in and be so nice to us and appreciative that we opened this store," he remarked. "More than fulfilling our dreams, we want to be a service to the community and fill a need that is here, and hopefully spark some commerce by bringing people downtown and helping to revive the area so it may grow." The couple held their official ribbon cutting on Friday, August 12, in a ceremony attended by the Montgomery County Development Authority, Montgomery County Commissioner Ginger Morris, City of Mount Vernon Mayor Joey Fountain, and Montgomery County Manager Brandon Braddy, who spoke of the excitement for this redesigned business's location.
"They are actually probably in the best spot in the county, first, because traffic has to circle around this square and it brings a lot of people through. Secondly, they're across from the prettiest courthouse in the state of Georgia," Morris explained. "It's very historical, and there are a lot of people, like myself, who will come visit the site of the Courthouse, eat a meal next door at La Cabana d'Isabel, then come here to shop."
Fountain added, "I'm proud to have them here. We are striving to fill up the buildings downtown and are happy to see growth continue."
Montgomery County Development Authority Executive Director Joe Filippone also commented on the addition of the new business. "This store has a variety of different things, not just antiques, but new products as well. I think it is going to attract different people with different likes and dislikes which is going to be good. More than anything, I think that this store is going to attract prospective business owners because they're going to see this–it's a good presentation — and it is going to increase foot traffic and help us in the long term."
The business is located at 411 South Railroad Avenue in Mount Vernon, across the street from the Montgomery County Courthouse, and is open on Wednesday through Saturday from 10 a.m. until 9 p.m., except for Wednesday when the business closes at 6 p.m. For more information, call 478-279-3834.
The Marketplace in Ailey Opens As Southern Peach Marketplace was hosting its official ribbon cutting on August 12, another new enterprise, the Marketplace in Ailey, located at 103 SW Railroad Street, was opening for its first official day of business. The pop-up shop opens periodically on Fridays and Saturdays for customers to enjoy a variety of goods, from clothing to art to décor and more. During the opening weekend, the store also featured a pop-up farmer's market, as an employee from the Toombs County Farmers Market set up a fruit and vegetable stand outside of the building. According to the business owners, this type of partnership between businesses through the pop-up shop will continue since the group believes in supporting small businesses.
To find out more about when the pop-up shop will be available, visit the Marketplace in Ailey on Facebook.
Restaurants Revitalized College Street Kitchen The former Great Wall Chinese Restaurant building in Mount Vernon saw customer traffic once again, as the College Street Kitchen opened at the location on Wednesday, August 3.
This restaurant is owned by Toria Coleman, who also owns the Bulldog Grill in Alamo. The new restaurant features a similar menu and management staff as its sister restaurant. Currently, the local eatery is open Sunday through Friday from 11 a.m. until 2 p.m., but management reassured customers that an evening dining option will soon be available. The business serves a variety of home cooked daily specials, along with burgers, sandwiches, pizzas, and even homemade tarts. For more information, call 912-583-2031.
The Eatery The Eatery, a restaurant that allows the public to enjoy the daily cooking at the Brewton-Parker College cafeteria began the 2022 school year with a Community Back to School BBQ, which was held on Sunday, August 7.
The cafeteria closes every summer but is open during fall and spring semesters. For more information, call 912-583-3134. Reflections on Growth
Montgomery County Development Authority Executive Director Joe Filippone reflected on the increased commercial development in the area and his hopes for the future.
"Right now, there is a lot of negativity going around the country about all the issues that the country faces. To see these kinds of positive things happening in our county makes me feel very good," he remarked. "We have a lot of things to be thankful for here. We have a beautiful community, we have great people, and business owners are now starting to recognize the fact that it's happening here in Montgomery County." He continued, "The Development Authority's goal, be it that we have limitations with big industries, is to generate more tax revenue to help the county do the chores that they are elected to do, and this is going to certainly help us."
Filippone said more viable spaces are needed for retail development, but the county's existing retail establishments are thriving. "We have a great marketplace, and I don't think anyone really realized that before now," he explained.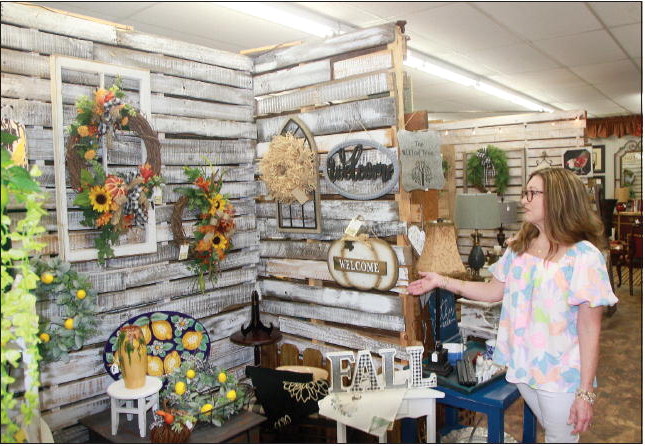 ANTIQUES AND NEW MERCHANDISE — The Southern Peach Marketplace combines the antique booths from the former True-Blue Market with new merchandise from other merchants. Here, owner Delora Simmons shows off a display of new home decor for sale.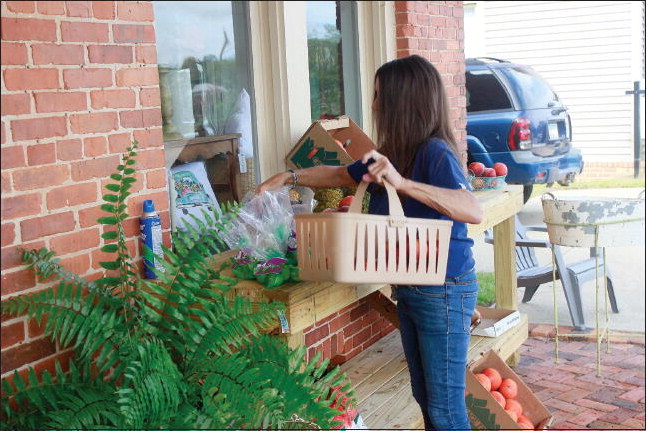 SUPPORTING OTHER SMALL BUSINESSES — The Marketplace in Ailey joined forces with the Toombs County Farmers Market. Above Lisa Dees of the Farmers Market sets up a retail area at the business's first pop-up shop.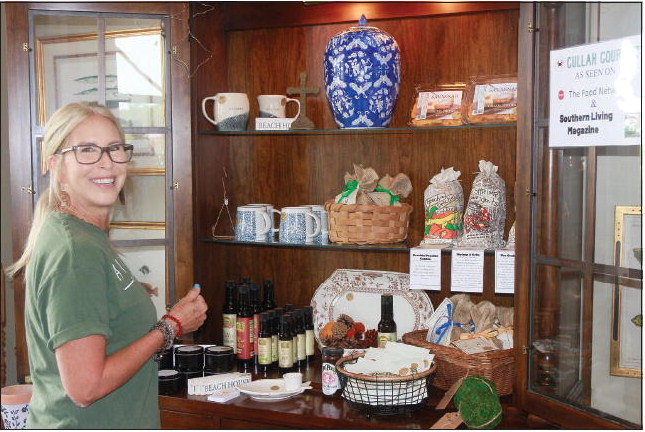 VARIETY OF ITEMS — The Marketplace in Ailey has a variety of items, from artwork to decor to clothing and cooking goods. Here, owner Christina Burdett shows off the shop's selection of sauces and dips.