Posted on
A Century of Impact: - Looking Back at the Kiwanis Club of Vidalia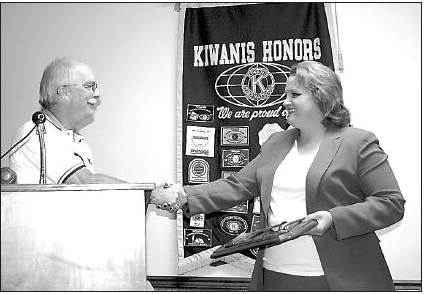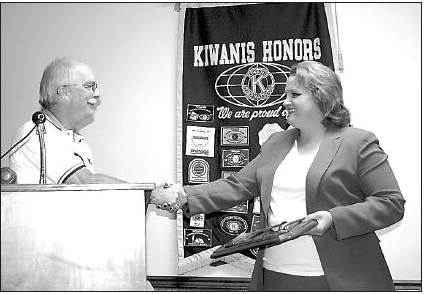 A Century of Impact:
Since its creation over a century ago, the Kiwanis Club of Vidalia has served the surrounding area with its civic involvement throughout the municipality. The group has provided a legacy of generosity and leadership, which will be celebrated at an event titled "100 Years Celebration" at Hawk's Point on Friday, August 19.
History and Origin
The Kiwanis Club of Vidalia is the city's oldest civic organization. It was informally organized in 1919 and officially chartered in January 5, 1921, with 50 official members. The news of this new civic organization created such a buzz within the community that 150 citizens joined these initial members for their first meeting. The Vidalia chapter of this international organization was created only six years after the Kiwanis founding in Detroit, Michigan, on January 21, 1915. Kiwanis International was created to allow members of the community to have a unified group to help serve their own hometowns and area, which is a direct reflection of the meaning of the Kiwanis name. The organization's name was coined from the American Indian tribe that inhabited the area near Detroit. Originally, the phrase was "Nunce Keewanis," which refers to self expression or "making oneself known," but was later shortened and modified to its current form. "Making oneself known" is exactly what the local Kiwanis Clubs accomplish. They promote networking with a membership representing a wide range of occupations and various active forces within the area. Kiwanians work together to accomplish service projects, fundraising, awareness, and more for the benefit of society around them.
Major objectives of the initial local Club were to reestablish the Vidalia Tobacco market, improve understanding of the differences within rural and urban communities, and to improve farm programs and civic government. The group accomplished many of these goals, and even sponsored the municipal government's plans for the construction of a sewerage system, paving downtown sidewalks and streets and clearing obstacles from the traffic lanes.
Civic Involvement
Vidalia Kiwanians helped to establish Boy Scout Troop 933 in 1919, making it one of the oldest troops in the state of Georgia. Since beginning to sponsor the scout troop, the Kiwanis Club of Vidalia has provided the youth with three scout huts, including the one that currently houses Troop 933 at the Ed Smith Complex. Recently, as their centennial project, the Kiwanis Club of Vidalia revitalized the roof and outward appearance of the current scout hut.
In addition to Boy Scout Troop 933, the civic organization works with youth through several other civic activities in the community. In the past, the Kiwanis Club of Vidalia sponsored agricultural education through the Kiwanis Annual Agricultural Fair that occurs annually in October at the Kiwanis Club Fair Grounds in Statesboro. Proceeds from this event go toward civic projects within the community.
Youth editions of the Kiwanis Club have also been created within schools, as J.R. Trippe Middle School students had the opportunity to join the Builder's Club, local high school students could join Key Clubs, and Brewton-Parker College students held Circle K Club meetings. An annual Community Talent Showcase is also sponsored by the Kiwanis Club of Vidalia, which allows youth to compete for scholarships. Currently, the Club is known for their support of youth throughout several scholarships, such as those in remembrance of Cliff A. Poe, R.E. Ledford, Larry Smith, Dennis Sikes, Tom Hutcheson, J.R. Trippe, and William Hooker. These scholarships are often given to students who go on to find success in and after college. Some local past honorees include attorney Daniel O'Connor and State Farm Agent Kailey Dees.
The group also recognizes standout students and teachers with its annual STAR Student and Teacher awards. Through this award, high school seniors with the highest SAT score from the surrounding local schools are honored, and are allowed to select a teacher whom they believe is worthy of the STAR Teacher honor. The banquet for these awards is held each spring and allows both students and teachers to address the accomplishments.
Other local organizations the Kiwanis Club of Vidalia invests in are: the Altama Museum, Greater Vidalia Chamber, Drug Abuse Resistance Education (DARE) programs, Toombs County Department of Family and Children Services (Child Protection Services), the Ohoopee Regional Library, Memorial Health Meadows Hospital Auxiliary, Special Olympics, United Way of Toombs, Montgomery, and Wheeler Counties, Vidalia High School Show Choir, and more.
The local Kiwanis Club also supports several family organizations from Kiwanis International. These groups include: International Foundation (IDD), which works to help children with iodine deficiency; Tomorrow's Leaders, which invests in youth within the nation by funding Key Clubs; Buck 'N Ear, an auditory-verbal facility which provides a family-centered and holistic approach to supporting and improving the lives of the deaf and hard of hearing; Children's Miracle Network; Hugh O'Brian Youth Leadership, which provides sophomores with leadership development; and Georgia District Foundation, which allows Kiwanians to work together to fund projects.
Hall of Fame
Several outstanding figures in the community have served as Presidents or Directors of the Kiwanis Club of Vidalia since the group's first president, W.J. Deloach, served the group. The Club is known throughout the community for the excellence of its members — in fact, 70% of the recipients of the Vidalia Citizen of the Year Award have been Kiwanians. It was the Club that invented this award in 1943. Once creating this opportunity for recognition, other civic groups joined in sponsoring the program, making it one of the most important events within the community.
Those Kiwanians who were named Vidalia Citizen of the Year include: Dr. J.E. Mercer, G.H. Achenbach, H.S. Vandiver, G.H. Gibson, G.H. Trelkeld, J.A. Crocket, W. L. Oliver, H.B. Estroff, Jack L. Mosley, F.D. Garrard, C.E. Pierson, Dr. Lamar Brown, Brooks Brantley, Norman Beggs, James F. Darby Jr., Charles W. Smith, Delmas Wheeler, Tommie Q. Vann, Benjamin Smith, J.R. Trippe, R.E. Ledford, Bill Warthen, T. Winston Ivey, Charles H. Andrew, J. Edward Tyson, Donald H. Estroff, Tom P. Hutcheson, Tom A. Peterson III, G. Larry Threlkeld, Dent Temples, Chip Matheson, Dan Murray, Steve Brown, Wendell Dixon, Gary Campbell, and others. Several noteworthy figures of the community have also served as President of the Vidalia Kiwanis, such as: Judge Sherri McDonald (2000), Attorney and Current Kiwanis Club of Vidalia Historian Charles Andrew (1973-1974), Vidalia Library Renovation Committee Members Howard Holman (1985) and Gary Campbell (2001), Former owner of The Advance William D. Ledford (1954), Former Toombs County Development Authority Member Harry Moses (1982), and others. Currently, Vidalia-Toombs County Library Trustee Jason Davis serves
enjoy a meal and fellowship during a meeting in July 1984. continued from page
as President of the Kiwanis Club of Vidalia.
Centennial Celebration
The event on August 19 at Hawk's Pointe will be an occasion to celebrate the local Kiwanis Club's century of dedication and devotion to the community, and will offer fellow Kiwanian and Georgia football legend Herschel Walker an opportunity to talk about the civic engagement this organization embodies.
"Our guest speaker has achieved so much on the field and has given it all back to our youth — something that we strive to do every day," said Vidalia Kiwanis Club Vice President and Program Chair Olivia Warnock. "We are thrilled to be hosting a night of fun and celebration," Warnock remarked. "One hundred years of community service across the world is truly an astonishing accomplishment. This isn't just to celebrate the Kiwanis Club, but also to extend a 'thank you' to all of our members for their hard work and dedication to the group."
She went on to explain that the event will be a tailgate-themed evening, complete with fun, food, a cash bar, and a trip down memory lane highlighting all of the work the Club has done for the Sweet Onion City.
Th e current Kiwanis Club President Jason Davis had this to say about the 100th anniversary observance: "I am amazed at the many varied ways the Vidalia Kiwanis Club has served the city of Vidalia and the surrounding regions for over a hundred years now. This community would not be nearly the wonderful place that it is without the efforts of our local Kiwanians for several generations now.
"It is going to be hard to surpass the Vidalia Kiwanis Club's previous achievements over the next 100 years, but we are sure going to try! It's a joy to be part of a group of citizens that love our community so much and want to make it an even better place."
For further information on the event, call 912-293-4444, or visit the Kiwanis Club of Vidalia facebook page. Tickets are required for the event and must be purchased in advance, as they will not be sold at the door.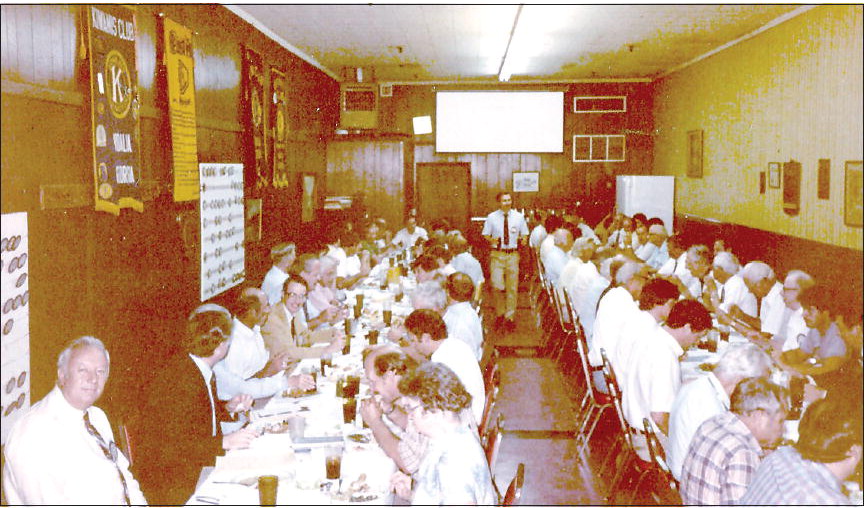 TUESDAY TRADITION — The Kiwanis Club of Vidalia has met each Tuesday since its creation in 1919. Here, Kiwanians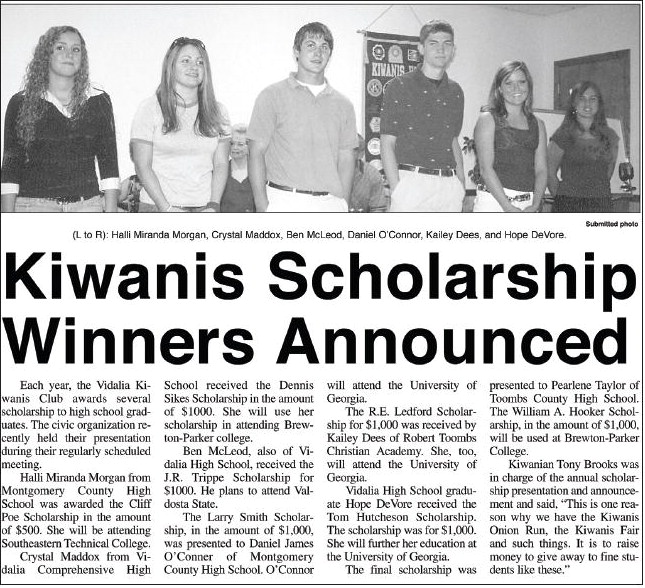 SCHOLARSHIPS FOR YOUTH — The organization has a large impact on the area's youth, including its distribution scholarships to high school seniors. Many of these students later become successful in their careers. From left, 2005 Kiwanis Scholarship Recipients Halli Morgan Smith, Crystal Maddox Parker, Ben McLeod, Daniel O'Connor, Kailey Dees, and Hope DeVore Scott.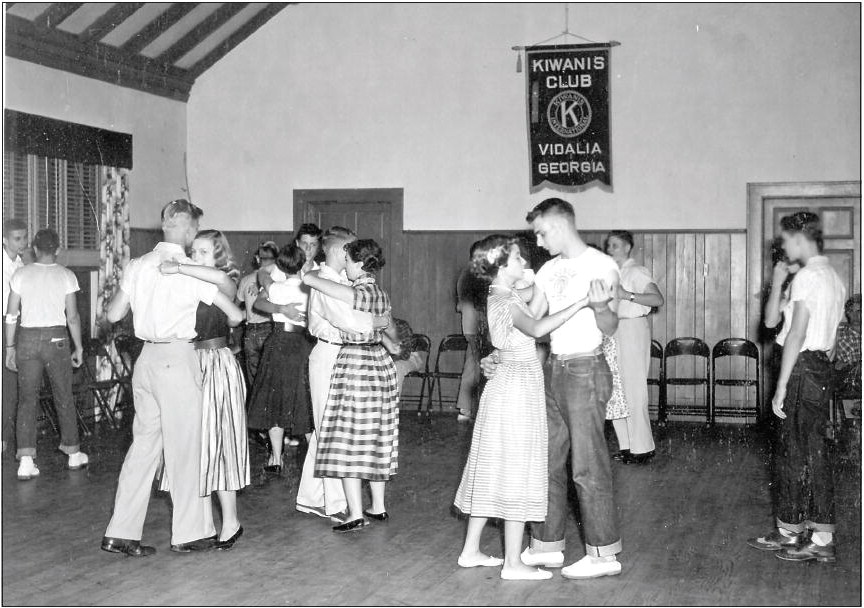 PAST CELEBRATIONS — Throughout the past century of its existence the Kiwanis Club of Vidalia has celebrated numerous accomplishments and successes, just as this photo from the past illustrates.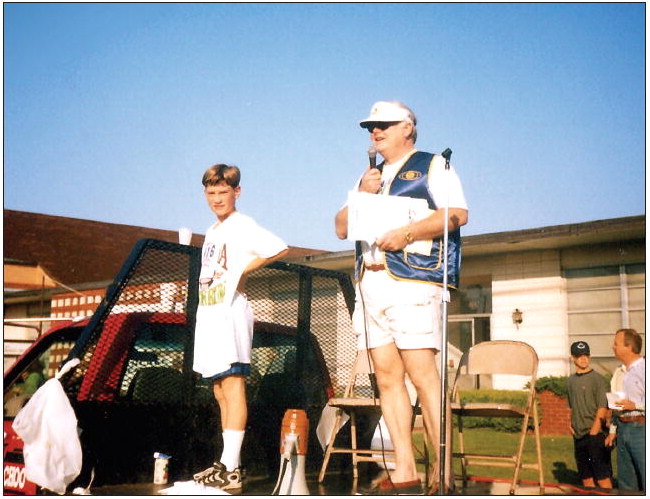 VIDALIA ONION RUN — Charles Andrew, current Vidalia Kiwanis Historian, presents an award to Alex Threlkeld at the Vidalia Onion Run in 1998. One of the things for which the Club has become known is the Vidalia Onion Run during the annual Vidalia Onion Festival. The run was first held in 1977 and usually has members of the Vidalia Kiwanis Club handing out the prizes for winners.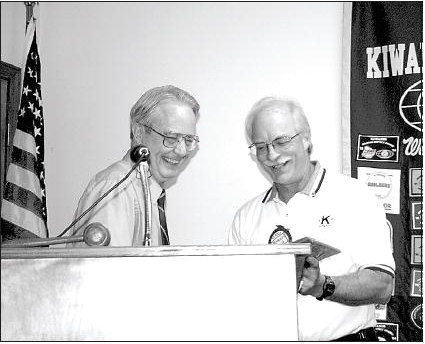 ACKNOWLEDGING EXCELLENCE — In this vintage photo, Kiwanis Club of Vidalia Secretary Wesley Luhn presents the Kiwanian of the Year award to Howard Hill. The award is determined by a vote among members. Kiwanians often recognize excellence in both members and youth.