Posted on
Lyons City Council Recognizes Rec Department State Champs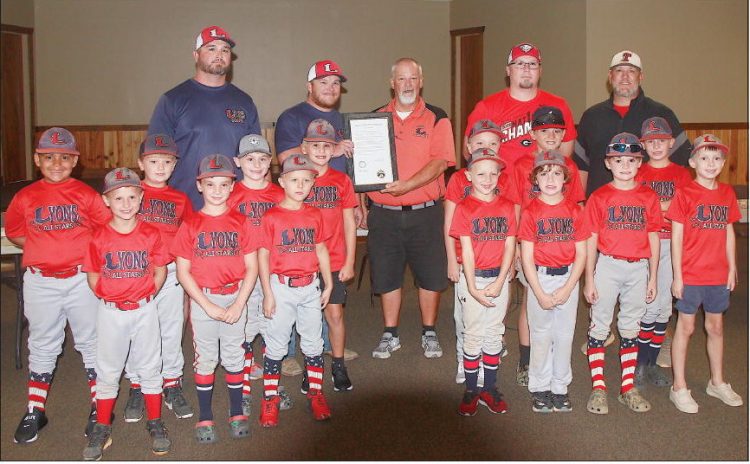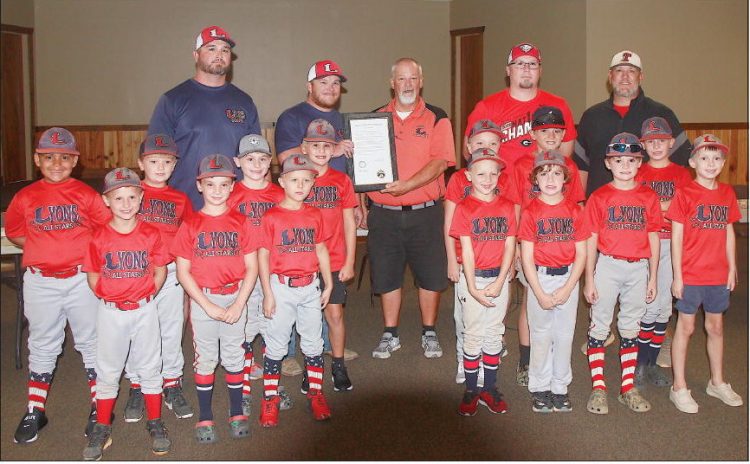 It was standing room only at the August meeting of the Lyons City Council, as the Council recognized the two Lyons Recreation Department All-Star Teams that secured state championships in June.
Both the LRD 10 & Under Girls Fastpitch Softball Team and the 8 & Under Boys Baseball Team finished their season with Georgia Recreation and Park Association (GRPA) Class A/B Championships. Recreation Director James McGowan spoke on the accomplishments of each team. "We had a very great year as a park. We had five teams that advanced to the state tournament," McGowan told the crowd. "Those teams were our two state champions, 12 & Under Girls Fastpitch Softball, and our 14 & Under Boys and Girls teams." McGowan shared that the 10 & Under Girls Fastpitch Softball team had continued their tradition of comebacks in this year's state tournament. "Last year, the same age group won the state championship in Effingham County after being down 8 runs and scoring 9 runs to win the game 24-23. This year, in Emanuel County, the girls were down 8 runs, but scored 9 runs in the last inning to win 14-13."
The 8 and Under Boys Baseball Team also had a comeback story after they were defeated in the first game of the state championship. "I wasn't able to be at that game because of hosting a tournament at the Recreation Department here in Lyons, but I had several people tell me that the best team had lost the first game of that series. I guess they were right, because we went back and beat Coffee County, and then Camden twice."
Mayor Willis Ne-Smith congratulated the teams and read a formal proclamation of the City's pride in their work.
Reports
Lyons Main Street Director Daphne Walker informed the public of a community tailgate party, which will be held from 4 p.m.-6 p.m. in the downtown area prior to the Toombs County Senior Night game against Wheeler County on Friday, August 26. Admission to this event is free and businesses or organizations that wish to set up a booth can contact Tabatha Nobles at 912-524-3212 for more information.
Lyons Community Liaison Alysa Marsicano advised citizens to continue to join the TextMy- Gov program, as the City has expanded the available updates system to the Recreation and Fire Departments. For more information on how to join this alert system, visit the Lyons website. The next work session of the Lyons City Council will occur on Tuesday, August 30, at 6 p.m. The next official meeting will be Tuesday, September 6 at 6 p.m. at City Hall.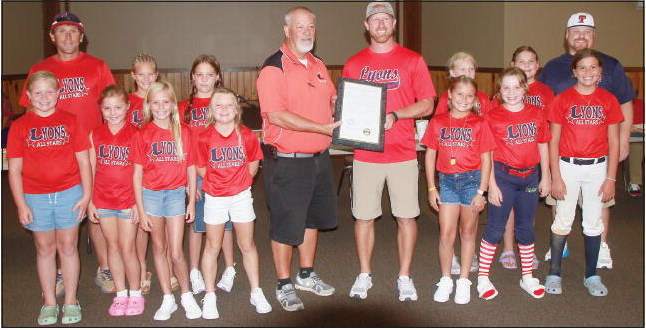 FASTPITCH CHAMPS — The Lyons City Council recognized the 10 & Under Girls Fastpitch Softball Team for their athletic excellence in securing the GRPA Class A/B State Championship for the second year in a row. Front row, L to R: Miley Smith, Kylee Wing, Aspen Adams, Kinsley Park, Anniston Hartley, Stella Peterson, Elin Haygood. Back row, L to R: Coach Derek Park, Bentlee Gardisser, Blayce Bacon, Recreation Director James McGowan, Coach Hunter Adams, Preslee Mosley, Raylin Stringer, and Coach Shaun Stringer. Not pictured: Coach Ivan Herndon, Ella Herndon.