Posted on
continued from page ments. I ….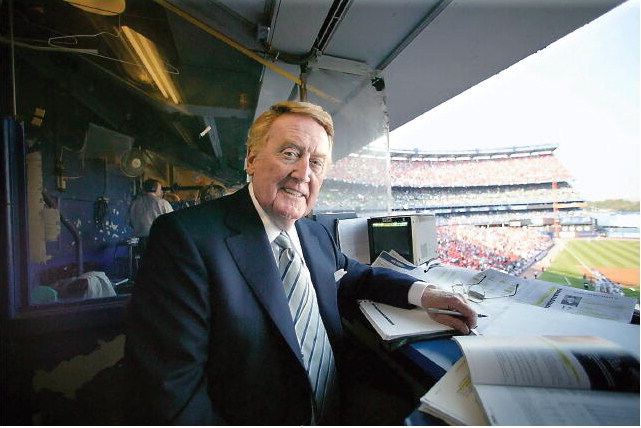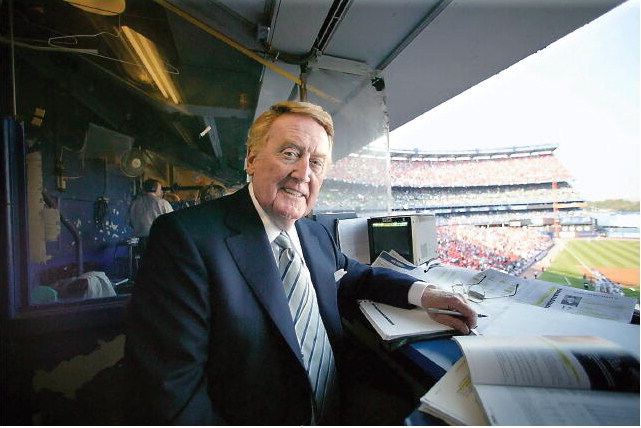 continued from page
ments. I bet he never uttered a swear word in his life even though he was daily in the midst of men who could make boatswain mates blanch with their advanced profanity. Baseball players, especially lifers, know more four letter words than Miriam Webster.
For a couple of years in the late seventies, Scully spent the first quarter of the year announcing golf tournaments for CBS. He worked the 1979 Masters when Fuzzy Zoeller won the championship.
I had several conversations with him that year and would later see him at Dodgertown at Vero beach in the spring. Fast forward to 2015, late August. It was the weekend before the opening of football season. With enough frequent flyer points to enjoy a nice travel outing before football got underway, I booked flights for a long weekend in L. A.
First, I called Keith Jackson, whose home was in Sherman Oaks, to inquire if he, and his wife, Turi Ann, would meet us for dinner, which turned out to be quite memorable in that he suggested a change in venue. He chose to cook lamb chops in the pergola of his deck. What an evening as he regaled us with countless stories over Irish potato vodka from Idaho.
I had called the producer of Dodger television, an old friend, and told him of my past relationship with Vin. "Not sure he will remember me," I said, "but I would like to come by the booth and say hello." He called back a day or so later with good news. "He remembers," the producer said. My plan was to stay only a few minutes, but Vin invited me to stay while he organized his spotter boards and game notes.
A seasoned raconteur, Vin took a walk down memory lane, recalling his early days in Brooklyn with the Dodgers, Ebbets Field, Jackie Robinson, Don Newcombe, Duke Snider and Pee Wee Reece.
The subway series with the Yankees and a brash fan named Hilda Chester, who became one of the best known fans in history of the Big Leagues. Vin recalled that she walked down a concourse one day and yelled out to him in the press box as he was working a game. Embarrassed, he looked down which caused her to admonish him, "Look at me, I'm talking to you." Hilda became as wellknown as Vin and the Brooklyn players.
Vin had stories for everybody and time for the rookie and the little guy, but he never let anything distract him from his work which he loved. However, he never thought his work was important. That is among the many things that made him so exceptional— not just as a big league announcer, but as a human being.
Thirty minutes later after hanging out in the Dodger radio booth, I moved to my press box seat to bask in the warm glow of an unforgettable weekend— dinner with Keith Jackson at his mountain top home and a pre-game conversation the next day with Vin Scully at Dodger Stadium. Unforgettable.
Then there is the sad reality that there will never be an encore.