Posted on
Tillery: State Ends FY22 With Money in the Bank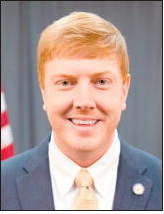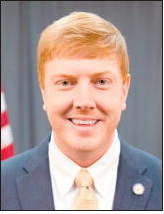 dclarkadvance@gmail.com
Georgia's FY 2022 ended with an approximate $6 billion surplus. "That's 19% greater than expected and 23% ahead of last fiscal year's revenue," said Sen. Blake Tillery, (R-19), Vidalia. The state Senate Appropriations Chair shared that the State of Georgia's June net tax collections totaled $2.85 billion for an increase of $354.2 million when compared to June 2021, when net tax collections totaled $2.5 billion. continued from page
"Georgia is in a great position to lead out us of the looming storm because we have money in the bank," Tillery said, cautioning, "But you don't have to look far to see the pressing needs that will quickly eat away that surplus."
L ast year, the state of Georgia added funds to help with retention and recruitment of state employees who are struggling to keep up with inflation. "It's almost as if the raise made no headway and only kept employees from falling further behind," Tillery said of the national trend toward higher inflation. The Georgia Department of Transportation reports an approximately 19% increase in costs for work contracts. "Everything costs more, from fuel to medical supplies. If other areas feel the same pinch, our 23% surplus quickly evaporates and the increased cost becomes a weight around our necks for the foreseeable future," Tillery point out.
Fighting Inflation
In an effort to get a handle on inflation, on July 27 the U.S. Federal Reserve (the Fed) raised interest rates by .75 %. According to online report by CNET, this move "could drive up mortgage, credit card, loan and other interest rates. With the Fed's latest rate hike and plans to continue raising rates, there will be consequences — most likely an uptick in unemployment. Soaring consumer prices, tumbling stocks, increased costs to borrow money and the threat of layoffs could prove particularly devastating for low- and middle-income Americans."
The action taken last week by the Fed matched its move in June. "This is an uncommonly large rate hike, but these are unprecedented times, with inflation hovering at a 40-year high of 9.1%, year-overyear," CNET said, adding, "Though the Fed has been raising interest rates aggressively to counteract rampant inflation, prices have yet to stumble. With prices still on the rise, the Fed is anticipating more rate hikes later this year" In a July 29 post, Forbes Advisor reported the latest Personal Consumption Expenditures (PCE) reading showed consumers are paying prices up 6.3% over the prior 12 months. "Fed economists estimate that PCE inflation will remain high, but should decline to 5.2% by the end of 2022. Note that is hotter than the 4.3% forecast made back in March," Forbes said.
"Unfortunately for stretched consumers, inflation can take a long time to get under control, and it may take several months for the Fed's moves to work their way into the economy — although some financial effects of its policies, such as higher interest rates on borrowed money, can be felt more quickly," according to Forbes.
Silver Lining?
Georgia, the top spot in the nation for doing business for the eighth year in a row, was one of the few states in the U.S. that did not shut down business because of the health pandemic. In addition to continuing its momentum for bringing in new business, the state has continued to stay on solid financial footing.
"We are not frivolously spending and have managed to hold some of our budget back," Tillery said. "Because we did save for a rainy day, we should not be at a point where we have to reduce services or raise taxes." In spite of the national inflation, Georgia has actually been able to give residents a break by suspending the state gas tax. "Georgia, for the past three months, has had the lowest gas rates in the country," Tillery said. The state also offered tax rebates for those who filed their taxes and had at least $250 per individual or $500 per couple in tax liability. "There are some storm clouds," Tillery said, alluding to the rise in mortgage rates which will impact not only home buyers, but the construction industry, as well. For a while, everything will cost more, but in a best case scenario for Georgia, prices will soon normalize and the state can make progress in strategic areas of improvement, Tillery pointed out.
"These might include automating processes, like securing driver's licenses, for easy citizen access. The savings from automation could be reinvested in necessary employee retention, and investment in technology to maximize the skills and time of employees," he explained.
As an example of finding new, cost-effective ways to deliver government services, Tillery said the state's Departments of Family and Children Services, Health, and Community Supervision, might be able to save time and money by putting their workers directly into the field and making their dashboards their offices rather than having them actually go into a central office. But he also noted, "It is never appropriate for citizens not to be able to reach a live person in a state Department. We are still working on reopening some offices and are trying to make these state offices just as accessible at 10 p.m. as they are at 10 a.m."
Tillery said virtual meetings, a necessity of the pandemic, have become more commonplace, saving state workers time and money. "We will see more innovations in education, the workforce, and the way government services are delivered. When things get rough, someone steps up to build a better mousetrap."
The Senator concluded, "I see the next few months as a huge opportunity. When all is calm, we rarely make seismic moves for fear of upsetting the status quo. But the tempestuous days ahead will demand we think differently, plan differently and respond differently."