Posted on
Burdett Rekindles Childhood Love of Art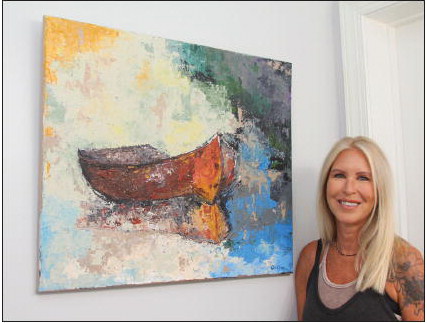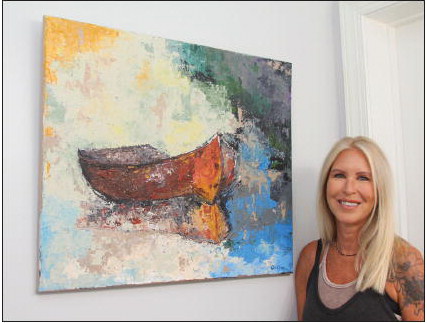 Photos by Deborah Clark
Christina Burdett started painting about three years ago after she retired from a career in manufacturing. She is self-taught and admits that she is still learning; yet, the talent manifested in her work is undeniable. Her paintings, created with a palette knife and acrylics on canvas, are eye catching — bold in subject and color choices, and intentionally dramatic in interpretation.
She described her art as abstract. Not surprisingly, her favorite artist is Henri Matisse, one of the French masters of this style, among others. The technique of painting with a palette knife provides layer upon layer of texture, and that lends itself well to building the depth Christina wants to achieve in her work. Her subjects tend to be women, and usually depicted from the back. She explained this approach as her way of avoiding painting faces until she can perfect these renditions; but painting from the back is an interesting approach, and is very effective in conveying emotion, as her work attests.
Christina's favorite painting, now gracing her dining room, showcases a woman dressed in fancy attire and standing alone at a balcony. The viewer sees her from behind with her head tilted to one side; she appears to be deep in thought. Christina doesn't title her work, but this melancholy rendering could be called "Woman in Despair." She reflects, "I painted this when a friend was going through a lot. She was struggling, but I told her it was just for a season."
A painting in Christina's living room is her only mixed media creation so far. A trip to The Advance to pick up a newspaper resulted in a decoupage project. Christina created a background of the pages from the paper — headlines, photographs, even the publication date and the word "Vidalia," in several different typefaces; it is a sort of time capsule for that particular date. The central subject is a woman wearing a hat and carrying a briefcase who is confidently striding away from the viewer. Who is she? "Any woman," Christina offered.
Amazingly, including the decoupage, the piece was completed in about an hour. "I find if I spend too much time on my art, it doesn't have the look that I want. I really like that when you look at my paintings, they don't look crisp and clear, but almost as if you are looking through glass — a little distorted," Christina explained. Christina's paintings occasionally include dogs, coastal scenes, cityscapes, and still life, like flowers, but her favorite subjects are women. "I like to paint women in different situations. I like to empower women in my paintings."
Christina sometimes paints nudes, but she paints them with dignity and without crossing the line that evokes social backlash. "It's about the beauty of the human form, or the vulnerability of women," she commented. Again, the views are almost always from the back, which adds to the mystique. The artist takes her inspiration from everyday life. She surfs "You Tube" online to see what other artists are painting and how they paint. She constantly hones her style and pointed out how she has progressed in her technique as she views the stock of work on the walls of her home and in her backyard studio. The couple who owned the 1920s home where Christina and her husband Calvin now live, put a lot of work into renovating the property. When the Burdetts first viewed the home, they fell in love with it down to the reclaimed wood island in the kitchen. The previous owners processed honey and Christina's studio was their honey shed. The space came with a deep, double-basin utility sink which fits right in with Christina's needs. The outdoor workplace she calls her "She Shed," is still evolving.
"My husband has been very kind about my paintings being all over the house," Christina said. Even the powder room is a backdrop for Christina's art where a striking rendition of a boat and a charming portrait of a girl reading a book greet visitors.
The kitchen also accommodates works of art, including one of Christina's mother's paintings of flowers. Nancy Culler passed away when Christina was 15 and Christina believes that her mother's love of painting has probably been latent in her all of these years.
Nancy Culler's life was claimed after a long battle with Parkinson's, and sadly, she lost her ability to paint as the disease progressed. Christina acknowledged she can imagine how her mother felt as she had to give up painting. Still, Nancy passed along a love of art to her daughter. "When I was growing up, there were art books all over the house," Christina said, noting the books acquainted her with the Old Masters and different art styles.
Christina, who is a native of Vidalia, is one of three girls born to Nancy and Clyde Culler. Her younger sister, Jennifer Alsdorf, now lives with her family in Missouri, while her older sister, Leslie Weaver, resides in Vidalia and works at Georgia Pinestraw. Clyde Culler owned a manufacturing shop in Vidalia where Christina worked. Her experiences with her father dovetailed into a career in manufacturing. Christina and Calvin married 19 years ago with each of them bringing a blended family to the relationship. When he decided to retire from his career at Southern Nuclear/Plant Hatch, Calvin urged his wife to do the same so they could travel. While Calvin still does some consulting work, the freedom afforded by retirement allows both of them time to pursue hobbies and enjoy friendships. Christina mentioned that she and an old friend who returned to the area from Pennsylvania found themselves in the same quiet neighborhood in Ailey and, as they renewed their friendship, they travel a well-worn path between their homes. What's next for Christina? She and two friends, Donna Granberry and Nancy McComb, who were formerly involved in business ventures, are poised to launch an exciting enterprise in downtown Ailey, just around the corner from the Burdett home. The Market Place in Ailey will open its doors one weekend a month beginning August 12 and 13, 10 a.m. until 5 p.m. Located on Railroad Street right next to Luke Patrick Music Store, the Marketplace will showcase Christina's art and offer a variety of products, including boutique items. The vision is to also bring in a farmer's market. Christina's work is also offered for sale at the General Store 30474 at 112 Church Street in Vidalia.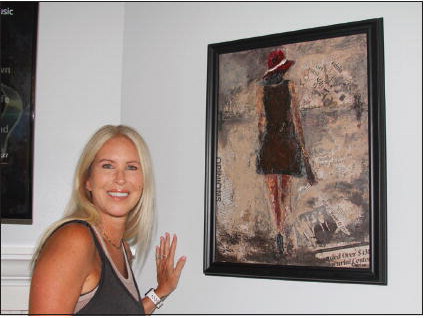 ANY WOMAN — This mixed media work features a woman carrying a briefcase and walking away from the viewer. She is displayed on a decoupage background created from the current pages of a newspaper. The piece documents a day in the history of Vidalia and makes a statement about the confident business woman who is its central focus.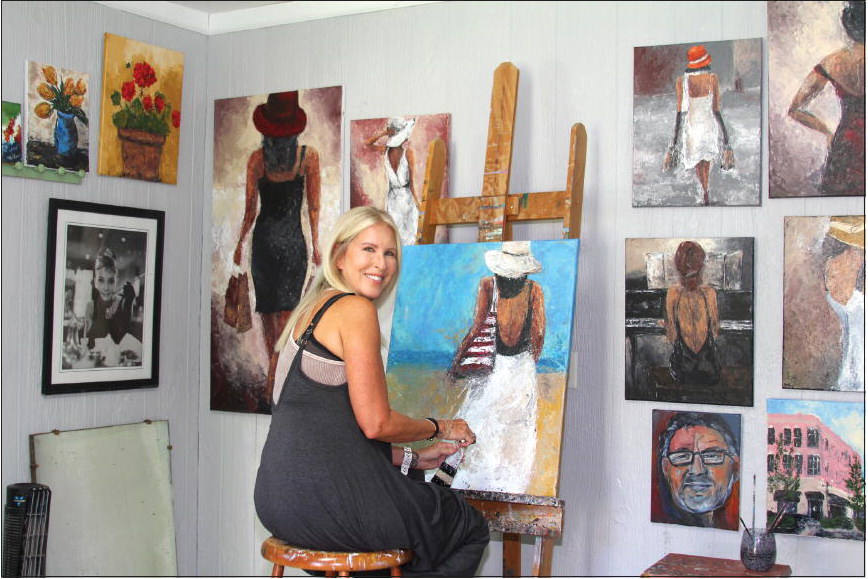 IN HER STUDIO — Surrounded by her art, Christina Burdett puts the finishing touches on a coastal scene. The backyard studio where she works was once a shed where the former owners of her home processed honey.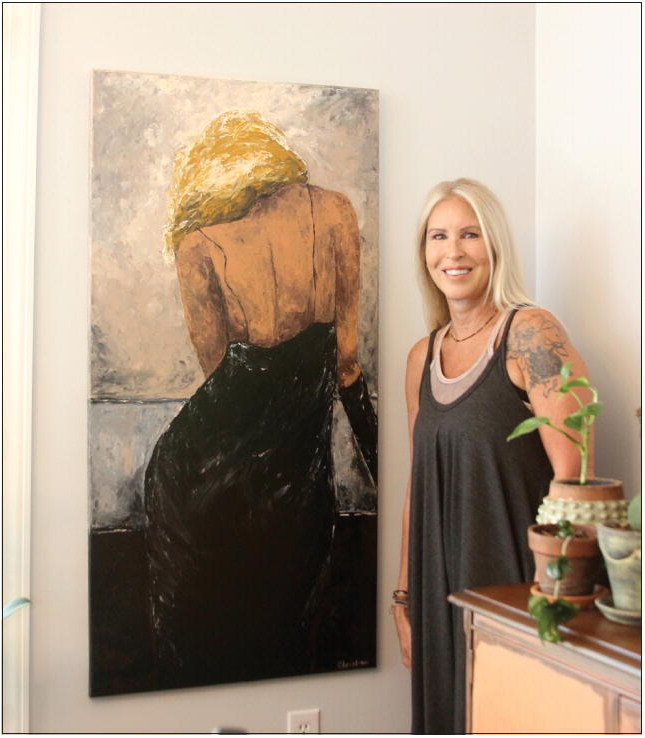 DESPAIR — This powerful image of a forlorn woman is Christina's favorite piece. She created the work when a friend was going through a rough time and intended to capture the friend's feelings of anxiety and despair.


VIEW FROM THE KITCHEN WINDOW — Christina sits at the table in her sunlit kitchen. Above her head, at right, is a still life painted by her mother. At left, Christina's backyard studio is visible through the window.