Posted on
continued from page The Bananas ….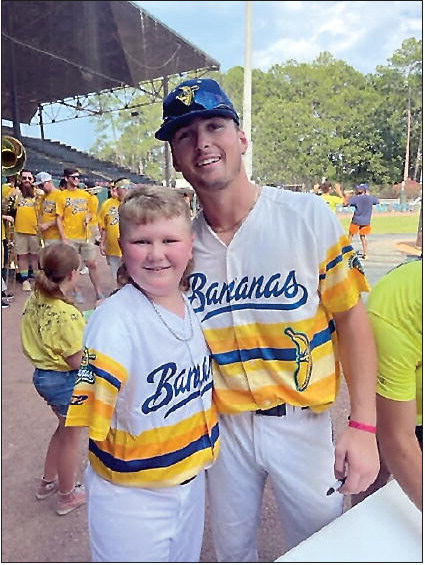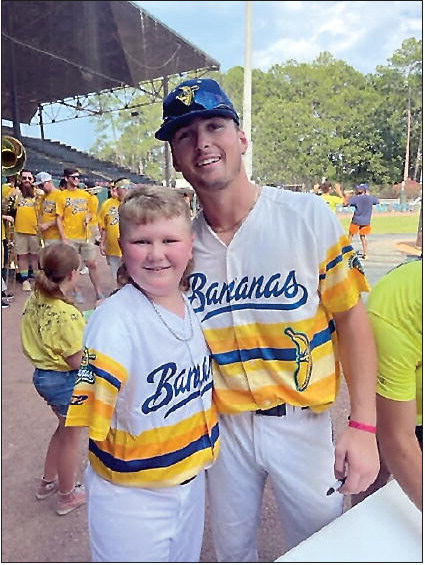 continued from page
The Bananas players are those playing at major col- leges such as University of Georgia, Texas A& M, Alabama, Georgia Southern, Lander University, Wof ford College, along with many others. Players on their roster have been recommended to the team by scouts and college coaches wishing to see those players compete against top- notch competition. Up to 10 former Bananas players have been drafted each year since the first year of play in 2016.
The Savannah Bananas are a member of the Coastal Plain League, consisting of 16 teams throughout North and South Carolina featuring the top college players from around the country. The Coastal Plain League has been in existence for more than 20 years. The Coastal Plain League is considered one of the top prospect leagues for professional players in the country along with the Northwoods League and Cape Cod League.
Savannah Bananas alumni drafted in the Major Leagues include: Braden Shewmake – 1st Round | Atlanta Braves – 2016 Banana, Jameson Hannah – 2nd Round | Oakland Athletics – 2016 Banana, Adam Scott – 4th Round | Cleveland Indians – 2016 Banana, LJ Talley – 7th Round | Toronto Blue Jays – 2017 Banana, Tristan Peters – 7th Round | Milwaukee Brewers – 2021 Banana, Rylan Bannon – 8th Round | Los Angeles Dodgers – 2016 Banana, and Clay Dungan – 9th Round | Kansas City Royals – 2016 & '18 Banana.
The Bananas also have a Premier Team. The Savannah Bananas Premier Team was born out of the idea to keep baseball fun in Savannah all year long. The Bananas continue to add more games in the traditional "off season" and needed to fill a roster. After a multitude of Minor League Teams were cut in 2020, many players lost their jobs. The Premier Team allows players another opportunity to be scouted and paid for their play. The Premier Team roster is packed with players who were recruited, tried out and are paid for their play. The 2021 Premier Team features Olympians, former professional and collegiate players, as well as local talent. Over the past six years, the Savannah Bananas have partnered with hundreds of different schools, churches, organizations, and nonprofits and have raised over half a million dollars through fundraising. Community organizations can raise money through ticket sales, keeping a portion of the revenue of tickets sold. 50/50 raffles are held for additional fundraising and each game has a featured nonprofit of the night.
ESPN has said about the Bananas, "It's baseball, but it's also part circus and part professional wrestling, with cruise-like entertainment and Harlem Globetrotter sensibilities — and maybe Major League Baseball can learn something from it."
Mead
Mead said, "I was blessed my freshman year at EGC. Not many freshmen get the chance to come in to play right off the bat. Day one I came in and was told that I would have a chance to DH (designated hitter). I accepted the role that I was going to get the chance to pitch and hit. In the first game I got a chance, in my second at bat I hit a triple and never looked back after that. That one hit turned into 68."
Mead had already decided at the end of the season that he was not going to take any offers to change schools. He thought that he needed another year of growth. The great season did provide him with the opportunity to play with the Bananas.
Mead's coach at EGC, Eric McCombie, knows the Bananas coach, and the left fielder of the EGC Bobcats, Ty Jackson, had a great summer with the Bananas last year. Both of them put in a good word for Mead with the Bananas.
Two weeks later Mead got a text from McCombie saying that the Bananas wanted him. Mead said sign me up. He got the call from Tyler Gillum, Savannah's coach, and was offered a temp contract. He started with the team May 22, and played through June 26. "I'm not going to lie to you, the first day we got there was Banana Orientation. Every player has to go through it and it was eight hours long. We learned all the dances and routines, and I was thinking to myself, 'This is not going to be fun.' I really didn't know how I was going to do this in front of 4,000 people.
The first game that we played was against the Premier League team, and it was to get us accustomed to what was going to happen. There were only three returning players from last season, so we all had to figure this out. That let us get our nervousness out. After two weeks I was wanting to be on the dugout dancing, wanting to be in the stands, wanting to do the flips, just being a part of all of it. It really was something else. I had an absolute blast. It isn't every day you get to play for a team that gets watched by millions of people, not just in the US, but all around the world." Mead played 25 games with the Bananas. He got to play second base and third base. He also pitched some, but he was on a limited count because of college. He also played DH quite a bit. As for all of the antics that Mead got to take part of, he said that out of all of the dances, shooting off fireworks, paintings, and more, his favorite thing was during the fifth inning when he wasn't playing they would give him a rose and he would go into the stands and give it to a little girl. One of the Bananas mottos is to never forget moments, and it is always fans first, and that he said was something that he knows that that kid will never forget, and it makes a memory for them. On a typical game day for the Bananas they get to the park around 2:45 p.m. After doing some work, they then get the scripts for that day's game. Every day they have a different job that they will be doing, from meet and greet, dances, celebrations, and more. At 3:45 p.m. they head out to do the rehearsals, go over the run celebrations, the dances, and then it is off to batting practice. All of this attention to the fans has really created something special. Mead said that he knows at one game there were people from 31 different states in attendance, and up to eight different countries. All of the tickets for the entire season sell out within minutes when they are released, and the waiting list for tickets is over 50,000 names long. The owners are very involved in the team. Cole, the man in the yellow suit, is at the practices, in the stands with the fans at the games, travels to the away games, and is just a huge part of what has made the team what they are. And Cole is wholly committed to his persona, owning seven yellow tuxes, wearing them all over town, and very rarely being out in public not in all yellow. Cole got engaged to his wife during a sold out game, yes he was wearing the yellow tux, and then later married Emily in Grayson Stadium where the Bananas play. Mead added, "The whole organization is just all in on this business model. And it is working, with all of the fans from all over the world, it really is a dream to get to play for them, and to recognize that not everyone gets this…It really makes it something. These are moments that I will never forget, and no matter where things end up, getting to play for them will always being something I will have."
Mead said that it was hard on him with the wear and tear on his body, playing so many games, getting home some nights at 11:00 p.m., but sometimes 3:00 a.m., but he said every day he woke up ready to get to the field.
The experience has been one for the books for Mead. He not only got to continue to improve his skills along with some other very talented young players, but he learned from the experience as well. The Bananas work with several charitable organizations, help out and work with kids in need, have special moments for the kids at the games, and Mead was even part of a group of players that signed a bat and took pictures with a girl from Asheboro, NC., and a local kid from Toombs who was involved in an accident.
The Bananas were playing against the Asheboro Zookeepers on the road. There wasn't a gate for the dugout and kids kept running in and out, having fun and messing with the players. Mead and a couple other Bananas weren't playing at the moment and decided to head into the stands to occupy the kids, especially since it was a close game. This little girl, Natalie, walked up and asked if she could sit with them. They of course let her and she began talking to them like they were best friends. She had made a sign for the players and signed their hats. Mead and his teammates sat with her for four innings, and when one of the Banana batters broke his bat, Mead too the opportunity to get the bat and have it signed by the players so they could give it to the girl.
Mead also worked with the team to provide a day for a Toombs County kid, Lane Dent, who had had an accident earlier this year. Dent was invited to the game, got to be in the dugout, be the bat boy for the game, got a jersey, signed bat, and other memorabilia.
Mead said that he hopes he will get the chance to play with the Bananas again next summer, and add to the already great experiences that he has had with the team. He is also working on getting a few things healed up as the fall season at EGC is set to begin in August.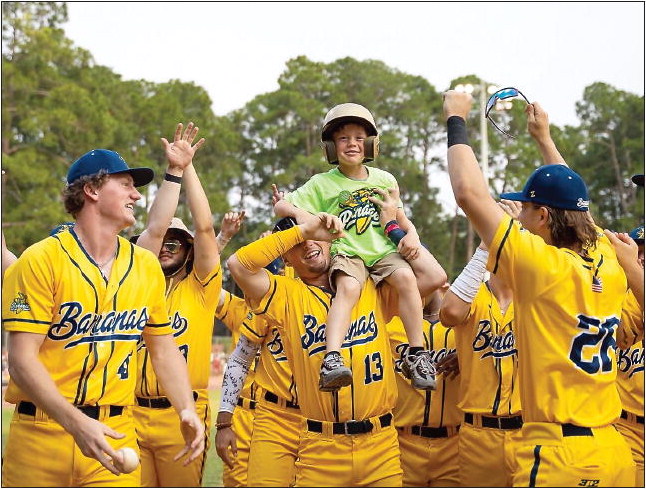 Landry Mead (middle) lifts a young Banana fan over his should during a celebration.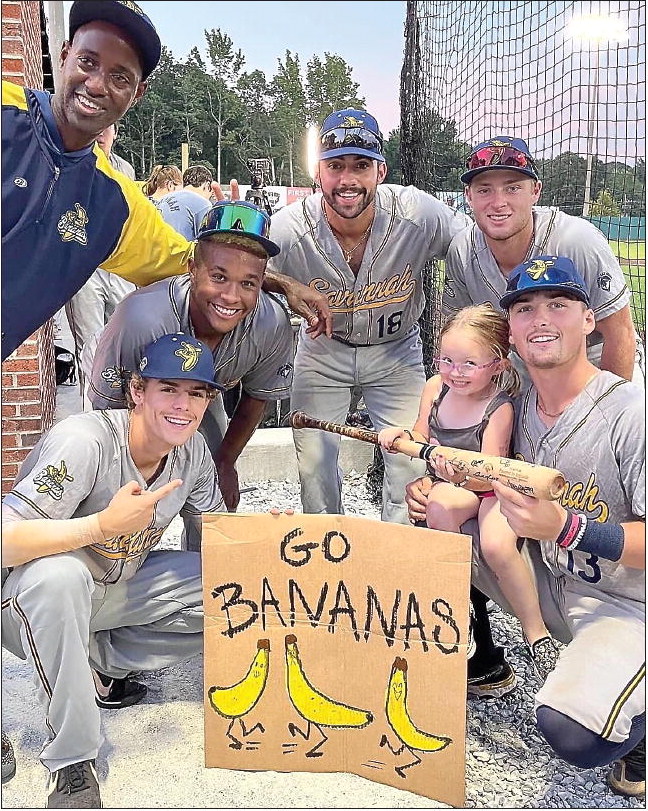 Landry Mead (right with bat) poses for pics with Natalie after a game in Asheboro, NC. Mead befriended her during the game and got her a signed bat.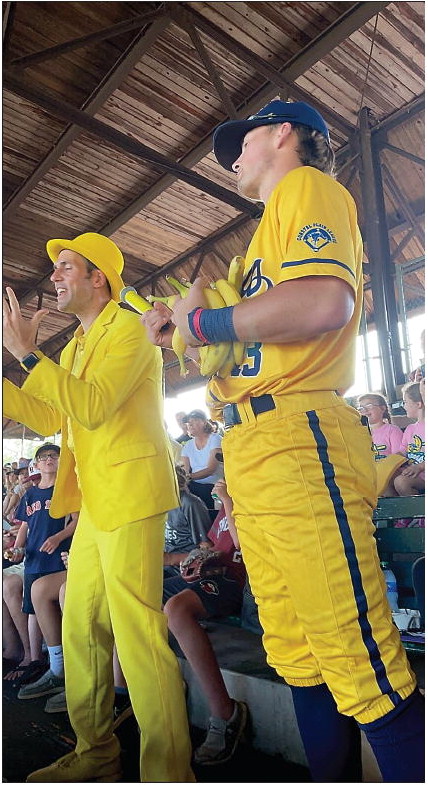 Landry Mead in the stands tossing out bananas with Banana Team Owner Jesse Cole.