Posted on
God's Storehouse is Not Closing, But They are Moving
On September 1, God's Storehouse (GSH) will be moving to a new location. It will be located at 2200 Center Drive in Vidalia. GSH will continue to operate out of its current location on McIntosh Street until that date. All services will continue as normal as they transition forward into their new location.
Pastors Rusty and Tina Houser came to Vidalia in 1999 to take over the pastorate at New Life Church, which was known back then as El Shaddai. They immediately hit the streets of Vidalia and started to feed people as well as pray over them. There were not a lot of outreach ministries in the county at that time and they believed that God wanted to start one. They assessed the need and pressed forward into the plans and purposes of God. They kept walking the streets, around the Everitt and Thompson Street areas, spreading the good news of Jesus Christ with all that would listen. It wasn't long before they were approached by Matt Williams, Sr., and his wife Vernell, who asked if they would start a Bible study for the neighborhood, right there on Everitt Street. Matt rented an old house in the neighborhood for the Bible Study and the process started. Ms. Tina and her ladies came in and cleaned up the house to a point where they could cook food and people could use the bathroom. It wasn't long before what eventually became God's Storehouse began. Every Tuesday and Thursday morning, the people would come down the street to attend Bible Studies. The chairs would be placed around the front of the house, and Pastor Rusty would sit on the steps of the front porch and teach the Word. Meanwhile, Pastor Tina was inside cooking something that they could be fed right after the Bible Study. After everyone ate spiritually and physically, Pastor Tina would pile them into her van and take them to New Life Church, where they could get food to take home with them and clothing for their families. Some days she would make 3 or 4 trips before everyone was taken care of. God's Storehouse was started right there at New Life Church. The ministry started to grow, and it wasn't long before it became obvious that they needed a larger place. They started to pray that God would provide. God led them to an empty warehouse on the end of a strip mall, located at the corner of Everitt and McIntosh St. The Housers approached Mr. Vernon Hughes, the owner, about renting the warehouse from him. They prayed together, which became a habit with them over the years, and it wasn't long before Mr. Hughes gave them the go-ahead and go ahead is exactly what God did!
That was in 2001. The Bible studies have continued every Tuesday and Thursday morning, with a hot meal to follow, for the last 22 years. Bible studies and hot meals will continue every Tuesday and Thursday morning at the new location, and people will still be able to receive clothing for their families, as they always have. The vans will be used to pick up people that can't make it on their own for Bible Studies or for clothing. Ms. Tina also wants to let people know that if they can't make it to pick up their monthly food, God's Storehouse will deliver it.
As soon as they were situated on McIntosh Street, Pastor Tina was appointed as the Director, and she became affectionately known by all her clients as Ms. Tina. She checked out all the resources to help people in need and found a federal food bank in Savannah called America's Second Harvest. She immediately reached out to them, and they are still partnering with them today. She started to get tractor trailers delivering food to the Storehouse. It wasn't long before she started to put food in people's homes around the county. At one point she was supplying food for over 250 families a month. But it didn't end there!
Around 2004, she started to see a need for sheltering people. When 3 other units within the strip mall became available, they proceeded to rent them and turn them into a recovery program for the homeless people. Homeless, or people who were simply down on their luck, would come and register to be housed there. If they agreed to the rules, passed a background check with the Vidalia Police Department, and remained sober, they could become a client and reside at the "Jesus Inn." Many people were taken care of at the "Jesus Inn" and there have been many success stories over the years. A lot of the clients are now contributing to the local work force and have turned their lives around for the good. Unfortunately, because of many factors, the "Jesus Inn" will not be reopening at the new location. Pastor Tina says that it's still an option for the future but right now they are going to focus on the food and clothing side of the house. Who knows what the future will bring!
During the early stages of God's Storehouse, Pastor Tina decided that she would serve the people in need a Thanksgiving dinner. It started out relatively small that year. Pastor Rusty and Bob Smith cooked the turkeys at the church while Ms. Tina and her helpers would prepare food at the Storehouse. There were 4 turkeys the first year and two pans each of sweet potato soufflé, mashed potatoes, cornbread stuffing and green beans. According to one helper, "I don't know how many we fed that first year. But every year it grew until last year we had 60 pans full of each item and over 90 turkeys. Wow! Last year we fed over 1650 people a full meal, which included dessert and sweet tea as well. It was a yearly blessing for the people around the county who couldn't afford a meal. Oh, by the way, did I mention that it takes Ms. Tina and her helpers over two months to prepare the meal?"
One of the other exciting things that happened at God's Storehouse was when Ms. Tina started to see a need for some free medical services. She started to pray. It wasn't long before they found a doctor and some nurses that were willing to help. So every Saturday morning people from around the neighborhood would come and get treated for free. In a lot of cases, they would get free medicine also. The pastors from Toombs County Ministerial Association would come down on Saturday mornings and pray for the people while they were waiting for treatment. It was a blessing, but it just wasn't the right place to help all the people that were coming. This ministry would eventually move out and become what is known today as "The Mercy Clinic."
God's Storehouse is a participating agency of the United Way., which has been a tremendous support and continue to be there when God's Storehouse needs them. There have also been so many individual people who have helped over the years with their time and efforts, as well as their financial support. "I just can't count them all," Ms. Tina commented. "The support has just been overwhelming. There have been so many churches and organizations around the county that we are so thankful to." She also said, "As the economy continues to worsen and people continue to struggle, we will take care of as many as we can. That's why your continued support is more important now than it's ever been. We just can't wait to see how God is going to move this ministry forward!"
There are a lot of things that will go up for sale because of the move and the fact that they are not continuing the "Jesus Inn." All proceeds from the items will go back into God's Storehouse account to help with the move and the building and purchasing of some new structures they are going to need. To find out what is for sale, contact Ms. Tina at (912) 538-1730. Below are some of the items that will go on sale: 1. Bunk Beds 2. Lockers 3. Desk 4. Steel Baby Beds 5. TV Cabinets 6. Mattresses 38x73x8' 7. Antique Cabinet with marble on top They have a lot of work ahead of them this summer to transition to the new location, but they should be ready to open for business on Center Drive as of September 1. "We will continue to serve this community as we always have and are already looking at new ways to help people around the county. It has been an exciting 23 years, but we expect the next 23 to be even better. We encourage you to keep up the support because there are more people that need help now than there has ever been. We don't expect it to get any better until Jesus comes back. God Bless everyone and we hope to see you soon!" said Ms. Tina.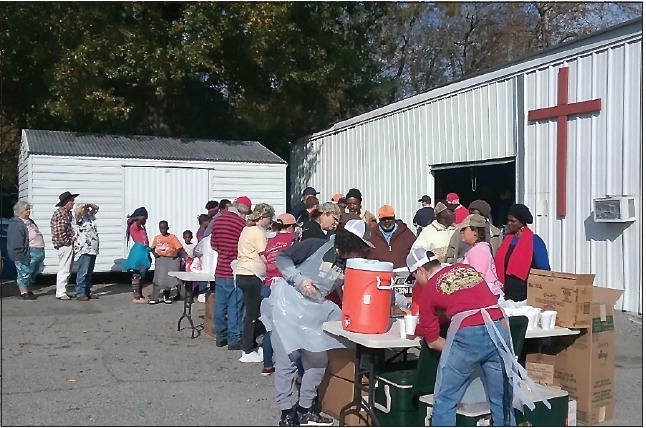 Feeding Day at God's Storehouse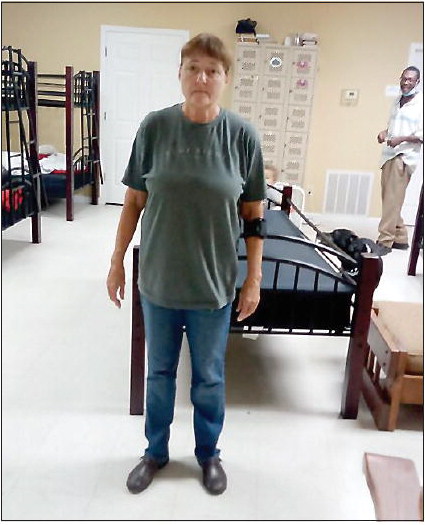 Ms. Tina preparing for the upcoming move. She is always hard at work.