Posted on
A

- chatWITH… John Koon

A chatWITH… John Koon

The Voice of the Vidalia

Indians Signs Off

"The wind and the pitch…swing and a miss! The dream has become a reality – the Indians are the Double-A State Champions of the Georgia High School Association! Let the celebration begin!" Longtime Vidalia Indians Sports Broadcaster John Koon shouted over radio waves. With that strikeout, the Indians would take home the championship, and the Seniors would say goodbye to their high school sports days. Yet, those were not the only goodbyes to be said: that final out of the game also marked the end of the era of Koon's 41-year broadcasting career. "It was very emotional," Koon commented on the end of the game. "I was so thrilled to watch these guys get to accomplish what they had been working so hard for. It was a perfect ending to a wonderful time in life." He says ending his career on that game feels appropriate, as he announced many of the 2022 Vidalia Indians Baseball Team's fathers' state championship games. "I was able to call that 1995 Vidalia High School State Baseball Championship Game with Doug Roper and Kyle Aldridge. Stacy Spivey (VHS 2022 Baseball Player Caden Spivey's father) was on that team," he shared. "Then the 1996 Toombs County Baseball State Championship had (VHS 2022 Baseball Player) Bryce Davis's dad, Brian, on that team. So this team had some of the 1995 baseball team's sons on it, and one of the 1996 team's sons, and it just kind of feels right."

He added, "This was the epitome – to be able to go out with those kids."

Where It All Began

"I've always wanted to be on radio," Koon remarked. "From a young age, I can remember wanting to be on radio. I would listen to Bob Prince from the Pittsburgh Pirates, and I even got to go in his booth when I was a young kid. I would get up on Sunday mornings and watch Notre Dame football replay and listen to Lindsey Nelson, and then on Saturday afternoons it would be the older guys – the Bill Flemming's, the Chris Schenkel's, and the Keith Jackson's – it all just kind of went into my mind." He continued, "Even when I was playing backyard baseball or wiffle ball, I would do play-by-play in my mind – it's always been a part of me." Though born in Maryland, Koon returned with his mother to her hometown of Soperton, Georgia, during his childhood after his father passed away. He attended Treutlen High School (THS), where his uncle worked to record play-by-play commentary on the THS football games on Friday nights. "During my high school years, my uncle would do recordings of our football games on Friday nights, and then would play it back on Saturday morning on our local radio station," he explained. That radio station gave Koon his first connection to Vidalia, as the station was WYOK, which was owned by Vidalia Resident Fred Tippett.

"[Tippett] needed somebody to work weekends – from 6 in the morning to 5 in the afternoon, and he asked my Uncle Billy if I would be interested," Koon shared. "From there, it just kind of took off."

Koon said that after a while of working weekends, Tippett told him that there was a Georgia Recreation League Football Game that Vidalia would be playing in at the recreation field, which was then located at the current Boys and Girls Club site. "He wanted to know if I would go take the tape recorder down there and broadcast the game," he reminisced. "They wanted me to bring it back and they would put it on air. So that was my first broadcasting experience – I was 16 years-old."

The radio station would later be sold to Lyons Native Terry Meeks, who gained the licensure for the FM station "Rock 102." "[Terry] brought in a guy who went by the name Bill St. Johns, who wanted to do sports," Koon said. "From that point, it just started."

He went on to broadcast thousands of games, which he says is impossible to keep up with. "It's probably been 5,000-6,000 games that I have broadcasted if I had to guess – there's no possible way I can keep up with it, I've tried," Koon commented. "I've never just not wanted to do it. They could call me on a Thursday afternoon and ask me if I could broadcast a game on Friday, and I would agree. I love it."

The Road to Vidalia

Koon broadcasted sporting events for his alma mater for several years after high school. "I did Treutlen for years because that was our home," he shared. "That was my alma mater, but I felt like there was a time for me to turn it over and let someone else take over because we just had some things going on – we were going to be moving out of town and I knew that I wouldn't be able to go back and forth."

Upon that realization, Koon turned the broadcasting responsibilities for Treutlen High School to local dentist Dr. John Pournelle, who went on to do play-by-play for the school for years.

"John [Pournelle] was actually my color commentary guy for years for Treutlen, and Jeff Raiford and Blake Dennard both did some stuff with me there," he said. "I really enjoyed them and working with them, but I knew it was time to move on."

From there, Koon's broadcast career continued, as he worked for the Lyons radio station. "They gave me the opportunity to do some stuff with them, so I was there for 3 or 4 years," he informed. "That was during the 1995 Vidalia High School Baseball State Championship, the 1996 Toombs County Baseball State Championship, and the 1996 Robert Toombs [Christian Academy] State Baseball Championship – Tony Deloach and I covered those for the Lyons radio station, because Vidalia's station had just started growing – Zack [Fowler] had just got here, and they weren't doing sports before he came." Bonds Made Along the Way Broadcasting all over the state and community has given Koon the unique opportunity to meet people and build bonds continued from page

throughout his career with everyone from coaches to families and coworkers.

"I think the biggest thing [that could've happened] is Zack (Fowler) making that phone call and telling me he wanted me to do baseball or basketball when I wasn't even working for him," Koon said. "Then he sent Marvin Mc-Intyre out there to meet with me to ask me to work for him – and that's what truly changed my life."

Koon says he had never been in full-time radio until his time with Vidalia Communications and Fowler. "I'm not sure either one of us thought it would turn into what it did," he explained. "The awards that we brought in over 20 years from the Georgia Association of Broadcasting was just crazy – it wasn't just one person; it was a whole team."

"What [Fowler] did for this community, and what he allowed us to do for the community, was just amazing," Koon continued. "He allowed me to be a part of Vidalia High School and all of the amazing people there who allowed me to be a part of this organization and never made me to feel an outsider – which was huge."

He added, "I think that play-by-play and being involved in radio made that connection with the teams I broadcasted, because they always welcomed me in and made me a part of the team."

Koon says that it is a relationship developed with former Georgia High School Association (GHSA) Executive Director Dr. Ralph Swearingen that helped accomplish one of the career successes he is most proud of: broadcasting the state football championship semi-finals online from the Georgia Dome. "John Pournelle and I got a group of 10 guys, and we did 10 games over the weekend on the internet from the Dome," he shared. When the championship finals swapped over to being played in the Dome, Koon had the idea to broadcast those games online through a partnership with the Georgia News Network (GNN). "So from that point on, we did the GHSA GNN High School Network," he reminisced. The Heart Behind It All According to Koon, his retirement would have happened a long time ago if it were not for members of the Vidalia High School Class of 2022. "Three years ago, I was contemplating retiring from broadcasting – I was ready to hang it up after their freshman year. [Vidalia Baseball] got beat in the quarterfinals of the state championship in Harlem," he emphasized. "I was done after that, but those kids and Landry Mead, who was a year ahead [of the others], talked me into staying until they graduated."

He says it wasn't only the students, but also the parents who asked him to continue his work. "There's always going to be that parent or student that wants you to stay," Koon commented with a laugh. "If I listened to that, I don't think I'd ever leave. But those kids are the ones that really made an impact on me."

Koon told the students that if he stayed, he expected them to win a state championship. "When it was all over with, Ty Dalley walked up to me and said, 'We got your state championship for you' – that stuff means the world to me," he remarked. "Obviously, they were playing for themselves, but that stuck in their minds: I was going out with them. This group of seniors knew that whether they won or lost, that was going to be their last game and my last game."

"They remembered that, and for an old guy like me to have that honor for those kids to remember that is incredible," he said. "This group of kids is just something special. I love all of those kids."

He says those types of bonds with the students is what keeps him going. "I've been around them so long. I've been at almost every sporting event, whether I was broadcasting games or not," Koon explained. "I try to support them in every way that I can, I try to be there for them to lean on, and I think it means something to them."

What's Next

"It's not that I don't want to do it anymore, I think the grind has just finally caught up with me," Koon remarked. Though he admits he will miss the experiences of the games, Koon looks forward to this new stage of life with his family. "My wife has sacrificed 41 years of me being gone on Friday nights, Tuesday nights, Thursday, Saturday – never said a word because she knew that was my passion," he said. "So I plan to spend a lot of time with her and my grandkids." "The great thing about doing this is that I can still be involved, but if I don't want to be there, I don't have to be there," Koon emphasized. "If [my grandchildren] Ollie or Sophie want to go to a football or baseball game, I can take them, and I can leave whenever they would like to – I couldn't do that before. I could bring them, but there was no way I could take care of them."

Koon boasted that his grandson Ollie will begin playing recreation baseball in the upcoming year, and he looks forward to being able to attend Ollie's games. "One of the things I am most proud of is that I never missed a game that my daughters participated in because I was off broadcasting someone else's game," he said. "They both played softball and other sports, but I never missed one of their games because of being at others' games. But I can't say that about my grandkids' games, and that bothers me." "They deserve to have Poppy there, and that played a huge factor in the decision to retire from broadcasting," he remarked.

Overall, Koon plans to travel with his wife, cheer on his grandchildren, and support his community in any way that he can. He assures the community that he will make a few special appearances in broadcasts, but will also enjoy this new stage in his life.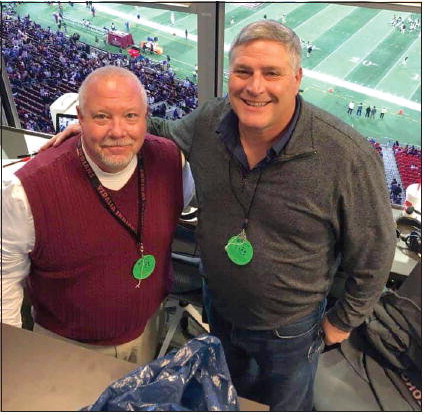 MANY EXPERIENCES – His broadcasting career has provided him with numerous experiences, such as broadcasting state football championships from Atlanta (left) or state basketball championships from Macon (right).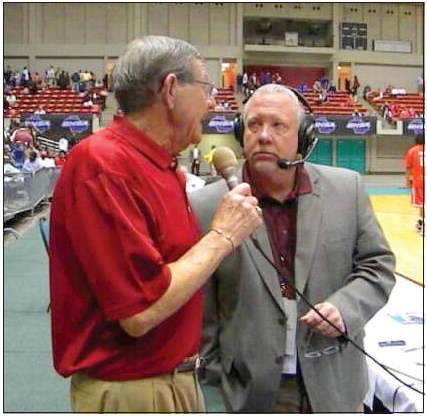 FRIENDS FOR LIFE – Koon has made many friends throughout his broadcasting career, from family members of athletes to coaches and coworkers. Here, Koon poses with two broadcasters with whom he called the 2022 State Championship Baseball game. L to R: John Koon, Kyle Aldridge, Doug Roper.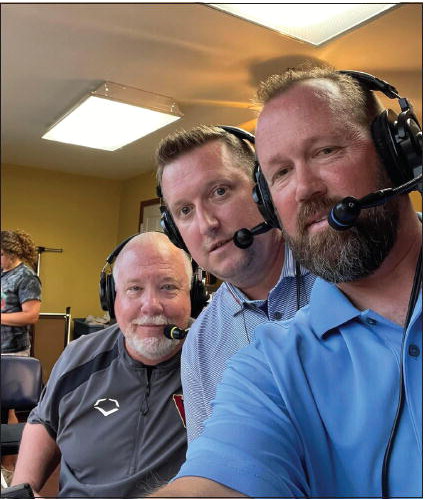 FOR THE GRANDCHILDREN – Koon says that the reason he has chosen to step away from broadcasting is to make sure he is able to play an active role in his grandchildren's lives. Here, he poses with his grandson, Ollie Moore, while broadcasting at a football game.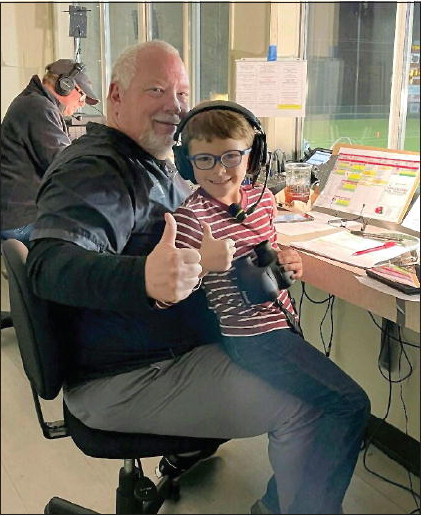 FAMILY MAN – At the core of Koon's identity, he says he is a family man. When his two daughters were growing up, he made sure to never miss a single sporting event that they participated in. Koon now plans to do the same for his grandchildren. L to R: Granddaughter Sophie Moore, Son-In-Law Derek Moore, Daughter Lindsey Moore, John Koon, Wife Debbie Koon, Daughter Kelli Koon Caraway, Son-In-Law Jon Caraway. Front: Grandson Ollie Moore.