Posted on
VRD 10U Boys 3rd At Partin Park
As part of the 59th Annual Lyons Youth Tournament at Partin Park the 10U boys were in action from May 31 – June 4. No local team made it to the finals, but Vidalia had a deep run as they got to the semifinals.
In the first round of the tournament Metter beat Long County 7-2, Bacon County beat Glennville 9-6, Statesboro #2 defeated Appling County 11-0, Montgomery County was beaten by Evans County 9-0, and Reidsville lost to Statesboro #1 12-0. In the second round Vidalia beat Metter 16-1, Lyons defeated Evans County 7-6, Bacon won over Statesboro #2 13-12, and Statesboro #1 beat Swainsboro 10-0. Vidalia lost their next game as they fell to Bacon County 6-1. Lyons fell behind early against Statesboro #1 and lost the game 9-1. Statesboro #1 then beat Bacon County in the semifinals of the winners' bracket 11- 1. In the losers' bracket Glennville won 12-3 over Appling County, Swainsboro beat Long 9-5, Glennville won 13-5 over Evans, Statesboro #2 beat Montgomery 12-0, and Metter beat Reidsville 9-2. Swainsboro then defeated Glennville 13-0, and Metter beat Statesboro #2 14-8.
Vidalia met up with Swainsboro in the next round and took a 2-1 lead in the first inning. They added to that in the fourth inning to lead 5-3. Vidalia was up 6-4 at the end of the fifth inning and took the win, 8-5. Lyons fell behind early to Metter, and were trailing 7-0 after two innings. Metter ended the tournament for Lyons as they won 13-0. Vidalia then won a close game over Metter 5-4 to move into the semifinals for a rematch with Bacon County. Bacon again got the win as they knocked off Vidalia 10-3. That moved Bacon into the Championship against Statesboro #1.
It was a close game, but Statesboro came out on top 7-6 to take home the title.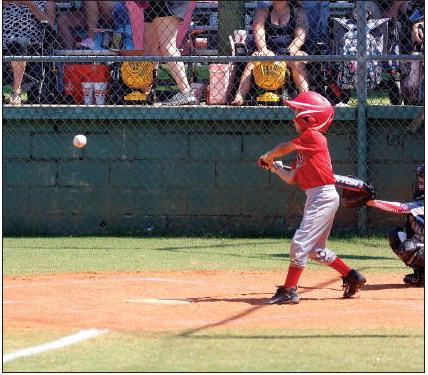 Roper Dixon puts the bat on the ball for the Lyons 8U boys as they faced off with Reidsville at Partin Park.Photo by Mike Branch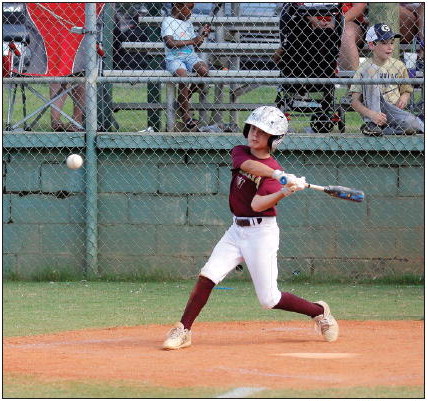 Gavin Reynolds takes a swing as the Vidalia 10U boys face Bacon County at Partin Park.Photo by Mike Branch