Posted on
United Way Kicks Off '22 Campaign: $460,000 Goal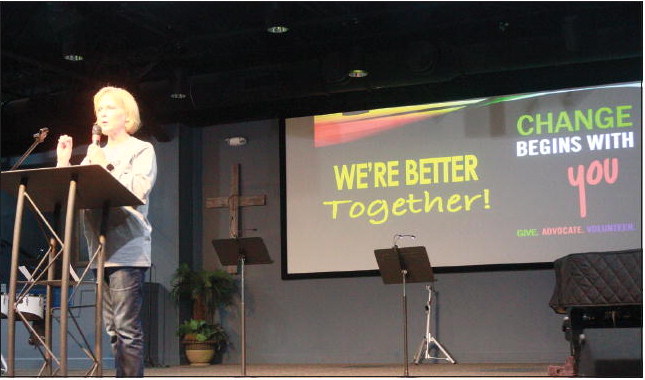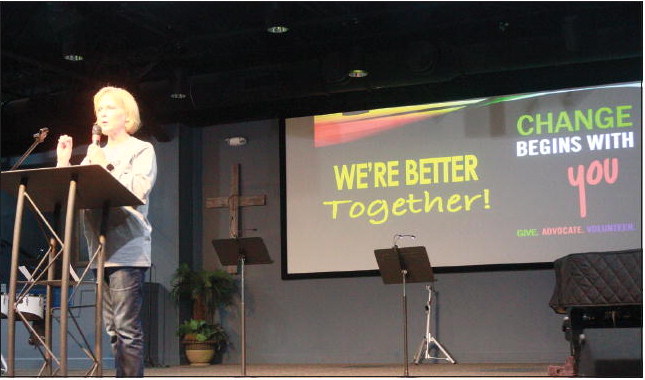 Excitement was in the air as United Way of Toombs, Montgomery, and Wheeler Counties held its annual fundraising kickoff September 16. It was the second year in a row the event was held virtually due to COVID, but spirits were high as staff, sponsors, and media all gathered at the First Baptist Church in Vidalia to broadcast the event through Facebook. The theme for the 2022 fundraiser is "United We Stand," which the local chapter emphasizes through its statement, "We're better together!"
The event was emceed by United Way of Toombs, Montgomery, and Wheeler Counties Chairman Melissa Bruce and Cochair Jordan Robins. It also featured a performance by the Vidalia Heritage Academy Drum Line. United Way has a $460,000 goal for fundraising. Currently, the organization has collected $160,043, which is 36.75% of the goal. The event recognized several local "pacesetters" for the fundraiser. These participants have pledged a certain amount of money which they plan to raise to "set the pace" for overall fundraising. Organizers of the United Way Golf Tournament plan to bring in $21,000, Vidalia City Schools pledged $15,000, Toombs County Schools plan to give $12,000, Chicken of the Sea announced a fundraising goal of $20,000, Altamaha Bank & Trust pledged $8,047.70, and DOT Foods plans to give $50,000. Several stories of the chapter's help within the community were shared by United Way staff, as well as the individuals who were helped by the organization. Laura Brown, known throughout the community because of her work as a makeup artist and saleswoman at Merle Norman, shared how the local chapter of United Way stepped in to help her recover from losing her home in a fire this past Valentine's Day.
"When we got home, our house was completely gone. Everything we ever had or saved for was gone," Brown said of the devastating loss. "We were standing there in the rain and this lady pulled up. I was unsure of who she was, but she said she was from the Red Cross. She brought us all kind of essentials that we needed for day-to-day living and gave us a gift card to go get whatever else we may need."
The American Red Cross is just one of the charities which United Way supports. Others include Southeast Georgia Communities Project, Montgomery County Community Service and Senior Citizens Center, Action Pact, Salvation Army, Paul Anderson Youth Home, Wheeler County Senior Citizens, First Choice Georgia Pregnancy Clinic, TLC Children & Services, Court Appointed Special Advocates (CASA), Boys & Girls Club, The Refuge Domestic Violence Shelter & Sexual Assault Center, The Ramp People, The Mercy Ministries, and Coastal Georgia Council Boy Scouts of America.
United Way Executive Director Patricia Dixon closed out the event by thanking all involved. "When you see United Way, it is all of our volunteers, it is our community, it is you," she explained. "So, when you see that sign with the numbers going up, you can take a lot of pride in what you see. So, thank you again!"
Soothing Sensations Massage Therapy is donating all proceeds to the local United Way chapter for anyone who is served on October 14 and November 10. Also, there will be a drawing at the " A Date for 8" event, which is sponsored by Marsha & Dent Temples and Tiffany & Terry Thompson. Raffle Tickets are $20 each, or 6 may be purchased for $100.
Campaign Sponsors are Daniel Dykes, Phillips Pharmacy, State Farm Insurance-Kailey Dees, Vidalia Kiwanis Club, and Vidalia Rotary.
Anyone interested in donating or needing a pledge card may contact United Way of Toombs, Montgomery, and Wheeler Counties at (912) 5372776.
Over All Sponsors are The Advance; Altamaha EMC; Ameris Bank; Barberitos; Chicken of the Sea; Cintas; DOT Foods; Georgia Power; Macky Bryant; McLain, Calhoun, McCullough, Clark & Co.; Oxford; the Temples Company; Towns Funeral Home; Tumi; and Vidalia Federal Savings.
Corporate Level Sponsors include Altamaha Bank, Chick-fil-A, EZ-E Photography – Evan Riekhof, Memorial Health Meadows Hospital, Southeastern Technical College, and Vidalia Communications.
Mega Sponsors include Paul Thigpen Automotive, People's Bank, Plant Hatch/A Southern Co., and Trane.