Posted on
Regionalism Best Bet For Future Growth In South Georgia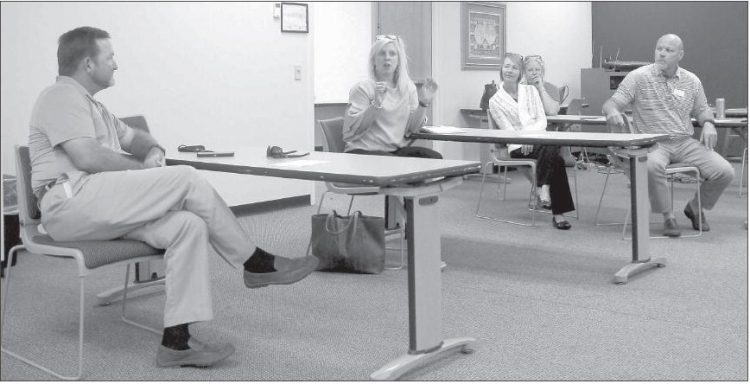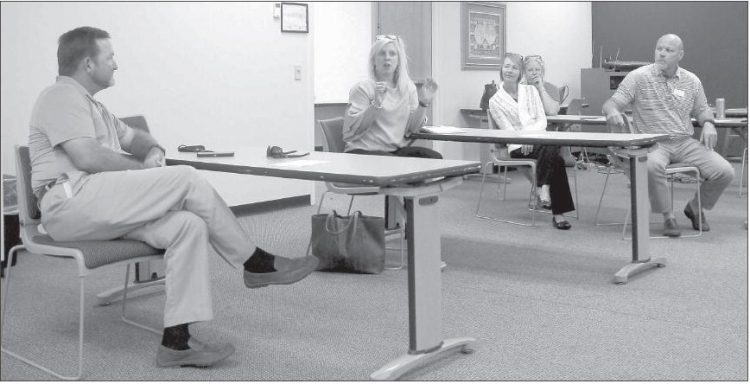 The best path forward for each of the 17 counties in Georgia's Region 9 Economic Development District is through regional teamwork. This was the consensus of elected officials and business leaders who met in Vidalia September 7 for the Region 9 Economic Development session at the Economic Development Center. This meeting was the first such meeting in several years and featured 21 participants: 18 representatives from several different counties within the Region and three area legislators. Region 9 is comprised of Wilcox, Dodge, Bleckley, Telfair, Laurens, Wheeler, Johnson, Treutlen, Montgomery, Jeff Davis, Appling, Toombs, Emanuel, Candler, Tattnall, Wayne, and Evans counties. Georgia Department of Economic Development Region 9 Project Manager Andrea Taylor conducted the meeting, which was hosted through the combined efforts of the Toombs County Development Center and Greater Vidalia Chamber. As economic development within the Region 9 was discussed, lack of a labor force was singled out as a crippling and widespread problem. District 19 State Senator Blake Tillery, R-Vidalia, reiterated how the workforce issue could greatly impact economies and emphasized that as the state of Georgia is one of the few states that does not mandate that businesses close completely during the pandemic, although COVID protocols are observed. "It has been nothing but full speed ahead," he explained. Tillery also advised the region, "Be careful, everyone wants you right now." Tillery stressed that continuing business when other states shut down during the pandemic is causing a major attraction to Georgia for corporations and entrepreneurs.
Georgia Power Community Development Manager Mickey Daniell highlighted another issue that is plaguing Region 9. "We do not have anything for workforce housing," he said. "We must address this—I'm not talking about low-income housing; I'm discussing entry level and lower salary workforce." According to Daniell, these issues all suggest the need for regionalism and intergovernmental agreements between counties. "We are such an intercounty workforce," he told the group. "Around 50% or more of the workforce in every county in the region drives in." District 156 State House Representative Leesa Hagan, R-Vidalia, agreed with Daniell, stating, "We've got to start helping each other. People do not care where the county borders are—we all go together." Toombs County Development Authority Secretary Garrett Wilcox noted that the current economic work throughout the region is not delegated to only select areas. "I think the work we are doing is more of a regional deal than a selfish piece," he said. "Regionalism is a good thing; it's not a contest."
Montgomery County Development Authority Executive Director Joe Filippone agreed that the different areas within the district can learn from one another to better serve their own communities. "I think it's important we understand the differences of each community. We can all benefit from one another," he explained.
Attracting and Keeping Local Talent According to Greater Vidalia Chamber Chairman Steven McComas, Toombs County and other counties within the Region are facing the exodus of youth upon graduation. "We have a lot of talent in the next generation that is leaving. That is alarming," McComas emphasized.
Keeping the next generation local and attracting other youthful talent is going to require "an investment to invest" in the community. "No one is going to come in and want to invest in a community until the locals invest," Johnson County Development Authority Chairman George Milligan observed. "People choose to stay home after graduation when it is advantageous to them." McComas shared the need for "vibrancy of community" to attract talent to small towns. "It's not about the quantity of people we attract; it is about the quality of people we attract." McComas explained that he feels that small towns are very advantageous for all people because of the shift to remote working that has been created by the COVID-19 pandemic. "I do believe you can work anywhere in the world from a rural community," he said.
Project Manager Taylor told the group that for these investments to be made in the communities "local leadership needs a lot of help."
Claxton-Evans County Economic Development Authority Director Adam Kennedy supported this statement, referencing his past experiences in meetings to plan community development. "People had great ideas but left the meetings and did nothing," he said. "That's when I started asking: 'Do you want to make that a motion?' to promote putting words into action."
In their own effort to "make a motion," the group decided to hold quarterly Region 9 Economic Development meetings; during these meetings, representatives will continue to make connections and hold discussions on how to best serve their own communities, as well as to gain support for projects.
The meeting concluded with calls to action by Tillery and Greater Vidalia Chamber President Michele Johnson. As Johnson told the group she felt "[we] need to start thinking outside the norm," Tillery agreed and said his "best advice" to the group could be summed up in two words: "Think bigger."
Taylor noted that her goal for the meeting was to provide a networking opportunity for rural economic development workers. She explained that she felt the meeting was a success, stating, "The meeting was very successful as it allowed our economic developers to network and share the economic development success stories from their communities."
Members of the Region are now working to plan the next meeting, which will be hosted in Eastman.
Other participants of the meeting included: Georgia Power Community and Economic Development Representative Jason Coley; Telfair County Chamber of Commerce President Paula Anderson; Cochran-Bleckley Chamber of Commerce President Andy Lucas; Toombs County Development Authority Assistant Treasurer Tim Truxel; Telfair County Chamber of Commerce Board of Directors Member Eric Smith; Region 9 Georgia Department of Community Affairs Representative Lynn Ashcroft; District 149 State Representative Robert Pruitt; Southern Gas Company Economic Development and Governmental Affairs Manager Mark Clay; Swainsboro/ Emanuel County Development Authority President Jack Bareford; Tattnall County Development Authority Chairman Wayne Dasher; and Dodge County- Eastman Developmental Authority Executive Director Charles Williams.