Posted on
Piedmont Over RTCA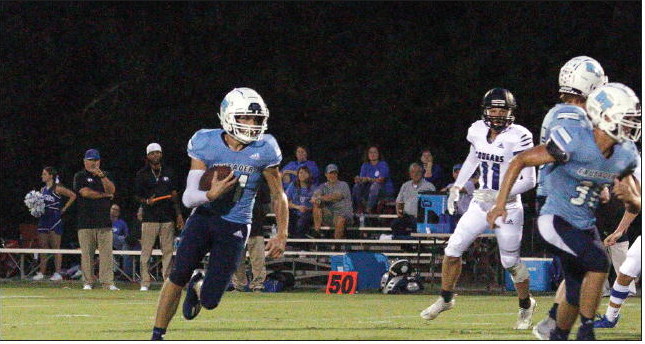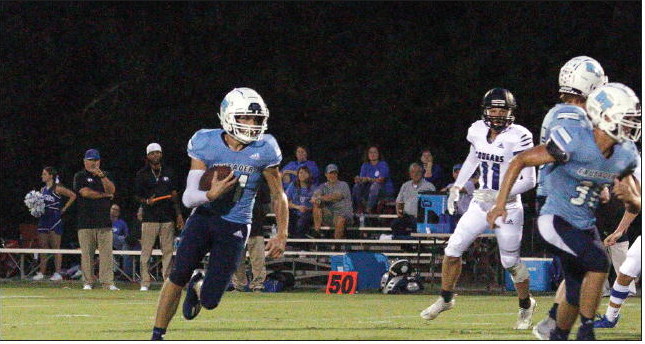 Robert Toombs Christian Academy's football team hosted the Cougars of Piedmont Academy on Friday of last week. RTCA did get on the board, but it was a tough game as they fell, 33-7. RTCA had the ball to start the game. They picked up a first down on a run by quarterback TJ Stanley, but stalled and turned the ball over on downs at their own 44-yard line with 8:40 left in the first quarter. Piedmont moved the ball down to the 18-yard line. RTCA held them up there, and Piedmont kicked a field goal for a 3-0 lead with just over five minutes left in the first.
Stanley had another good run on their next series as he went across midfield to the 44. A face mask penalty at the end of that play put RTCA at the 34yard line. Hunter Ennis had two good runs down to the 20, but an interception in the end zone gave Piedmont the ball back at their 20-yard line.
Piedmont found the end zone twice in the second quarter of the game. The first came on a short run, and the second on a 25-yard pass. That put them on top 14-0 over RTCA. The Cougars added a safety late in the first half to hold a 16-0 lead at halftime.
In the third quarter of the game the Cougars scored on a 4-yard run to push the lead to 23-0. Then a 15-yard pass made it 30-0. The Cougars tacked on a field goal to make it 33-0 heading to the fourth period.
In the fourth RTCA did get into the end zone when Stanley found Clayton Meadows in the end zone on a 10-yard touchdown pass. RTCA added the extra point, but they lost to Piedmont, 33-7.
This week RTCA will be at Southwest Georgia Academy on Friday in Damascus at 7:30 p.m.