Posted on
continued from page Robinson had ….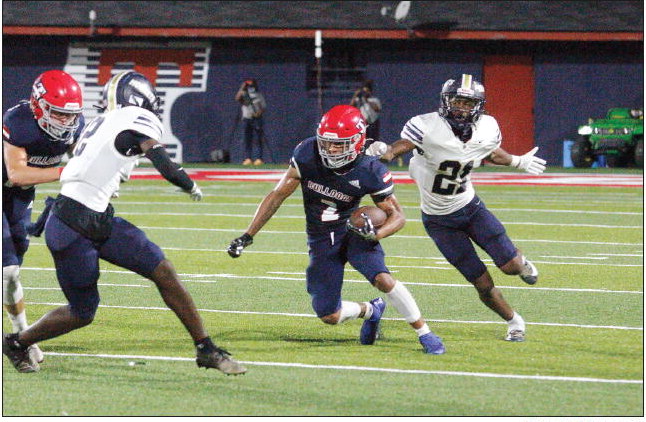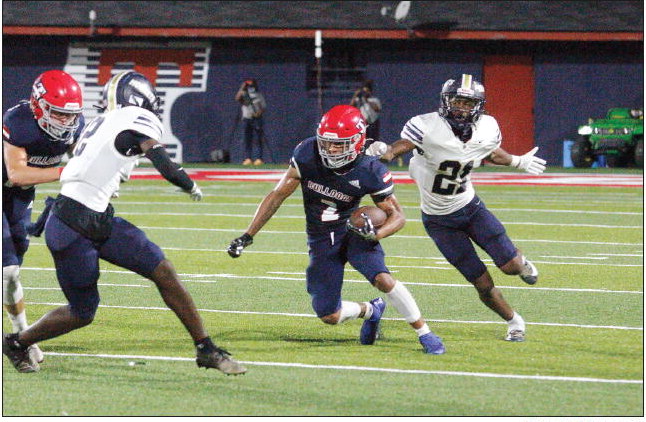 continued from page
Robinson had the Bulldogs moving, but a fumble gave Pelham the ball back at the TCHS 27-yard line. The TCHS defense held and pushed them back, forcing a punt. Toombs took over at their 28-yard line. Quarterback Gavin Hall again found VerSluis for a completion, but Toombs stalled and had to punt the ball away. On the punt Pelham touched the ball, and Toombs recovered it at their 44-yard line.
A pass to Lagonza Hayward, and a nice run by Tamarien McArthur moved the ball to the 34yard line. A penalty put TCHS at the 12-yard line of Pelham with a first down. Hall ran to the 6-yard line, with just under four minutes to go in the half. But penalties moved the Bulldogs all the way back out to the 27-yard line. Two plays later the Bulldogs threw an interception, giving the Hornets the ball at the 17-yard line. By the end of the first half the score was still, 6-0, with the Hornets out in front. In the third quarter Pelham added to their lead with less than a minute left on the clock on a 51-yard punt return for a touchdown. They tried for the two-point conversion but failed, and the score was 12-0. Early in the fourth quarter of the game, Hall found Robinson for a 47yard touchdown pass to put the Bulldogs on the board. Jesus Mata added the extra point to close the lead to 12-7. With less than three minutes left in the game, the Hornets again found the end zone, this time on a 5-yard run. The extra point try failed, but they led 18-7 over the Bulldogs. That touchdown was set up by a big interception return by the Hornets.
Toombs found the end zone on an 18-yard pass from Hall to Hayward with 1:30 left in the game. The Bulldogs tried for two, but did not get it. That made the score 18-13.
Toombs then went for the onside kick, and Mata kicked a good one with Toombs recovering it at the 45-yard line. Pelham blitzed on every play of that series, which led to an interception. With that pick the Hornets secured the win over the Bulldogs on Toombs' Homecoming night, 18-13.
Hall had 198 yards passing and 2 touchdowns for the Bulldogs, but he threw 3 interceptions on the night. The Bulldogs never could get the running game going against the Hornets and had a total of just 3 yards on the ground. Robinson led Toombs with 95 yards receiving.
This week Toombs will be at Riverside Military Academy in Gainsville with kickoff at 7:30 p.m.