Posted on
continued from page removed from ….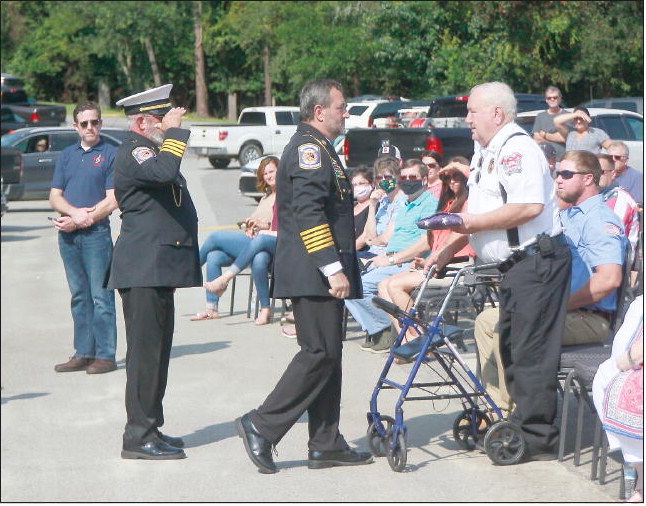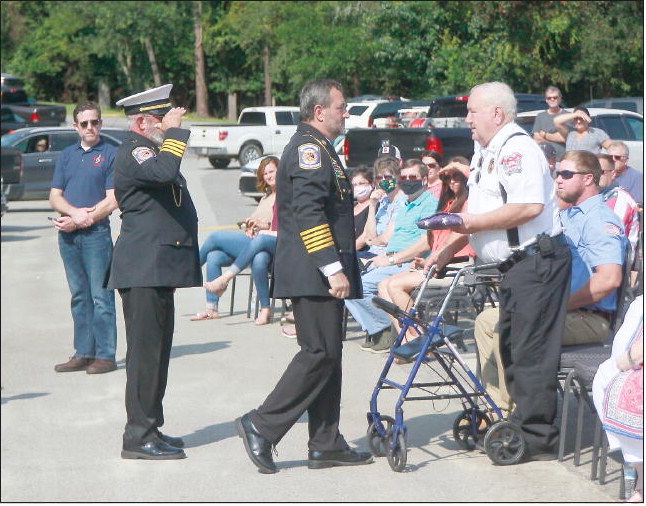 continued from page
removed from display, folded, and replaced with a new flag. The original flag was presented to C.M. Youmans, who is the longest serving first responder in the area. Moser shared that Youmans continues his devotion to public service although now he is not his physical prime and reliant on the use of a walker, "C.M., you are a testament to any uniformed person here," Moser emphasized during the event. "We love you, and we are grateful to have you in the community."
After the event, Moser continued to share his thoughts on Youmans. "C.M. Youmans has been in public service with EMA, Rescue and Lyons Fire Department for more than 38 years. His influence has been and still is felt with the emergency response organizations throughout our county," Moser explained. "He has mentored and trained countless first responders. He has given countless emergency response hours as a volunteer to the city of Lyons and Toombs County. The day will come that C.M. cannot do what he wants to as a first responder, and on that day, the entire county will feel his presence not there."
The memorial service also featured the ceremonial ringing of the bell, which marks the end of a Firefighter's duty on Earth, as well as a moment of silence while EMS sirens sounded. The Toombs County Schools' Children's Choir sang patriotic classics, such as "The Star-Spangled Banner."
Pastor Plowman shared a message of unity among Americans with attendees. "It is appropriate that we gather in this place — a park, where children play — so that the younger generations can see and know that hate did not divide us, Islam did not defeat us, and faith did not fail us," he exclaimed. "We gather here to show [the young generations] that despite different skin colors, cultures, and ideas, we are all Americans," Plowman told the crowd. "We may live in different zip codes. We may believe in different ideas. We may like different foods and, God forbid, we even cheer for different football teams, but we have the same flag, the same pledge, and the same national anthem."
Plowman summarized the sense of unity which 9-11 has historically brought upon the nation, as he stated, "On 9-11, there were no red Republicans or blue Democrats. There were only red, white, and blue Americans." Later, Moser shared that he felt the event was a success in that it focused on the day and reason for the gathering. "It is the duty of first responders of all disciplines to always remember and honor those who lost their lives on 9-11-01," he said. "That day exemplified absolute courage and resolve of those that responded then and now. It means more now than ever that as a country, we remember that day and also that it happened because of being a free people." Moser concluded, "Inspiration comes from the Flag of the United States of America. It stands for Freedom. Americans must always stand tall for what stands for freedom." The service concluded as attendees were led in prayer for the nation. Liberty Baptist Church provided the attendees with refreshments.