Posted on
Brewton-Parker College Dedicates Residence Hall to John E. Roller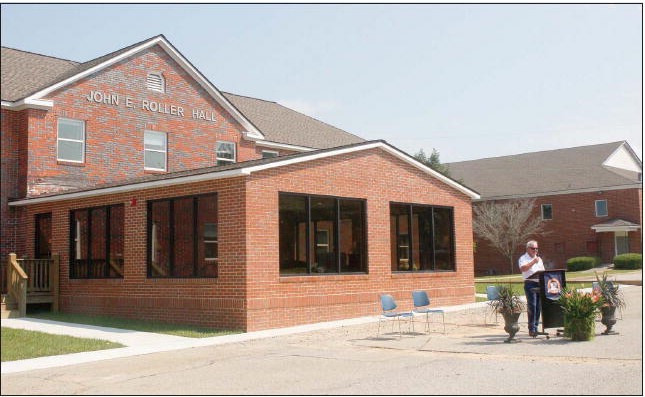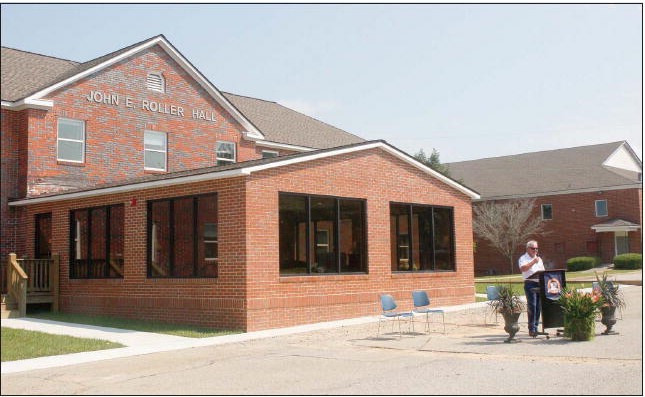 Brewton-Parker College held a dedication ceremony and ribbon cutting for the new John E. Roller Residence Hall on August 11. The name of the hall serves to honor the memory of John E. Roller, a devoted community leader and friend to the college for several years. The ceremony was held outside and attended by numerous BPC employees, community leaders, and friends and family of Roller. BPC President Dr. Steve Echols, Chairman of the Holland-Underwood Foundation Don Christian, Mayor Joey Fountain, and Family Friend Ellis Wood all spoke on behalf of the legacy that Roller had imprinted upon both the school and the community.
Roller was a native of the community. He graduated from the Mount Vernon- Ailey School before attending the Georgia Institute of Technology in Atlanta and working as a commissioned officer in the Public Health Service. Once he returned to his hometown, he worked as a civil engineer with Holland Contracting Company, which later became Reeves Construction Company. Roller was a member of the Mount Vernon City Council and Altamaha Regional Water Planning Council, as well as a director of Mount Vernon Bank and an avid supporter of Brewton-Parker College.
"John Roller, his family, and the Holland-Underwood Foundation, which was led by John Roller for many years, have been pivotal to the growth and continuation of BPC," President Echols explained to the crowd. He shared that a large amount of the funding for the $750,000 renovation of the hall stemmed from the Roller Family and Holland- Underwood Foundation.
The building previously known as Robinson Hall will primarily house female nursing students but will also have minimal openings of unfilled units for female students who desire single-occupancy housing. The hall has a 30-inhabitant maximum.
This project began in January 2020 and has faced numerous delays because of COVID. Contractor Danny Fountain worked through the challenges with the help of many subcontractors to complete the project literally on the morning of August 11 as new doors were installed.
Echols said that this upgrade in the residence hall was just a small glimpse of the success of the school, which Echols stated he believed Roller "would be overjoyed with."
Chairman of the Holland- Underwood Foundation Don Christian spoke about Roller's excellence as a friend to all the people with whom he worked. "John truly made sure we had a family atmosphere — that people knew he cared about them."
Mount Vernon Mayor Joey Fountain mentioned the guidance Roller personally provided him when he became a government leader. "I looked up to John; he was a mentor to me," Fountain explained. "He worked to be the best he could possibly be, and I learned from that."
Following the dedication, the Roller family joined a few BPC administrators for an official ribbon cutting and a tour of the updated residence hall. The building went into immediate use as students began moving in ahead of the start of the semester.