Posted on
Retiring Sheriff's Department Employees Honored at Toombs Commission Meeting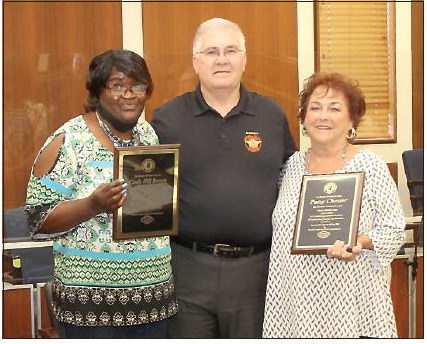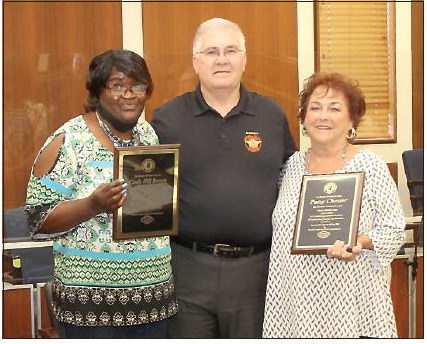 Toombs County Sheriff Alvie Kight, Jr., recognized two retiring employees during the June 15 session of the Toombs County Commission.
Cindy Brown has worked in every position at the Toombs County Jail during her 26 years there, retiring as Sergeant. Kight observed that Brown had to be a special person to serve in such a difficult area. "What you have taught the young ones down there will go on for a long time. I appreciate that." Patsy Chester, Administrative Assistant, has served in the Department for 20 years. Kight said that when he first became Sheriff, he learned that, "I had to depend on good people to help me. I found out real quick that you don't do the job by yourself." Chester said she would not want to be working anywhere else than with Sheriff Kight and all the other County employees. Chester and Brown provided vital support needed to run the Department. Toombs Library Trustee Brian Bishop thanked the Commissioners for their support and recognition of how vital the public library services are to the community. Bishop said, "It never ceases to amaze me how good our community is. We have raised over $700,000 locally," and with the help of Senator Blake Tillery and past Representative Greg Morris, the State has allocated funds for the library's renovation. Dr. Mark Spivey and Tonya Spivey have received naming rights for their donation of $250,000.
Bishop recognized the Library Board for its diligence in seeing what needs to be done to complete the renovation project and to help fund personnel and operations. Additionally, the library staff, headed by Director Cameron Asbell, does a fantastic job, he added.
Asbell emphasized that the library runs three branches in Toombs County on only $113,000 a year. The ability to prop up local operating costs from state paid employees has run out, and this fiscal year's budget is in a deficit. With all the vital services provided by the library, and with the top-notch technology to be added in the renovation, public use will increase. Support for operating costs is needed now and will be needed in the future.
Approvals of actions by the Commissioners included: completion of repairs on the county section of North Jefferson Street by McLendon Enterprises, to be paid by Public Works funds; the reappointment of Ann Bedingfield to the Toombs County Board of Family and Children Services through June 2026 as requested by DFCS Director Ashley Payne; and continuation of the process of drafting an ordinance for a Broadband Ready Community, for which the proposal will be presented in a public hearing before the next board meeting on July 20.