Posted on
Gubernatorial Hopeful Kandiss Taylor Speaks in Glenwood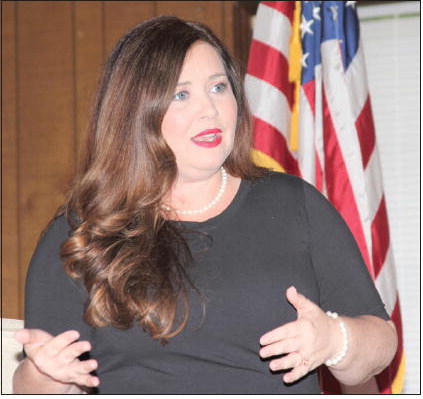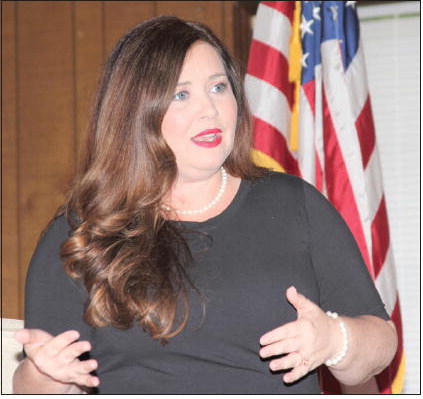 Candidate Pushes Forensic Audit
Georgians won't be going to the polls to elect a new governor until November 2022, but Dr. Kandiss Taylor has been on the campaign trail for the past the six months and is running hard. The Republican launched her gubernatorial bid in January on the steps of the courthouse in her hometown of Baxley. When she was in Glenwood last week to speak at a meeting of the Wheeler County Republican Party, she told the group she had already been across the state four times in the past eight days. The career educator defines herself as a "Georgia grown" conservative who advocates election reform, supports gun rights, and is pro-life. Having spent the last 18 years in public education in a rural Georgia school system as a teacher counselor and coordinator, she points to her real life experience and a skill set developed over the past two decades to serve all Georgians.
Taylor's website noted that she obtained a bachelor's degree in early childhood education, a master's degree in school counseling, and a specialist degree in school counseling. Upon graduation from Georgia Southern University, she wanted to know more about counseling from a Christian perspective, so she decided to apply to Regent University for her doctoral degree. "At my commencement ceremony, Dr. Ben Carson was my speaker, and it was that day I felt the call to run for office and serve," she recalled. Taylor told those gathered to hear her at the Glenwood Civic Center on June 15 that she is a Christian mother and a wife and a middle class citizen who wants change and believes it is time for common folk to be represented in government.
3, 2020 election.
"By nature I am a fixer," she allowed, adding that when she is asked why she is running for office she responds, "I can't complain if I'm not willing to do something about it."
She avowed, "We are in the worst of times because we are in danger of losing (our freedom), but we are also in the best of times because people are rising up to fight back as patriots. You know if you don't get involved, you could lose your way of life." Taylor is up front about her current focus, a forensic audit of the November 3, 2020 election. "It is totally about the forensic audit," she avowed. When she stood outside the Appling County courthouse instead of Atlanta to announce her campaign, Taylor told supporters she was running to clean up election fraud and running for values she said are not held by current incumbents in Atlanta.
"Georgia is begging for an alternative. They want an alternative who's going to represent them. I know I'm not a sellout and that I can do it," Taylor said. Taylor ran last year as a political outsider for the U.S. Senate seat now held by Raphael Warnock. She contends that votes were improperly tabulated in the two U.S. Senate elections on the ballot as well as in the presidential election.
On June 2, Taylor issued a press release in which she claimed to have served current Governor Brian Kemp with an affidavit 'demanding a full forensic audit for Fulton and Chatham Counties.'
The press release stated, "There's no excuse for the lack of response to the affidavits and multitude of notices. The Georgia General Assembly has a sworn obligation as trustees of the Georgia Constitution to uphold the will of the people. We expect a prompt response and initiation of a full forensic audit now."
During her speech in Glenwood, Taylor cited an audit taking place in Maricopa County, Arizona, the country's first forensic, in-depth look at election results of any locality. Initiated by Republicans in the Arizona State Senate, the massive undertaking has reviewed more than 2 million election ballots in the county of more than 4 million people to uncover voter fraud.
Recounts in battleground states like Pennsylvania and Georgia uncovered no irregularities but those efforts recounted the same ballots that had already been counted. In Arizona, auditors are scrutinizing ballots by hand, looking at the ink used to print the ballot, how the ballot was folded, and confirming whether or not it was filled out by hand. Representatives from at least 13 states have toured the Arizona audit which has uncovered irregularities including missing ballots and a missing voter database deleted from a computer server and which was later recovered. The Arizona audit has been cited as a template for other states, though each is distinct. In Arizona, the Republican-controlled state Senate subpoenaed more than 2 million ballots and voting machines from Arizona's most populous county, which includes Phoenix.
Since the audit began, other swing states like Pennsylvania and Virginia, expressed interest in performing a forensic audit, as well as Georgia where prominent Republicans in Georgia, including newly re-elected party chairman David Shafer, are calling for Georgia's ballots to go down a similar forensic audit road. Many of the claims about Georgia's elections come from a dramatic rise in mail-in absentee ballots due to the coronavirus pandemic.
The wheels began to turn on Georgia's forensic audit road in Fulton County where a judge ruled that plaintiffs could inspect 147,000 mail ballots as part of their lawsuit alleging fraud in the most populous county in the state. The lawsuit was spearheaded by Garland Favorito, a longtime skeptic of Georgia's voting systems.
According to an online post by the Electoral Forensics Project, the study of electoral forensics has become increasingly popular in the last decade. "Like medical autopsies conducted after death arising from suspicious circumstances, statistical techniques can be used to analyze election returns reported in local wards, polling districts, or constituencies," the study states.
"The aim is to detect local outliers to the usual patterns of election results, such as in voter registration, voting turnout, vote shares cast for the incumbent, blank or invalid ballots cast, or other anomalies in the official results. Where outliers cannot be explained satisfactorily by other factors, these appear to indicate cases of irregularities arising from practices such as electoral fraud, ballot-stuffing, malpractice, bribery, or vote tampering," the study notes.
According to the study, "These techniques are most effective for capturing any problems occurring on or just after polling day."
Taylor lamented the state's investment in the Dominion voting machine system, which she said is a prime suspect in the issues arising from the 2020 presidential election. "We had to pay $100 million for (Dominion). Your tax money paid for it. I don't know if it was Dominion, or the absentee ballots, but the election was a mess."
She added, "We have to get back to what the people want in Georgia and what the people want is a forensic audit. The ballots don't belong to the Governor, or the Secretary of State, they belong to the people."
She urged that voters visit her website to learn how to participate in the audit process by sending affidavits to elected officials. Her request for audits target Fulton and Chatham counties which, out of 159 Georgia counties, have a different way of selecting their boards of electors, she said. "If they (state legislators) refuse to start an audit they will owe me $1,000 a day (in fines)." On June 16, Taylor posted on her Facebook page a copy of the default notice sent by certified mail to Georgia legislators with the comment, "Let's go to arbitration! We demand an audit. We are going to get it. (The) ball is in your court."
Taylor told those gathered at the Glenwood Civic Center to hear her on June 15, "Our state is diverse and fully sustainable and the federal government likes to overreach into our state," Taylor emphasized. "We have to save Georgia (from political corruption)," she said, citing her campaign slogan, "Morality Over Money."
In addition to Governor Kemp, who has announced his campaign for re-election, Republican Vernon Jones, former Democratic state representative and CEO of DeKalb County has declared for the race. There have been no formal declarations for the Democratic primary. In the Libertarian primary, only one candidate has declared for the race so far: radio host Shane T. Hazel, a Republican candidate for Georgia's 7th Congressional District in 2018, and a Libertarian nominee for U.S. Senate in 2020.