Posted on
Honoring Tradition and Moving Forward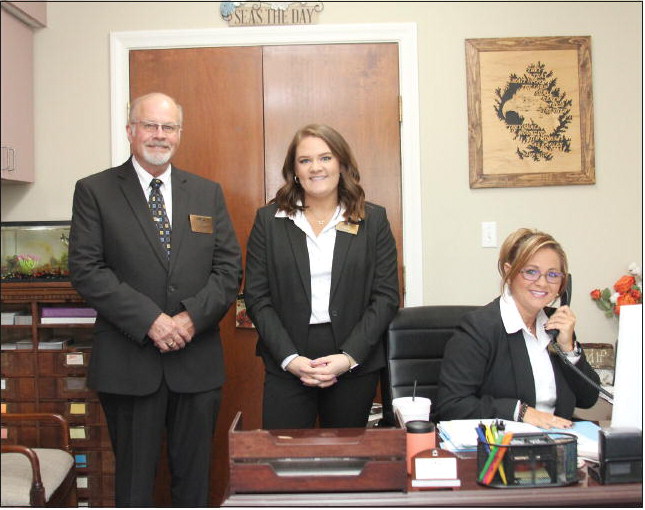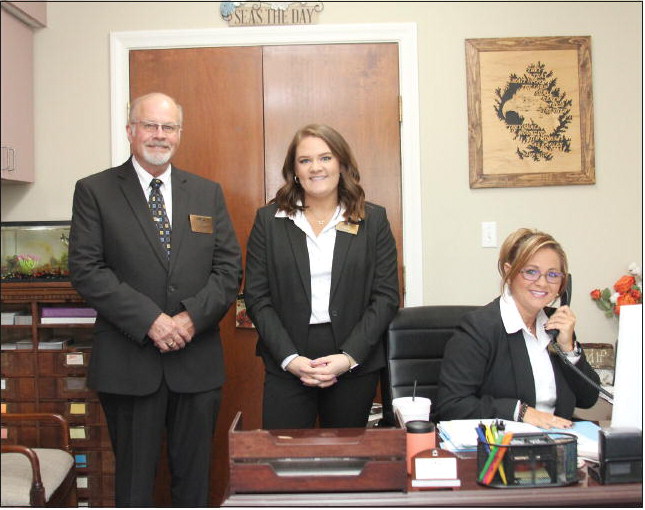 Brandon Roberts Founds Roberts-Stewart Funeral Home
The first impression of Brandon Roberts is that he is friendly and outgoing and that he loves meeting people. He is also young — only 36 — and may not conform to general perceptions about funeral directors. "When people learn that I am a funeral director, they are surprised. They may be expecting an older gentleman," he quipped. But make no mistake, he has almost two decades of experience and is fully committed to the path he chose while still in high school.
In December 2020, Roberts assumed ownership of one of Vidalia's oldest mortuaries and since that time has been careful to preserve many of the traditions area residents came to expect with Ronnie Stewart Funeral Home. But he also made some changes to update his new business.
Roberts was born and reared in Mountain City, Tennessee, where his father, John W. Roberts, was in law enforcement and his mother, Sheelagh Porter, worked with juvenile probation services. He spent a lot of time with his grandparents, and because his grandfather, the Rev. Eddie Porter, was a Baptist minister, he was often at church services, funerals and visitations. In the company of his grandparents, Roberts became comfortable at these kinds of events. His grandfather was not surprised when Roberts informed him that he wanted to be a funeral director; in fact, his grandfather was friends with one of the town's funeral directors and made the connections for his grandson. At age 18, Roberts started working at Hux-Lipford Funeral Home in Mountain City.
Intent on progressing in the business, Roberts attended Gupton-Jones Mortuary College in Atlanta, where he earned a degree in mortuary science. While attending college, Roberts worked with Parrott Funeral Home in Atlanta.
After graduation, Roberts returned to Hux-Lipford, where he worked in management from 2010 until 2013. He then joined Eggers Funeral Home, which had two chapels in Spartanburg, South Carol ina . That business was owned by John Eggers, who was also from Mountain City. During the last seven and a half years he was with Eggers, Roberts was vice president of the company. When Eggers died, Roberts was looking into buying the business, but an opportunity arose in Vidalia. Through a salesman who served both Eggers and Ronnie Stewart, Roberts heard that the Vidalia funeral home might be available for purchase. He met with Stewart, who was planning to retire, and closed the sale on December 4, 2020.
Roberts visited the Toombs County community twice before he made the decision to buy the funeral home and he liked what he saw. "The people here are phenomenal," he said. He deliberately chose to be in a smaller community and not part of a corporate enterprise where people may not always come ahead of profit. "These are families, not numbers," he observed.
Being a funeral director means dealing with people when they are going through a very emotional time. "People need to be able to trust you," he said of his profession. "No two people are ever the same, and they handle grief in different ways." Learning how to accommodate each family's needs was gleaned from Roberts' years in the funeral home business. "They teach you the national boards in (mortuary) college — the science — but the best training is experience. Real knowledge comes from experience." He added, "We are providing a service for the deceased, but we are there more for the living."
Roberts has been mindful of tradition as he assumed ownership of the funeral home operated by Ronnie Stewart for so many years. That is why he retained Stewart in the funeral home's name. He has honored the iconic trademark of the Stewart funeral home, a horse drawn hearse, by keeping it in the funeral home's logo. The actual hearse that inspired the logo sits beneath a shelter in front of the funeral home and Roberts plans to replace the glass and do other restorative work to maintain the 19th century relic.
But other changes made at the funeral home are definitely reflective of Roberts' taste and personality. He has redecorated the funeral home's entrance hall and main sitting room. "We just finished this," he said of the area that resembles a comfortable mountain lodge retreat and was perhaps inspired by his Tennessee roots. Roberts noted, "The front lobby has changed, but everything else has remained the same. You don't want to forget where you come from in any situation and make too many changes. People here are just like where I come from, they like to know who they are dealing with." Roberts defines himself as an avid outdoorsman and loves to hunt, fish, hike and camp when he has the time. A bachelor, he lives in an apartment at the back of the funeral home but plans to invest in land and build a home in the near future. He describes himself as "pretty laid back. It takes a lot to stretch me out." He is also a history buff who appreciates tradition. Roberts has a photograph of his great-great-grandfather, John Pardue, who drove a hearse for a funeral home in Mountain City in the early 1900s. "Back then, funerals were usually held in homes and churches, not in funeral homes. The funeral business consisted of a big barn where they stored the caskets," Roberts explained. He owns an embalming kit like the ones that were used in his greatgreat- grandfather's day. Another nod to tradition is an antique pump organ he brought from his home and placed in the foyer of the funeral home.
Roberts, who is licensed to practice in North Carolina, South Carolina, Tennessee and Georgia, works with a team including Lisa Gore, the administrative manager, who handles clerical duties; Anna Helms, director's assistant; and Jimmy Sharpton, a funeral assistant who was formerly with Stewart. The team serves both the Vidalia and Glenwood chapels of the funeral home.
Roberts said of his decision to become a funeral director, "I didn't pick it, it picked me." But he has no doubt that he was influenced by his grandfather, although his grandfather may not be aware of the fact. "I was mentored by my grandfather. He is a bigger part of this than he realizes."
Roberts defines his work as rewarding because he is providing a community service and helping people when they most need support. "Here, they can expect to be treated like family. We want them to know that when they come here, they are dealing with home folks." It is a commitment Roberts has adopted as a slogan: "Neighbors Serving Neighbors."

ANTIQUE EMBALMING KIT — Brandon Roberts is a history buff and collector of antiques. He has a photograph of his great-great grandfather, John Pardue, who drove a hearse for a funeral home in Mountain City in the early 1900s and an embalming kit like the ones that were used in his great-great grandfather's day. Above, he shows Assistant Anna Helms an item from the kit.


NEW LOOK — Brandon Roberts, President of Roberts-Stewart Funeral Home, stands in the newly-redecorated lobby at local mortuary. He is an avid outdoorsman with roots in the mountains of Tennessee, and wanted the space to resemble a comfortable mountain lodge retreat


AFFINITY FOR THE PAST—Brandon Roberts appreciates tradition. Among the antiques in his collection is an antique pump organ that he brought from his home in Tennessee to his new business in Vidalia.


ICONIC HEARSE — Roberts has honored the iconic trademark of the Ronnie Stewart Funeral Home, a horse-drawn hearse, by retaining it in the Roberts-Stewart Funeral Home's logo. The actual hearse that inspired the logo sits beneath a shelter in front of the funeral home.


NEW DIRECTION — Brandon Roberts has assumed ownership of the former Ronnie Stewart Funeral Home. The business has been part of the landscape at 1722 Mt. Vernon Road for several decades. Roberts has respected traditions established by the funeral home while moving forward with his own updates.