Posted on
Firefighters Commended For Saving Two Lives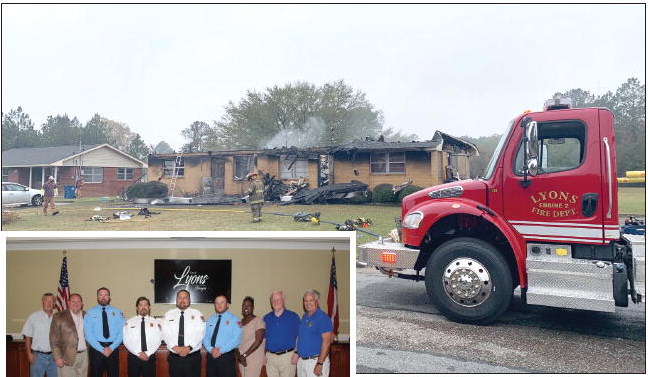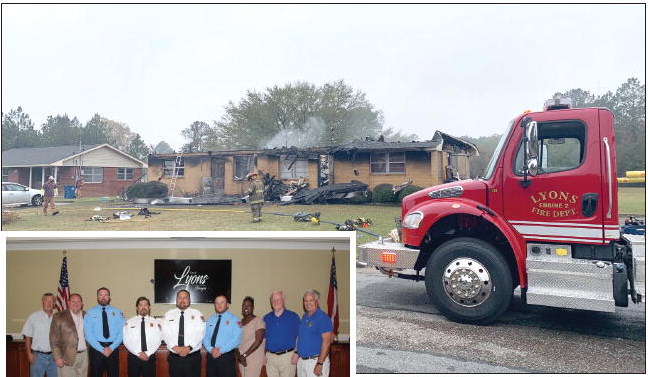 A dramatic 911 call reporting a fire at a residence on Aiken Street in Lyons just before 5 a.m. on March 17 received quick response from four volunteer firefighters, and two citizens were rescued from the flames. After the 911 call and photos were presented by video in the Council
Lyons
3A continued from page
chambers, Lyons Mayor Willis NeSmith, Council members, family and citizens gathered at the June Council meeting commended these firefighters with a proclamation and applause.
Fire Chief Darel Corley and Police Officer Tommy Colvin were the first to respond to the location of the burning structure. Upon the arrival of Lyons Fire Captain Larry Monroe and Lyons Firefighers Casey Poole and Josh Dixon, and Lyons Fire Lieutenant Shannon Bryant, the two occupants were located and removed, and were prepared for emergency medical transport. Both of these residents are expected to make a full recovery. NeSmith recognized that these trained and organized volunteers, along with first responders Corley and Colvin, serve at great personal risk, and are an invaluable resource for the community. NeSmith said, "It is a testament to your training and your professionalism, what you did. It took less than 14 minutes for you to get there. That's leaving your house, getting the fire truck in town and getting to the fire. That's phenomenal. Y'all saved two people's lives. That says a lot. Thank you!" Councilman Larry Griggers added, "That's a tough decision, with that house engulfed the way it was, to decide to go in there and brave that and try to pull two people out. That took courage." Captain Monroe spoke for the volunteers: "I appreciate these guys. It just happened to be us four that went in the structure. I believe anybody in our department would have gone in a similar situation. All of our department should be here and be recognized."
Lyons Main Street Director Daphne Walker reported on the First Ribeye Roundup, held on May 8 and 9. Walker said it was "an awesome two days, with 30 teams on Saturday and 22 on Sunday. Teams came from North Carolina, Alabama, Texas, Florida and Georgia."
This was a sanctioned event of the Steak Cookoff Association (SCA). The SCA representative was impressed with the organization of the event hosted by Lyons, and with the quality of the meat provided by Thriftway for the cook-off teams. The SCA is being asked to approve Thriftway meat for future events in surrounding areas. Cookoff participants visited local restaurants and many stayed in hotels, so this annual event will boost the local economy in several ways.
City Manager Jason Hall reported that a local nonprofit group made a request for the City's assistance for the first annual Juneteenth Celebration to be held June 19 from 11 a.m. to 4 p.m. The grassroots event is being sponsored by the Tea Rose and Ivy Society in partnership with Phi Delta Omega Chapter, Alpha Kappa Alpha Sorority, Inc. Local organizers Attallaka Harris-Williams and Chandra Woods were present at this meeting to promote the event and to invite the Council to attend.
Juneteenth, also called Emancipation Day, or Juneteenth Independence Day, commemorates the end of slavery in the United States, and is observed annually on June 19. The local event will include family friendly activities, music, community resources and more. Interest indicates 200 to 300 attendees. More information about the event can be found on Facebook at Juneteenth Jubilee – Toombs County.
The Council approved the event and the items requested from the City: use of Faison Park; portable comfort stations; electrical hook-ups installed at the ball field for a stage; and trash cans. Police presence will also be on site.
Harris-Williams asked Councilman Rick Hartley and Police Chief Wesley Walker about a reference to a recent violent event in Lyons and their concern about the association with the planned Juneteenth Jubilee. Hartley deferred to Walker, who explained that there had been block parties for which those involved had been warned to relocate to bigger premises outside residential areas. The crowds, noise and late nights had disrupted the neighborhood. The disregard for the warning resulted in another party and a shooting.
In further discussion, the Council, Walker and the Jubilee supporters agreed that the Juneteenth event organizers have made appropriate requests and preparations for a safe and positive community event. Other safeguards taken are the support of a nonprofit and obtaining liability insurance, which also names the City as additional insurer.
Griggers assured Har-
Photo by Rebekah Arnold continued from page
ris-Williams that "there's no connection between what you have planned and what has been happening in some of our neighborhoods. I don't want you to think that it is implied. We have the Real Squeal, the Soap Box Derby, we have all types of community events and this is another one that's a great celebration and you are doing it right and there's no reason to anticipate any of the problems that we've had in some of the private neighborhoods. I don't think any of those folks will drift over and cause problems, and if they do, our Police Chief is going to be there to stop that. I look forward to your event."
Hall continued his report with a request by the Toombs County School Board that the water tank on City property located next to Toombs County High School be painted to remove the LYONS lettering and replace the lettering with a two-color flying T stencil. They have also requested the area below the catwalk be painted Toombs County Red. The estimated cost is $54,000. The Toombs County School Board has agreed to reimburse the City for all costs. Council approved the repainting of the water tank and the catwalk.
The Council also approved an amendment to the capital budget for the fiscal year 2021 in order to appropriate $80,000 for emergency repair of the City's U.S. Highway 1 North well so that the City can continue to provide potable water within the City.
In other business, Chief Walker reported that on June 14-18 the Lyons Police Department will host the statewide Drug Abuse Resistance Education (DARE) conference at Partin Park. Walker invited the Council to attend this training and certification event.
A ribbon cutting for the Disk Golf course at Partin Park is planned for June 17 at 5 p.m. behind the Octagon House at the Park. The July Council meeting is rescheduled from July 6 to the 13 because of the Fourth of July holiday week.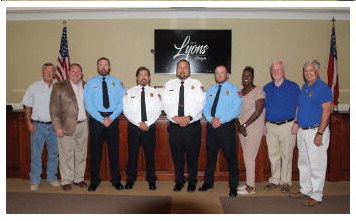 LYONS COUNCIL HONORS VOLUNTEER FIREFIGHTERS – Two people's lives were saved because of the quick and professional work done by Lyons firefighters on March 17. The Council stands with these volunteers to commend them. Shown left to right are Council members Ivy Toole and John Moore Jr., Firefighter Casey Poole, Fire Captain Larry Monroe, Lieutenant Shannon Bryant, Firefighter Josh Dixon, Council members Sonja Eason and Larry Griggers, and Mayor Willis NeSmith, Jr.