Posted on
Late Councilman Ben Mitchell Honored With Renaming of Street at Faison Park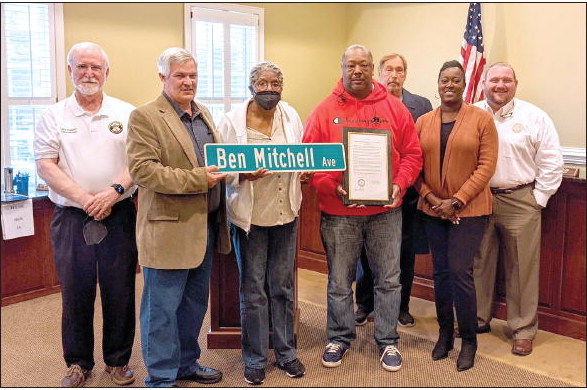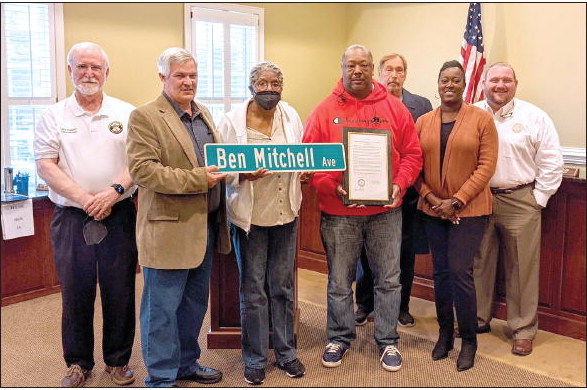 Ben Mitchell served as a member of the Lyons City Council for some 30 years, passing away in December 2019 while still in office. He was a beloved and respected member of the community whose influence is still apparent in many ways. Recently, he was honored in a ceremony at Lyons City Hall during which the road traversing Vincent Faison, Sr. Park was renamed in his memory.
The Lyons City Council had planned an outdoor ceremony at Faison Park on April 24 to honor Coun­continued from page
cilman Mitchell, but thunderstorms redirected the event to the Council's chambers. During the ceremony Councilman Mitchell's widow, Rose, and his son, Quincy, accepted a commemorative sign honoring the Councilman. Signage on Ben Mitchell Avenue had already been installed.
Mayor Willis Ne-Smith, who noted a resolution honoring Mitchell that was passed by the Council, said, 'Ben's influence in Lyons will be seen for years to come. The small gesture to rename the street is a way to keep his memory alive."
Faison Park, located in the northeast corner of Lyons between Highways 292 and 152, was given to the City of Lyons in 1972. The site was originally known as Hallmark Park and was later renamed to honor Vincent Faison, Sr. Faison, a longtime volunteer coach for the Lyons Recreation Department. The park was initially used for recreational softball and baseball games but in May 2017, the City Council began working on a renovation plan for the park that would shape a new image.
In June of 2017, Councilman Mitchell, who resided within walking distance of the park, supported a master plan for the park that focused on passive activities such as walking trails and playgrounds. The plan included a pavilion, along with a walking track, to promote healthy lifestyle activities and focused on development closer to residential areas so that residents would have easier access to the park. Resurfacing of the existing basketball court and roadway were also included in the plan, along with new lighting. In October of 2017, former Councilman Mitchell sponsored an item to apply for a Land Water Conservation Grant to fund 50% of the proposed $180,000 improvements to the park. This grant was awarded in December of the following year.
Prior to his death, Mitchell said, 'Now the real work begins. For this park to become useful again, the community surrounding it must take ownership of it.' In March 2021, the final touches of the park renovation were completed in time for the spring weather.
"Since its completion, the park basketball court, new pavilion, and playground have seen youth and family activities, fulfilling Mitchell's vision for the park. Unfortunately, he was not able to see the fruits of his vision as his untimely death came before its completion," said City Manager Jason Hall.