Posted on
Thousands Flock to the 2021 Vidalia Onion Festival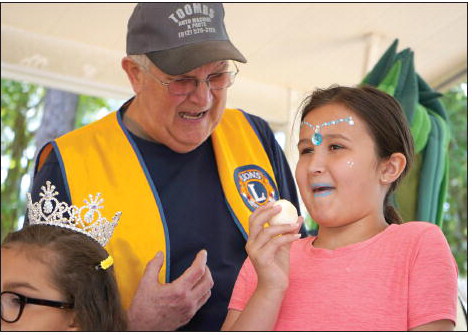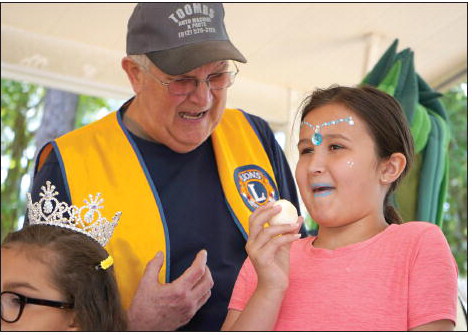 The 2021 Vidalia Onion Festival got off to a "sweet" start last of y week, with plenty music, fireworks and a visit by Governor Brian Kemp at Friday night's opening ceremonies. On Saturday, the clouds rolled in and paused the fun—even cancelling the muchanticipated rtur lled e eve- ning concert—but you can't keep a good onion down for long. Sunday t
o of dawned bright and clear and the crowds returned to finish celebrating in a spectacular way.
Downtown Vidalia was transformed mid-week with a plethora of activities,fromthereveal a new mural, to sidewalk art by area high school students, to the children's "Walk About America" parade with Festival Mascot Yumion, and a free movie under the stars at City Stage. A tantalizing aroma filled the air as the Downweet d
fill h continued from page
town Development Authority offered hot, fried onion rings from beneath tents lined up on city streets. The "rings" were a hit and sold out.
Health pandemic protocols moved the Friday night opening ceremony, street dance and fireworks show to the Vidalia Airport. Governor Kemp and First Lady Marty Kemp made an appearance on stage to help local officials officially kick off the Festival. A high point of the evening was the presentation of a famed photograph of late Vidalia Mayor Ronnie Dixon to his wife, Sandy, as the Dixon family gathered around her on stage.
The rain that came on Saturday did not derail the Vidalia Onion Cookoff at the Vidalia Community Center. Debra Wingate of Augusta took top honors with her Vidalia Onion Danish. (See more stories and photos inside). The Vidalia Onion Festival Recipe Contest and Public Tasting were coordinated for the first time this year by Chelsea Blaxton Page and Lauren Dees.
The Monster Truck demonstration and carcrushing event sponsored by Georgia Tire went on as scheduled, with intermittent breaks for the showers on Saturday. The carnival staged behind the Arts and Crafts Festival venue had an almost record-making night on Friday. The Carnival, which offered a petting zoo and a variety of rides and activities, closed Saturday during the storm. It reopened on Sunday to enthusiastic crowds. The Arts and Crafts Festival sponsored by the Vidalia Woman's Club and Vidalia Lions Club had a respectable turnout just before the rain on Saturday, but was forced to close around noon, reopening Sunday at 10 a.m. to impressive crowds. Woman's Club volunteers Leanne Richardson and Rebekah Arnold said 4,000 plus people poured though the gates on Sunday afternoon. Vendors reported brisk sales, with some selling out of merchandise.
Overall, the Festival was a big success, said Vidalia Onion Festival Committee Chairman Andy Woodruff. "We think we had around 7,500 attending events throughout the week. For the first time, we actually sold out of merchandise (caps, tee shirts, etc.) sold by the Committee."
Woodruff voiced his appreciation for the countless hours of work by community volunteers who made the Festival a reality. After the COVID-19 hiatus that cancelled last year's Festival "everybody was excited to be able to get back out," Woodruff said, adding, "And, we are already working on next year." In 2022, the legendary Blue Angels are scheduled to perform, and they always draw a huge crowd. Woodruff, who will continue as chairman for next year's Festival, said citizens will soon see one of the "Blues" team members flying in to start preparations for the 2022 show.
With an acknowledgement that the weather threw the City of Vidalia a curve ball on Saturday as thunderstorms passed by, Mayor Doug Roper said, "everything within our control went extremely well. Our hearts go out to the Committee which has been preparing for this Event for months, but in spite of the weather, they did an incredible job."
He noted that venues like the Arts and Crafts Festival and carnival reported bumper crowds. "It continued from page
really shed a light on how badly people wanted to resume normal life (after the pandemic). I am proud of the Committee and the community for holding this Festival."
Mayor Roper said for him one of the most memorable aspects of the Festival was the presentation on Friday night of a framed photograph of the late Mayor Dixon to his wife, Sandy. The photo was taken as mayor Dixon spoke at a previous Festival event at the City Park Stage downtown. Roper noted, "Everyone knows how passionate Mayor Dixon was about building the stage downtown. He was also instrumental in getting headliners to perform at the Festival concert. He was a big part of the Festival, we appreciate what he did, and we felt it was appropriate to recognize him this year." Dixon passed away in 2020.
Roper added his thanks for the efforts put forth by Festival volunteers but advised, "There is no rest for the weary. We have to start planning now for next year's 45th Annual Festival when the Blue Angels come."