Posted on
43rd Onion Run Held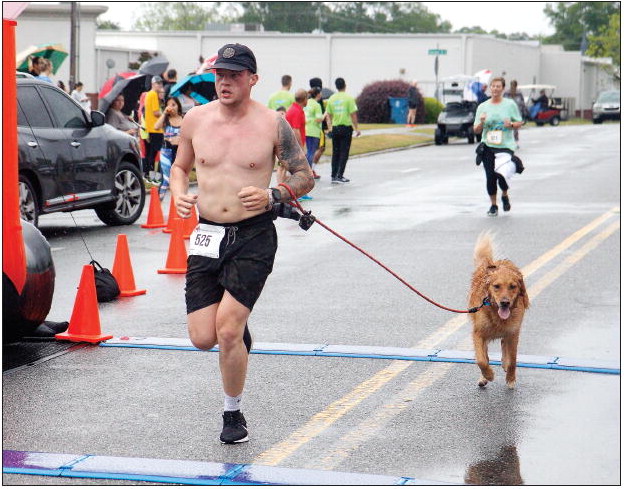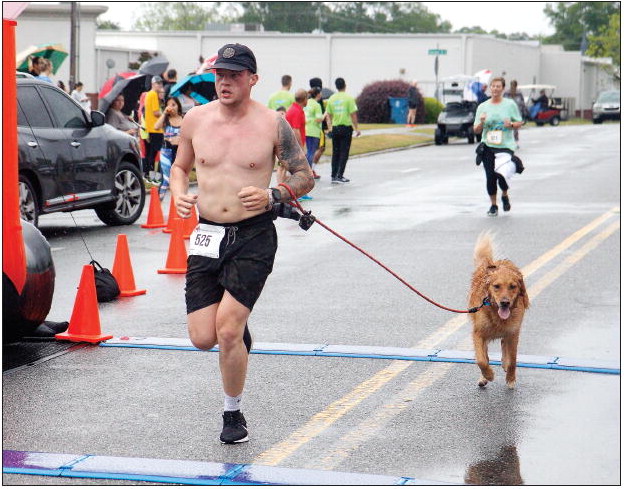 The 43rd Annual Vidalia Onion Run was held on Saturday and sponsored by the Vidalia Kiwanis Club. It was a very wet morning with rain falling and cool temperatures. Many of the runners thought that the conditions were great for the race even with the rain. It was a good enough day that a new record was set for the women's 5k race, beating the old record by nearly 45 seconds.
In the 10K race Vidalia native Paul Dixon finally got his win. Dixon who now lives in Atlanta, won in a time of 42:55. Second place went to Anthony Mooney with a time of 44:20, and Miguel Rivas was third just a second behind.
Dixon said, "The new course messed me up just a bit, and I liked it better than the old course. Got to run with the dog for the last half mile of the race ,and she carried me in to the finish. This is my first time winning the 10k, usually Joseph McLeod beats me, but thankfully he is getting married today so I'm glad he is getting married, and I'm glad I could finally win this one!"
For the ladies, Cameron Martindale of Vincent, AL, took the top spot in a time of 47:34. Abigail Brown was second in 53:21, and Kamryn Smillov was third in a time of 54:40.
The 5k race was won by Dylan Dixon from Alma in a time of 19:38. continued from page
Frankie Williams took second in 19:56, and third place went to Luis Garcia in 20: 42.
In the women's 5k there is a bit of a discrepancy about the actual record with the official time at 20:43 by Valya Harrell in 2014, but in 2018 an apparently unofficial time of 19:22 was recorded by Kristen Arendt from Colorado. So there may have been a new record this year as Reagan Cooke from Mauldin, SC, came in with a time of 19:57. It was her second time winning the race in a row as she won in 2019 with a time of 20:22. Cooke is just 15 years old and with family in the area, that record is definetely not safe. Second place went to Libby LeTourneau in 20:32, and third place was Ashley Coleman in 22:03.
Cooke said, "It wasn't my best time in the 5k, but I will defintely take it. I run track and cross country on my high school team. I really like the new course, it flows much better than the old course."
The male winner of the 1-Mile Fun Run and Walk was Lake Wright, a student at JR Trippe Middle School, in a time of 6:15. The winner for the girls was Ginny Meredith with a time of 7:19.
Wright stated, "I run for Trippe, along with playing football, soccer, and wrestling. This is just my second time running in this and this was a fun day."
Vidalia Mayor Doug Roper added after running in the 5k, "Thankfully, the committee had the foresight to have the Onion Festival this year coming off of the cancelation from last year. We are trying to keep it as safe as possible by moving it out to the airport, and a lot of hard work goes into this event. We just encourage everyone to come out and support this great festival."

Cameron Martindale from Alabama took the women's 10k race.Photo by Mike Branch


Dylan Dixon of Alma won the men's 5k race at the Onion Run.Photo by Mike Branch


15 year old Reagan Cook of South Carolina took the women's 5k in a possible new record time.Photo by Mike Branch


J.R. Trippe's Lake Wright won the 1-mile race in just over six minutes.Photo by Mike Branch


Ginny Meredith was the first female to cross the line in the 1-mile race.Photo by Mike Branch