Posted on
2021 Citizens of the Year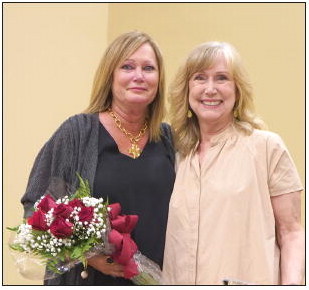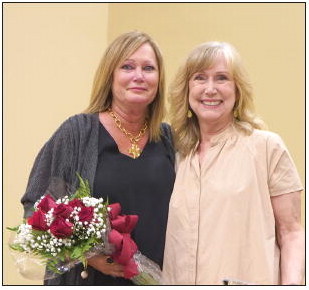 Two people who have made tremendous contributions to the community over the years were recognized at the 73rd Annual Citizens of the Year Banquet. The event was held at the Vidalia Community Center on Tuesday, April 20, and was sponsored by the Rotary, Lions and Kiwanis organizations of continued from page
Vidalia. Named as 2021 Woman of the Year was local leader Pat Dixon, who 2020 Woman of the Year Cindy Williams praised for her devotion to her family, her church and community. "She is a confident, strong leader and yet a humble servant, working in the background doing whatever is needed," Williams said of Dixon.
Retired Meadows Regional Medical Center executive Howard Holman announced 2021's Man of the Year James Thompson, whom he lauded for a long record of community service and strong leadership skills that still benefit the community today. "Community service and leadership define this year's recipient," Holman said.
Criteria for being named Citizen of the Year include having "notable character, with high ideals and principles," and being a citizen "who has contributed his or her God-given talents, time and possessions to improving Vidalia." This service should extend "over and beyond excellence in one's own profession, business or service enterprise." 2021 Woman of the Year
Among Dixon's contributions to the community is being an active member of Vidalia Presbyterian Church where she is an elder. As a member of the Meadows Cancer Center Fundraising team, she helped raise $2 million plus in local donations. She has served as a member of the United Way Board of Directors and is a financial supporter of The Refuge, Sweet Onion Animal Protection Society and the Mercy Clinic. She has also volunteered for the Vidalia Onion Festival.
She is also a supporter of the Altama Gallery and is an active member and current board member of the Kiwanis Club. She has served on the Downtown Vidalia Association Board of Directors and was also president of that organization for two consecutive terms. She is a graduate of Leadership Toombs and has served the Toombs-Montgomery County (now Greater Vidalia) Chamber of Commerce in numerous capacities, including the Board of Directors and Chairman. Dixon has also served on the Chamber's Advocacy Council, Business Retail Committee, Small Business Council and Public Policy Council and has worked with the Showcasing Toombs and Reach programs, among others. She currently serves as a Chamber Board advisor.
Dixon, who works at her family's business, Dixon Management in Vidalia, has been active politically and, along with her husband, Otha, has hosted numerous political fundraising events for local and state candidates.
For approximately 15 years while her two children attended Robert Toombs Christian Academy, she was active as a volunteer for school academic, fundraising and sports events. At Southeastern Technical College she participated in the Brigade Ride. When Ohoopee Regional Library decided to expand and renovate in a $3 million project, Dixon was one of the first persons called to serve on the fundraising committee, leading the way to surpass the project goal.
The mother of two and grandmother of one was selected as the 2017 Boys and Girls Club Queen of the Adult Prom, "One Moment in Time," and was the top fundraiser for the Boys and Girls Club at that event.
Williams said of her long-time friend, "She has opened her home and hosted on many different occasions medical and professional prospects that were visiting our area to introduce them to the wonderful Vidalia hospitality." She added, "Many a friend has been the recipient of a home-cooked meal or a visit when in need. She even organized and recruited others to help decorate and partly furnish a home for a good friend that had finally been able to purchase her first home. It was a wonderful community project." 2021 Man of the Year
In outlining Thompson's valuable contributions to the community, continued from page
Holman noted, "Over the years Vidalia has had great leadership that led to successful economic development initiatives. Our recipient's handprints are all over two of these initiatives."
Thompson has been involved with the Toombs County Development Authority and was a two-term chairman of the Toombs County Commission. "He was right in the middle at a time when it was imperative that Toombs County move forward from the textile industry, an industry that has almost completely disappeared from our region and which took several thousand jobs with it." Holman referenced Thompson's importance in the transition process during "this very important juncture of economic development in Toombs County." When the Toombs County Development Authority needed an ongoing source of money to fund economic development for the community, Thompson, as County Commission Chairman, "threw his weight behind an annual one mill stipend to the Development Authority. This helped fund spec buildings which… was an important part of us being able to land Trane and other industries. You can only imagine the number of people at the time who took political issue with James on this decision," Holman said.
Many years later, the Development Authority still benefits from this county commitment. According to Harry Moses, who is currently on the Development Authority, "Our authority is one of the most effective rural authorities in the state to a large degree because of this reliable course of income from the county. It is a huge advantage and is why we are the envy of competing statewide authorities."
While Chairman of the Development Authority, Thompson was appointed to the 17-county Regional Development Council where he served three terms as chairman. He was the first person from Toombs County to be appointed to the Board of Managers for the Association of County Commissioners.
He worked with the Montgomery County officials to reorganize the ambulance service and was appointed to the State Workforce Development Board by then-Governor Roy Barnes. "There is another handprint of significance that will impact our region for generations to come," according to Holman. He referenced Thompson's leadership in taking action that would lead to new administration and the development of Meadows Regional Medical Center.
For many years, Thompson was a member of the Jaycees, also serving as an officer. He is a 20-year plus member and former president of the Vidalia Lions Club and is also a 20-year member of the Kiwanis Club. "For almost half a century, our recipient has been in the civic club trenches," Holman said.
Thompson, a local entrepreneur for 50 years, attended Brewton-Parker College and later the University of Georgia. He served on the Brewton-Parker alumni association. He is an Air Force veteran and is currently the commander of Post 97, American Legion. For many years he was an active member of the Sports Boosters.
He is a blood donor for the American Red Cross and assisted senior citizens through his work with Concerted Services. He has served as a member of the Vidalia Onion Festival Committee several times. While he is active in other churches, Thompson is a 78-year member of the Vidalia Presbyterian Church where he was an elder for 40 years and the treasurer for 30 years. Married to his wife Peggy for 55 years, Thompson has two children and four grandchildren.
Holman noted, "My favorite passage in the Bible is the parable of the Good Samaritan. Our participant personifies the Good Samaritan. For his entire life, when seeing someone in need, James Thompson has stopped and said, 'Don't worry, I will help.' " Holman observed, "James Thompson is a man who is built sturdy as a rock, but his heart is soft. It is giving. According to his family, only James knows in the last 79 years the number of people he has helped, the things he has done for our community. And he has done so quietly because that is his nature."